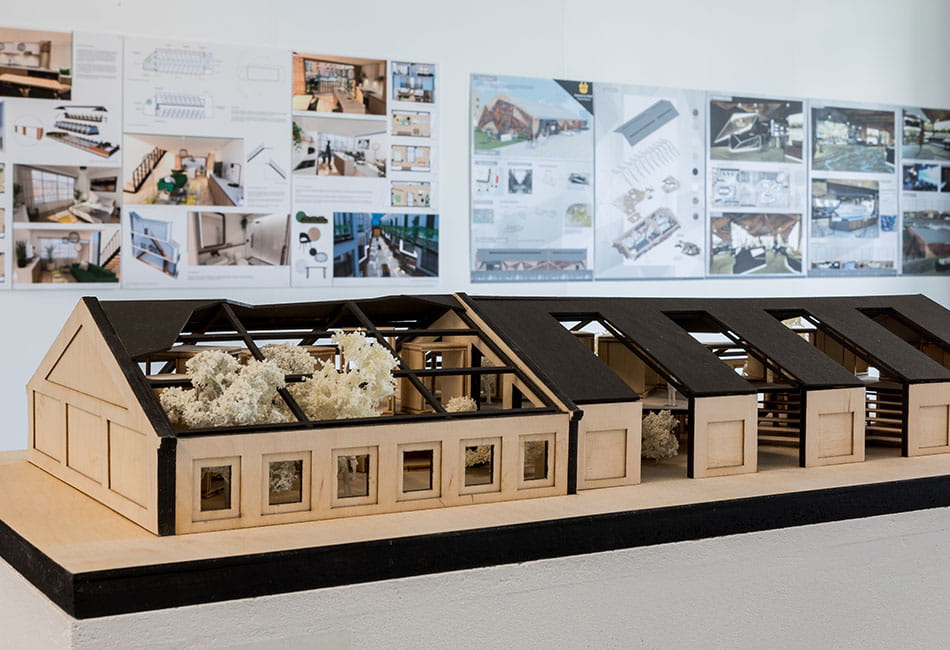 BA(Hons)

Interior Design (with Foundation Year)
This course is open for applications
Page last updated 4 December 2023
Introduction
Build an impressive portfolio, real-world experience, project management skills and the technical expertise needed for a successful career in interior design.
Why study interior design?
Interior design is an exciting field that bridges the boundaries between architecture, art and design.
Interior designers take a holistic approach to space, designing every element from structural interventions to specifying materials. Working to a level similar to that of an architect, they design for the retail industry, commercial offices, art galleries, private homes and the hotel and leisure sector.
Working in this industry is exciting and varied. To succeed, you'll need creative flair, professional acumen and real practical skills.
Why UWE Bristol?
BA(Hons) Interior Design degree teaches you the professional skills you need to work in the interior design industry.
You'll be based at Bower Ashton Studios, as part of our City Campus, which includes renowned contemporary arts centres Spike Island, Arnolfini and Watershed. Exceptional facilities and resources include industry standard digital studios and fabrication workshops.
This is a technical learning course, with a focus on lighting, heating, ventilation and acoustics. You'll learn to work with traditional tools and the latest technology, and develop the skills to design lighting, furniture, materials and entire interior projects.
Learn to view spaces differently and seek new design opportunities within them. Push the boundaries of what interior design means and what it can achieve.
Regular guest lectures and events will help you explore work opportunities. Develop your own independent projects and follow live briefs set and assessed by professionals in the field. This Interior Design course gives you the opportunity to spend a year in industry gaining real-world experience. You can also take on work experience and placements throughout the degree, including international exchange.
Focusing on the areas that most interest you, you'll graduate with an impressive portfolio and the skills to succeed as an interior designer.
Where can it take me?
This Interior Design degree course offers excellent preparation for a professional career in commercial and domestic interiors, retail, leisure and exhibition design. 
You could choose to specialise in furniture, product or lighting design, materials or architecture-scale projects.
You could also go onto postgraduate study.
Structure
Content
The optional modules listed are those that are most likely to be available, but they may be subject to change.
Year zero (Foundation year)
You'll study:
Academic Skills
Developmental Projects: Building a Creative Identity
Foundation Project
Observation and Making.
You normally need to pass all modules in your foundation year before going into year one.
Year one
You'll study:
Introduction to Interior Design
Exploring Practice in Interior Design
Professional Practice and Work Experience in Interior Design
Visual Culture 1.
Year two
You'll study:
Developing Practice in Interior Design
Visual Culture 2.
Plus, optional modules from:
International Exchange or Developing Practice in Interior Design 2
Professional Practice and Work Experience in Interior Design 2 or Collaborate.
Final year
You'll study:
Preparation for Extended Study in Interior Design
Extended Study in Interior Design
Professional Practice and Work Experience in Interior Design 3
Visual Culture 3.
The University continually enhances our offer by responding to feedback from our students and other stakeholders, ensuring the curriculum is kept up to date and our graduates are equipped with the knowledge and skills they need for the real world. This may result in changes to the course. If changes to your course are approved, we will inform you.
Learning and Teaching
Learn a wide range of skills from our dedicated team, with an emphasis on the creative design process and 'learning by doing'.
Develop critical awareness of environments, applying new skills to a variety of briefs. Take part in workshops, seminars, lectures and tutorials and engage with peer and self-assessment, contributing meaningfully to your group.
Much more than simply 'decoration and styling', the course covers every aspect of modern interior design, including high-end design, digital design and working to building regulations, in collaboration with other professionals.
Develop the full range of professional skills, including modelling, prototyping and full design. You'll become adept at using software such as Photoshop, InDesign and Illustrator, as well as computer-aided design, computer-aided manufacturing and high-end rendering packages.
Focus on developing the relationship between form, content and the language of materials. Look at the implications, techniques, manufacturing processes and design impacts between the bespoke and mass-produced design markets. Explore the emotional and experiential factors at play and the narrative of space.
Craft your skills as a researcher, working with academics and partners helping to shape new thinking in the field.
Build strong enterprise skills, including problem solving and creative thinking, setting you up for a range of careers.
You'll push the boundaries of your abilities and be encouraged to think dynamically, yet practically, as you build a strong portfolio and skillset to prepare you for professional practice.
Strong industry links ensure ongoing input from professional designers. We encourage and support work placements and internships and host a series of industry guest speakers.
In your final year, you'll work on a project directed towards the area of interior design you want to move into.
See our full glossary of learning and teaching terms.
Approximate percentage of time you'll spend in different learning activities*:
| Year | Scheduled learning and teaching study | Independent study | Placement study |
| --- | --- | --- | --- |
| 0 | 24% | 76% | 0% |
| 1 | 54% | 46% | 0% |
| 2 | 45% | 55% | 0% |
| 3 | 20% | 80% | 0% |
*Calculated from compulsory and optional modules (where applicable) each year
Get involved
Sit in on some of our MA Design presentations, to further your knowledge in specialist areas and explore opportunities for further study.
Assessment
You can expect to be assessed through presentations of visual work, group presentations, and essays. There are no exams.
You'll write critical evaluations of your work, where you'll critique and analyse it, and relate it to the broader context of media theory and creative practice.
Approximate percentage of marks awarded by each assessment method*:
| Year | Written exam assessment | Coursework assessment | Practical exam assessment |
| --- | --- | --- | --- |
| 0 | 0% | 100% | 0% |
| 1 | 0% | 100% | 0% |
| 2 | 0% | 100% | 0% |
| 3 | 0% | 100% | 0% |
*Calculated from compulsory and optional modules (where applicable) each year
Features
Placements
Students who get work experience tend to graduate with better degrees. Experience also hones your skills, industry knowledge and professional network, making you a sought after graduate.
We have strong links with companies across the region and beyond, including Arno, I Am Associates, Wylde IA, Amarelle, AMH, Claremont, AWW Architects, The Bush Consultancy, 2 Feet Below, Corian, Vescom, Abet Laminati, Interface and Altro Flooring.
There are a number of opportunities for you to do a 40-week paid sandwich placement after year two. Completing a placement year is valuable because it allows you to gain real-world experience and skills that increase your employability.
Throughout your course, there will be opportunities to take professional practice and work experience modules, where you'll undertake work placements, internships and volunteering.
Study exchanges are available as part of our exchange programme. You can also spend a placement year in industry after Year two.
You'll get help to find your placement and support throughout from staff within the School and our award-winning careers service.
Fieldwork
You'll visit industry locations, trade fairs and renowned interior locations throughout your degree. We give real sites to all of our design projects and run regular study trips to studios and galleries, including the RWA, V&A, and Design Museum.
We make trips to Clerkenwell Design Week and 100% Design, along with study trips abroad. In recent years, we've been to Berlin, Copenhagen and Paris.
Study facilities
Interior Design is based at Bower Ashton, part of our City Campus.
Access industry standard facilities and resources, including our media studios and resources for laser cutting, plasterwork, ceramics, metalwork, woodwork, textile and print. Friendly technical support is always on hand.
Our City Campus connects teaching and learning with some of the best creative and cultural organisations in Bristol. Attend guest lectures and seminars at the Arnolfini and at Watershed in Bristol city centre.
Bower Ashton houses a library that supports our partners as well as students.
A mix of traditional and hands-on learning environments helps you quickly take on essential knowledge and skills, standing you in good stead for your professional career.
Learn more about UWE Bristol's facilities and resources.
Take a Virtual Tour of the Design facilities and see what's on offer here for you.
Careers
Careers / Further study
Tailoring what and how you study, you can shape the course towards your chosen career path.
This degree is excellent preparation for a career in commercial and domestic interiors, retail, leisure, and exhibition design. You could also choose to specialise in furniture, product or lighting design.
Some graduates go on to set up their own freelance design businesses.
You could also go onto postgraduate study.
Get inspired
Our award-winning careers service will develop your employment potential through career coaching and find you graduate jobs, placements and global opportunities.
We can also help find local volunteering and community opportunities, provide support for entrepreneurial activity and get you access to employer events.
Visit our employability pages to learn more about careers, employers and what our students are doing six months after graduating.
Fees
Full-time, sandwich course
Indicative Additional Costs
Supplementary fee information
Additional costs are for items you could need during your studies that aren't covered by the standard tuition fee. These could be materials, textbooks, travel, clothing, software or printing.
Entry
Typical offers
Tariff points: 48
Contextual tariff: See our contextual offers page.
GCSE: Grade C/4 in English, or equivalent.
English Language Requirement:

International and EU applicants are requirement to have a mimimum overall IELTS (Academic) score of 5.5 with 5.5 in each component (or approved equivalent).*

*The university accepts a large number of UK and International Qualifications in place of IELTS. You can find details of acceptable tests and the required grades you will need in our English Language section. Please visit our English language requirements page.

A-level subjects: No specific subjects required.
EDEXCEL (BTEC) Diploma: No specific subjects required. For information on required Guided Learning Hours please see our minimum entry requirements page.
Access: No specific subjects required.
Baccalaureate IB: No specific subjects required.
Irish Highers: No specific subjects required.
T Levels: No specific subjects required.
Entry requirements
If you exceed the entry requirements you may be eligible for BA(Hons) Interior Design.
International applicants
For country specific entry requirements please find your country on the Country Information pages.
Selection process
Applicants will be required to submit a digital portfolio for review within 21 days of their application being received.
For more details on the process, please visit our selection page.
How to apply
Read more about undergraduate applications.
Read more about international applications and key international deadline dates.
For further information