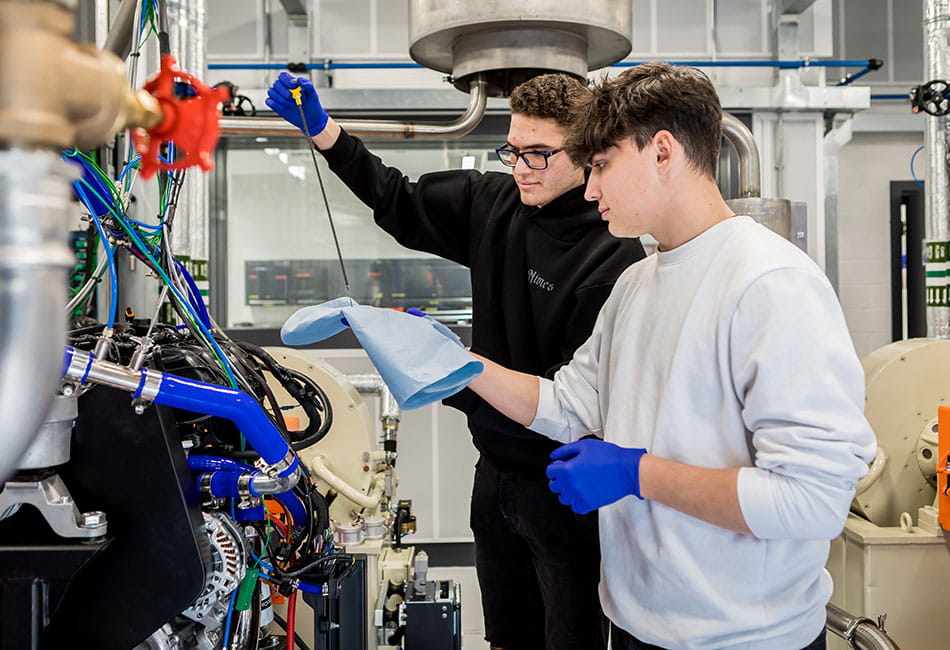 BEng(Hons)

Mechanical Engineering
This course is open for applications
Page last updated 30 November 2023
Introduction
Get industry ready with this IMechE accredited degree that consistently achieves high graduate employment rates and can be studied on a day release basis.
Why study mechanical engineering?
Engineers constantly ask questions and explore new ideas. They play a vital role in developing the world around us from the initial design and manufacture of products to their development, management or marketing.
A degree in Mechanical Engineering will challenge you and transform the way you learn. Develop your understanding of stress analysis, dynamics, heat transfer, mechatronics, materials and manufacture, and maths.
You'll build core skills that you'll take with you through your career, such as innovation, teamwork and creativity. Join us in using the power of engineering to explore, take risks and find ways to change the world for the better.
Why UWE Bristol?
Our new inclusive, problem-based curriculum aims to broaden our engineering audience. To date, we're the first university in the UK to transform our curriculum alongside constructing a new engineering building.
You'll be taught in our new state-of-the-art School of Engineering designed to revolutionise the way engineering is taught. Featuring engine test cells, dedicated collaborative learning spaces and all of the latest high-tech equipment, it's purpose-built to support a wide range of engineering disciplines.
Where can it take me?
As a student engineer, you'll start your professional journey towards becoming an incorporated or chartered engineer from day one. You'll learn by doing, applying and revisiting your early skills through embedded project weeks and development of digital and physical prototypes, as you would in practice.
Mechanical engineers are sought after for traditional engineering jobs and the product development process. They are also highly regarded in the world of financial business. You'll also be in demand to help maximise usage of high capital plants and operations such as power stations, oil refineries and hospitals.
Take a look at the Engineering building
Step inside our new School of Engineering building at UWE Bristol.
Structure
Content
The optional modules listed are those that are most likely to be available, but they may be subject to change.
Year one
You will study:
Engineering Practice 1
Solid Mechanics, Materials and Manufacturing
Dynamics Modelling and Simulation
Thermofluids
Applied Electrical Technology.
Year two
You will study:
Engineering Practice 2
Engineering Research
Structural Mechanics
Applied Thermofluids
Dynamics
Systems Design.
Placement year (if applicable)
If you study on the four year sandwich course, you'll spend a year away from the University on a work placement after year two.
You'll complete a placement learning module.
See the Placements and Fees sections for more information.
Year three (Final Year for BEng)
You will study:
Professionalism for Engineers*
Engineering Project
Group Design and Integration Project.
*You will not study this module if you have completed the placement year.
Plus, four optional modules from:
Composite Engineering or Materials and Structures for Special Applications
Thermofluid Systems or Advanced Heat Transfer
Vibrational Dynamics or Vehicle Dynamics
Control Engineering or Integrated Electro-Mechanical Systems
Advanced Manufacturing Technology or Mechanics of Materials
Engineering and Society
Emerging Automotive Technology 1.
This structure is for full-time students only. Part-time students study the same modules but the delivery pattern will be different.
The University continually enhances our offer by responding to feedback from our students and other stakeholders, ensuring the curriculum is kept up to date and our graduates are equipped with the knowledge and skills they need for the real world. This may result in changes to the course. If changes to your course are approved, we will inform you.
"I had the chance to complete an industrial placement on my course, which kickstarted my career in Engineering. I'm certain the relevant industry experience I gained from my placement year helped me to obtain a role on the National Grid's 18-month graduate scheme." Max, 2019 Mechanical Engineering graduate
Learning and Teaching
Learn through a mix of lectures and tutorials, experimental laboratory work, engineering fabrication, drawing and design, computing and application-based mini projects.
Make use of facilities including stress analysis, testing and materials selection, dynamics and vibration and thermofluids.
Experiment with energy conservation and control, aerodynamics (high speed and low speed wind tunnels), electronics and computing, manufacture, advanced manufacture and robotics.
Attend regular presentations from visiting professionals to give you the inside track on industry challenges and opportunities. Visit our careers fairs and engineer 'speed dating' events that help you find work as soon as you graduate.
Get involved in national competitions and initiatives to boost your skills and experience. Some students volunteer their skills to help develop infrastructure in developing countries, through initiatives like Engineers without Borders. Others have had success with UWE Bristol teams in the Formula Student competition.
Showcase your work to employers and the public at our annual degree show.
See our full glossary of learning and teaching terms.
Approximate percentage of time you'll spend in different learning activities*:
| Year | Scheduled learning and teaching study | Independent study | Placement study |
| --- | --- | --- | --- |
| 1 | 29% | 71% | 0% |
| 2 | 24% | 76% | 0% |
| 3 | 19% | 78% | 3% |
*Calculated from compulsory and optional modules (where applicable) each year
Study time
You can study this course full-time over three (BEng) or four (MEng) years, or part-time on a day release basis.
Part-time study
Modules are structured to allow you to attend all your lectures and tutorial sessions on a single day each week, minimising the time you spend away from the workplace.
Dependent on entry qualifications, you'll generally complete the course within five years. A large proportion of our part-time students are supported by their employer.
A benefit of studying part-time is you'll be able to put your learning into practice and potentially use work-related problems in projects.
Assessment
You'll be assessed through a mix of examinations, assignments and group projects.
An individual project is a key assessment in final year.
Learn more about assessments.
Approximate percentage of marks awarded by each assessment method*:
| Year | Written exam assessment | Coursework assessment | Practical exam assessment |
| --- | --- | --- | --- |
| 1 | 67% | 28% | 5% |
| 2 | 56% | 43% | 1% |
| 3 | 49% | 48% | 3% |
*Calculated from compulsory and optional modules (where applicable) each year
Features
Professional accreditation
This course is accredited by the Institution of Mechanical Engineers (IMechE).
The accredited BEng (Hons) will meet, in part, the exemplifying academic benchmark requirements for registration as a Chartered Engineer and Students will need to complete an approved format of further learning pursuant to the requirements of UK-SPEC.
Placements
Students who get work experience tend to graduate with better degrees. Experience also hones your skills, industry knowledge and professional network, making you a sought after graduate.
If you choose the four year (sandwich) course, you'll spend a year away from the University on a work placement after Year two.
Past students have worked for the German Space Agency, Rolls Royce, Airbus and smaller regional consultancies. Many of these employers were so impressed with the calibre of our students that they employed them on graduation.
Get help to find your placement and support throughout from department staff and our award-winning careers service.
Fieldwork
You'll have an opportunity to see engineering in action at a range of facilities.
On factory visits, you'll receive a guided tour of the shop floor and attend a presentation from the host organisation.
Past visits have included Jaguar Land Rover, the National Composite Centre, Airbus and GKN.
Study facilities
Our engineering building is designed to inspire the engineers of the future. Built for hands-on investigation, with engine test cells, wind tunnels and collaborative learning spaces. An ideal environment for encouraging you to explore, take risks and discover ways to change the world for the better.
Test your theories and develop engineering skills in our well-equipped laboratories.
Carry out stress analysis experimentation in our statics lab or consider moving based problems in our dynamics lab.
Experiment with industry-ready electro-mechanical machines and investigate heat transfer and engine performance using specialist equipment.
Develop practical skills in our rapid prototyping facility and machine shop.
Learn how to undertake finite element analysis (FEA), computational fluid dynamics (CFD) and computer-aided design (CAD) on our workstations equipped with industry standard software.
A mix of traditional and hands-on learning environments helps you quickly take on essential knowledge and skills, standing you in good stead for your professional career.
Learn more about UWE Bristol's facilities and resources.
Take a Virtual Tour of the Engineering facilities and see what's on offer here for you.
Start your dream career at UWE Bristol
Careers
Careers / Further study
Our BEng(Hons) Mechanical Engineering will enable students from a wider range of backgrounds to pursue a career in engineering. You'll gain valuable transferable skills that you'll be able to use in any sector you wish.
This course is developed alongside our partner employers to make sure you're industry ready when you graduate. They also provide you with placement opportunities, as well as advice on CV-writing, interview techniques and industry issues.
Your combined understanding of maths, science, technology, business and management can lead to a broad range of careers all over the world. If you're interested in business or commerce, a mechanical engineering degree is highly regarded in finance, IT and management.
You'll also have the skillset needed for consulting and contracting jobs in the design, implementation, operation and maintenance of equipment and machinery. Apply your skills to industries such as manufacturing, automotive, aerospace, pharmaceutical, energy and water.
Throughout the course, you'll choose your modules in a way that allows you to specialise with your chosen career in mind. Gain an inside track on the profession through factory visits and professional briefings with industry-leading organisations across the UK.
You'll share modules with aerospace and automotive engineering students in your first year, enabling you transfer onto one of these courses if your focus changes. Depending on your second-year results, you may also be able to extend your studies by a year to graduate with an MEng in Mechanical Engineering.
Read how progressing onto an MEng degree and placement prepared Lawrence for an exciting future in Mechanical Engineering.
Get inspired
Our award-winning careers service will develop your employment potential through career coaching and find you graduate jobs, placements and global opportunities.
We can also help find local volunteering and community opportunities, provide support for entrepreneurial activity and get you access to employer events.
Visit our employability pages to learn more about careers, employers and what our students are doing six months after graduating.
See also:
Prospects - careers in engineering

The Guardian - what to do with a degree in mechanical engineering.
Fees
Full-time; Sandwich course
Indicative Additional Costs
Part time course
Supplementary fee information
Your overall entitlement to funding is based on how long the course is that you're registered on. Standard funding is allocated based on the standard number of years that your course lasts, plus one additional year.
You'll apply for funding each year that you study and Student Finance will take into account how long the course is in each year that you apply. So if you register for the four year course and then transfer to the three year course, the number of years you can apply for funding will change. Student Finance will reassess your funding based on how many years you have been in study, not just those years for which you received student finance.
Always seek advice before taking any action that may have implications for your funding.
Additional costs
Additional costs are for items you could need during your studies that aren't covered by the standard tuition fee. These could be materials, textbooks, travel, clothing, software or printing.
Entry
Typical offers
Tariff points: 112
Contextual tariff: See our contextual offers page.
GCSE: Grade C/4 in English and Mathematics, or equivalent.
English Language Requirement:

International and EU applicants are required to have a minimum overall IELTS (Academic) score of 6.0 with 5.5 in each component (or approved equivalent*).*The university accepts a large number of UK and International Qualifications in place of IELTS. You can find details of acceptable tests and the required grades you will need in our English Language section. Please visit our English language requirements page.

A-level subjects: Grade C in Mathematics plus a pass in one of the following subjects: Biology, Chemistry, Computing/Computer Science, Design and Technology, Electronics, Engineering, ICT, Further Maths, Music Technology, Physics, Statistics.

Maths requirement can also be met by the Cambridge Pre-U Mathematics at Merit 3.

Relevant subjects: Biology, Chemistry, Computing/Computer Science, Design and Technology, Electronics, Engineering, ICT, Further Maths, Mathematics, Music Technology, Physics, Statistics.
EDEXCEL (BTEC) Diploma: You must be studying one of the following: Aeronautical Engineering, Construction and the Built Environment, Electrical/Electronic Engineering, Engineering, Land-based Technology, Manufacturing Engineering, Mechanical Engineering, or Operations and Maintenance Engineering.

To include Merit in one of the following units: Further Engineering Mathematics or Further Mathematics for Construction.

Please list the units you are taking in your application. For further advice on acceptable units please email us.

For information on required Guided Learning Hours please see our minimum entry requirements page.

Access: 15 Level 3 credits at merit in Mathematics and 15 credits at pass in another science or technology subject.
Baccalaureate IB: To include a minimum grade of 5 in higher level Mathematics and a Pass at higher level in one of the following subjects: Biology, Chemistry, Computer Science, Design Technology, Physics, Environmental Systems and Societies.
Irish Highers: H2 in Mathematics plus a pass in one of the following subjects: Biology; Chemistry; Engineering; Physics; Technology.
T Levels: Grade C in A-Level Mathematics, in addition to your T Level qualification. If you have or are looking to partially complete your T-Level, you are still required to have the equivalent to 2 full A-Levels as part of our minimum entry requirements. As a result, if you are applying with only the core or occupational specialism, this may be insufficient as a stand-alone qualification.
Entry requirements
If you don't meet the entry requirements, you may be eligible for BEng(Hons) Mechanical Engineering (with Foundation Year).
International applicants
For country specific entry requirements please find your country on the country information pages. If you are an international student and do not meet the academic requirements to study this course, you can qualify by completing preparatory study at our International College.
If you are applying to study at UWE Bristol and require additional support to meet our English language requirements, you may be able to attend one of our pre-sessional English courses. Read more about our Pre-Sessional English Programme.
Read more about entry requirements.
How to apply
Read more about undergraduate applications.
Read more about international applications and key international deadline dates.
For further information
Unistats
UWE Main Campus
Part Time
Full Time
You may also be interested in