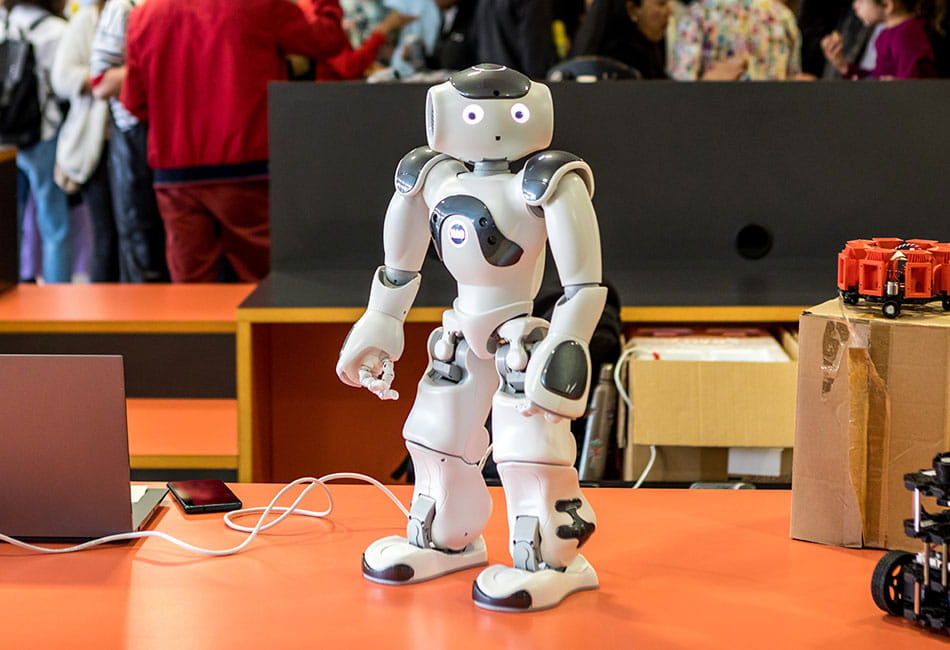 BEng(Hons)

Robotics (with Foundation Year)
This course is open for applications
Page last updated 4 December 2023
Introduction
Get on track for our BEng(Hons) Robotics degree by completing a foundation year - if you're committed to an engineering future and have a less conventional background, this is the course for you.
Why study robotics?
Embedded intelligence features in products ranging from cars to domestic appliances.
Intelligent systems range from unmanned vehicles in aerospace and robots in sub-sea exploration, to consumer products and the creative arts.
In the future, robots will be part of our everyday lives, helping in areas such as healthcare, education and entertainment.
Industry forecasters predict that the service robot market will increase in value to an annual 66 billion by 2025. Demand for graduates with the technical and creative ability to work in this area is set to increase too.
Why UWE Bristol?
BEng(Hons) Robotics is taught by world-class researchers from one of Europe's largest robotics labs.
This degree is for anyone interested in understanding and developing robots. Although this is primarily an engineering course, it extends into areas like artificial life, biology-inspired robotics, swarm intelligence and human-robot interaction.
Gain plenty of hands-on experience building and testing your inventions, using our state-of-the-art equipment and facilities.
Develop a unique combination of hardware, software and problem solving skills. Design and build your own mobile robot to compete against your classmates.
Learn about precision control of robots, how software systems and artificial intelligence integrate and how to make complex electronic systems communicate.
Discover advanced topics such as machine vision, how to make robots learn to control themselves and digital signal processing.
Take part in European robotics competitions, where our students have excelled in the past. Complete work placements with blue-chip organisations such as Intel, the London Stock Exchange and IBM, or dynamic start-ups or challenger brands.
Where can it take me?
The blend of hardware, software and problem solving skills you acquire on this course make you valuable to a wide range of industries.
You'll be set for a rewarding career devising, developing and managing intelligent systems in sectors such as manufacturing, aerospace, healthcare, leisure and the creative arts.
Set up your own business based on your inventions andplay a role in defining how this new technology will impact societies in the future.
See the Sentry Robot, which senses and shoots moving targets, and the Robot Spider, which uses inverse kinematics to create natural movement both built by our students.
Structure
Content
The optional modules listed are those that are most likely to be available, but they may be subject to change.
Year zero (foundation year)
You will study:
Engineering Experimentation
Foundation Group Project
Foundation Mechanics
Foundation Mathematics: Algebra and Calculus
Introduction to Mechatronics.
You normally need to pass your foundation year before going into year one.
Year one
You will study:
Engineering Practice 1
Mathematical Modelling for Electronics and Robotics
Fundamental Robotics Principles
Applied Electronics
Programming for Engineers.
Year two
You will study:
Engineering Practice 2
Engineering Research
Microcontroller Applications Group Lab
Robot Control Systems
Signal Theory
Introduction to Machine Vision.
Placement year (if applicable)
If you study on the four year sandwich course, you'll spend a year away from the University on a work placement after year two.
You'll complete a placement learning module.
See the Placements and Fees sections for more information.
Final year
You will study:
Engineering Project
Group Design and Integration Project
Advanced Vision for Localisation and Mapping
Human Robot Interaction Technologies
Professionalism for Engineers*
*You will not study this module if you have completed the placement year.
Plus, one optional module from:
Robotic System Architectures
Digital Signal Processing
Intelligent and Adaptive Systems. 
The University continually enhances our offer by responding to feedback from our students and other stakeholders, ensuring the curriculum is kept up to date and our graduates are equipped with the knowledge and skills they need for the real world. This may result in changes to the course. If changes to your course are approved, we will inform you.
Learning and Teaching
We place a strong emphasis on a hands-on approach and you'll start building robots from your very first week at UWE Bristol.
Learn through a mixture of lab sessions, lectures, tutorials and projects. Robotics students are encouraged to support each other and you will easily find somebody to help you understand difficult concepts or learn new skills.
Attend regular sessions where students teach each other. Some students say it's the competition to build the fastest or best-performing robot that drives them to success.
Attend regular presentations from visiting professionals to give you an inside track on the challenges and rewards of the profession.
Showcase work at the annual Environment and Technology Degree Show. 
See examples of students' work on YouTube, including Heart Robot.
See our full glossary of learning and teaching terms.
Approximate percentage of time you'll spend in different learning activities*: 
| Year | Scheduled learning and teaching study | Independent study | Placement study |
| --- | --- | --- | --- |
| 0 | 27% | 73% | 0% |
| 1 | 29% | 71% | 0% |
| 2 | 26% | 74% | 0% |
| 3 | 19% | 81% | 0% |
*calculated from compulsory and option module choices (where applicable) each year
Network and compete
Take part in annual competitions with our Robotics Society.
Volunteer for experience
We encourage you to take on work outside your studies and many students do voluntary work with local artists, businesses and charities.
Past students have won prestigious awards while developing skills teaching robotics in after-school clubs. Others have started businesses around ideas discovered through collaborations.
Assessment
You'll be assessed through a mix of examination and coursework.
Approximate percentage of marks awarded by each assessment method*: 
| Year | Written exam assessment | Coursework assessment | Practical exam assessment |
| --- | --- | --- | --- |
| 0 | 37% | 58% | 5% |
| 1 | 47% | 53% | 0% |
| 2 | 37% | 55% | 8% |
| 3 | 25% | 65% | 10% |
*Calculated from compulsory and optional modules (where applicable) each year
Features
Professional accreditation
This course is accredited by the Institution of Engineering and Technology (IET).
Placements
Students who get work experience tend to graduate with better degrees. Experience also hones your skills, industry knowledge and professional network, making you a sought after graduate.
If you choose the five year (sandwich) course, you'll spend a year away from the University on a work placement after Year two.
You'll apply your electronics and artificial intelligence knowledge for global brands or dynamic start-ups across the technology, aerospace, defence and manufacturing sectors.
Past students have done service engineering in microelectronics and developed automation systems for stock trading or productivity.
UWE Bristol students are in high demand, and many have been offered jobs while on placement.
Get help to find your placement and support throughout from staff within the school and our award-winning careers service.
Study facilities
Build professional skills and bring inventions to life using our state-of-the-art robotics laboratories and facilities.
Create prototypes in our large open-access lab that includes metalworking machinery, rapid production tools like 3D printers and computer-aided design (CAD) plasma-cutters, oscilloscopes, test equipment and surface-mount soldering systems.
Develop and test software on our dedicated servers with Windows, Linux and Unix based operating systems.
Get technical assistance and advice from our skilled staff from the Bristol Institute of Technology.
A mix of traditional and hands-on learning environments helps you quickly take on essential knowledge and skills, standing you in good stead for your professional career.
See creations from Bristol Robotics Laboratory on flickr.
Take a Virtual Tour of the Engineering facilities and see what's on offer here for you.
Take a look at the Engineering building
Step inside our new School of Engineering building at UWE Bristol.
Careers
Careers / Further study
Our graduates are in demand and work in a range of areas.
They work in artificial intelligence (AI) consultancy on the London Stock Exchange and developing robots for the world's biggest computer hardware companies. They use their skills within UK engineering and software businesses.
Our graduates have been offered jobs with national and global companies, while others started their own businesses and are pursuing their creative ambitions.
You could also go into research by progressing onto MSc Robotics or studying a PhD at Bristol Robotics Laboratory.
Get inspired
Our award-winning careers service will develop your employment potential through career coaching and find you graduate jobs, placements and global opportunities.
We can also help find local volunteering and community opportunities, provide support for entrepreneurial activity and get you access to employer events.
Visit our employability pages to learn more about careers, employers and what our students are doing six months after graduating.
Fees
Full-time; Sandwich course
Indicative Additional Costs
Supplementary fee information
Your overall entitlement to funding is based on how long the course is that you're registered on. Standard funding is allocated based on the standard number of years that your course lasts, plus one additional year.
You'll apply for funding each year that you study and Student Finance will take into account how long the course is in each year that you apply. So if you register for the five year course and then transfer to the four year course, the number of years you can apply for funding will change. Student Finance will reassess your funding based on how many years you have been in study, not just those years for which you received student finance.
Always seek advice before taking any action that may have implications for your funding.
Additional costs
Additional costs are for items you could need during your studies that aren't covered by the standard tuition fee. These could be materials, textbooks, travel, clothing, software or printing.
Entry
Typical offers
Tariff points: 80
Contextual tariff: See our contextual offers page.
GCSE: Grade C/4 in English and Mathematics, or equivalent.
English Language Requirement: International and EU applicants are required to have a minimum overall IELTS (Academic) score of 6.0 with 5.5 in each component (or approved equivalent*). *The university accepts a large number of UK and International Qualifications in place of IELTS. You can find details of acceptable tests and the required grades you will need in our English Language section. Please visit our English language requirements page.
A-level subjects: No specific subjects required.
EDEXCEL (BTEC) Diploma: No specific subjects required.

For information on required Guided Learning Hours please see our minimum entry requirements page.

Access: No specific subjects required.
Baccalaureate IB: No specific subjects required.
Irish Highers: No specific subjects required.
T Levels: No specific subjects required.
Entry requirements
If you exceed the entry requirements you may be eligible for BEng(Hons) Robotics.
International applicants
If you are an international student your recommended route of study for this degree is through our International College, which upon successful completion to the required level and with good attendance, guarantees entry to Year one of the degree.
Read more about entry requirements.
How to apply
Read more about undergraduate applications.
For further information