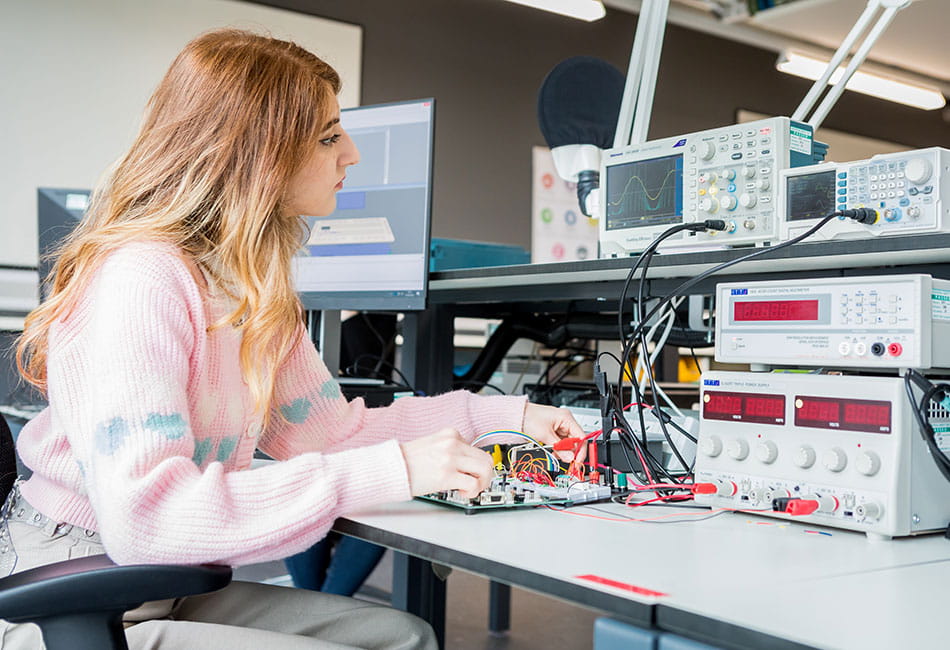 BEng(Hons)

Electrical and Electronic Engineering (with Foundation Year)
This course is open for applications
Page last updated 4 December 2023
Introduction
Get on track for our BEng(Hons) Electronic Engineering degree by completing a foundation year. If you're committed to an engineering future and have a less conventional background, this is the course for you.
Why study electrical and electronic engineering?
We're facing a global energy crisis, with an urgent need for sustainable electricity solutions, for both now and the future. Increased demand is leading to a shortage of fossil fuels, resulting in supply chain issues and soaring energy prices across the global economy.
Study electrical and electronic engineering and you'll be at the forefront of solving today's energy challenges. Play a vital role in developing technology to reduce our carbon footprint and you'll make a real difference to society.
Electrical and electronic engineering is a multidisciplinary area, bringing together several disciplines to deal with real-world challenges. These range from power, electronics, digital and analogue, computing, system design, mathematics and physics.
From power electronic solutions for electric vehicles and aircrafts to renewable energy resources, advances in these fields are transforming the way we travel and power our homes and businesses. As an electrical or electronic engineer, you'll become a champion of social impact, designing innovative energy solutions to reduce society's power consumption.
Why UWE Bristol?
Our new inclusive, problem-based curriculum will broaden our engineering audience, enabling students from a wider range of backgrounds to pursue a career in engineering.
You'll be taught in our new state-of-the-art School of Engineering designed to revolutionise the way engineering is taught. Featuring engine test cells, dedicated collaborative learning spaces and the latest high-tech equipment, it's purpose-built to support a wide range of engineering disciplines.
Where can it take me?
As a student engineer, you'll start your professional journey towards becoming an incorporated or chartered engineer from day one. You'll learn by doing, applying and revisiting your early skills through embedded project weeks and developing digital and physical prototypes, as you would in practice.
Choose a career designing electrical and electronic systems, working on consumer technology or solving engineering problems for communications and power generation/distribution companies. You could also work in technology, manufacturing, transport and rail, aviation and a host of other industries.
Structure
Content
The optional modules listed are those that are most likely to be available, but they may be subject to change.
Year zero (foundation year)
You will study:
Engineering Experimentation
Foundation Group Project
Foundation Mechanics
Foundation Mathematics: Algebra and Calculus
Introduction to Mechatronics.
You normally need to pass your foundation year before going into Year one.
Year one
You will study:
Engineering Practice 1
Principles of Electrical Engineering
Mathematical Modelling for Electronics and Robotics
Programming for Engineers
Applied Electronics.
Year two
You will study:
Engineering Practice 2
Engineering Research
Microcontroller Applications Group Lab
Signals and Systems
Analogue Electronic Systems
Digital System Design.
Placement year (if applicable)
If you study on the four year sandwich course, you'll spend a year away from the University on a work placement after Year two.
You'll complete a placement learning module.
See the Placements and Fees sections for more information.
Final year
You will study:
Engineering Project
Group Design and Integration Project
Control Systems Design
Power Electronics and Energy Systems
Professionalism for Engineers*.
*You will not study this module if you have completed the placement year.
Plus one module from:
Digital Signal Processing
Advanced Analogue Electronics
Communications. 
The University continually enhances our offer by responding to feedback from our students and other stakeholders, ensuring the curriculum is kept up to date and our graduates are equipped with the knowledge and skills they need for the real world. This may result in changes to the course. If changes to your course are approved, we will inform you.
Learning and Teaching
Learn through lectures, seminars, tutorials, laboratory work, case studies and mini projects, with a mixture of group and individual activities depending on the subject area.
Attend regular presentations from visiting professionals to gain an inside track on industry challenges and opportunities.
Showcase your work to employers and the public at your final year degree show.
See our full glossary of learning and teaching terms.
Approximate percentage of time you'll spend in different learning activities*:
| Year | Scheduled learning and teaching study | Independent study | Placement study |
| --- | --- | --- | --- |
| 0 | 27% | 73% | 0% |
| 1 | 29% | 71% | 0% |
| 2 | 27% | 73% | 0% |
| 3 | 19% | 81% | 0% |
*Calculated from compulsory and optional modules (where applicable) each year
Boost your skills
Volunteer to help build infrastructure in developing countries with initiatives like Engineers without Borders, gaining valuable practical experience.
Achieve success in annual competitions such as Formula Student.
Study time
You can study this course full-time or on a part-time day release basis.
Modules are structured so you can attend all your lectures and tutorial sessions in a single day each week, minimising the time you spend away from the workplace.
If you join the course with an HNC in Electronic Engineering or equivalent, you'll be exempt from Level 1 of the course and will complete your degree in three to four years.
A benefit of studying part-time is that you can put your learning into practice and use work-related problems in projects.
Assessment
Assessment generally takes place through a mix of coursework, assignments and exams.
Approximate percentage of marks awarded by each assessment method*:
| Year | Written exam assessment | Coursework assessment | Practical exam assessment |
| --- | --- | --- | --- |
| 0 | 37% | 58% | 5% |
| 1 | 47% | 53% | 5% |
| 2 | 22% | 57% | 21% |
| 3 | 28% | 62% | 10% |
*Calculated from compulsory and optional modules (where applicable) each year
Features
Professional accreditation
This course is accredited by the Institution of Engineering and Technology (IET).
Placements
Students who get work experience tend to graduate with better degrees. Experience also hones your skills, industry knowledge and professional network, making you a sought after graduate.
If you choose the four-year (sandwich) course, you'll spend a year away from the University on a work placement after Year two.
We have strong relationships with renewable energy companies such as EDF Energy, GE Power and NPower, and aerospace, automotive and mechatronic companies such as Airbus, Bowing, Dyson and Rolls Royce. We also work with smaller local consultancies, who provide computer-aided design (CAD) and engineering work placements.
Past students have worked on electronic systems for next-generation Range Rovers. Others have developed fuel systems for Airbus.
Employers are impressed with the standard of our students and often offer them work on graduation.
Get help to find your placement and support throughout from staff within the school and our award-winning careers service.
Fieldwork
Throughout the course, you'll see engineering in action at a range of facilities run by partner employers, like Airbus. 
On factory visits, you'll receive a guided tour of the shop floor and attend presentations from the host organisation.
Study facilities
Our engineering building is designed to inspire the engineers of the future. Built for hands-on investigation, with engine test cells, wind tunnels and collaborative learning spaces. An ideal environment for encouraging you to explore, take risks and discover ways to change the world for the better.
Learn in well-equipped electronics, control systems and embedded systems laboratories.
Collaborate and develop ideas in our lab, which emulates a real-world software development environment.
Develop prototypes using robotic assembly cells, power distribution systems and motor drives, as well as subsonic and supersonic wind tunnels.
Produce hardware with industry standard software. Make circuit boards, leads and connectors in fabrication facilities with electronic test equipment, monitors and scopes.
Study control systems and telecommunications in specialist labs.
Learn more about UWE Bristol's facilities and resources.
Take a Virtual Tour of the Engineering facilities and see what's on offer here for you.
Take a look at the Engineering building
Step inside our new School of Engineering building at UWE Bristol.
Careers
Careers / Further study
Our BEng(Hons) Electrical and Electronic Engineering will enable you to explore the application of electronics in a broad range of environments. You'll examine signal processing, micro-controllers, communications, control systems and digital hardware design.
On this course, you'll tackle real world issues through live projects, and learn to take risks as you develop solutions in our state-of-the art labs. You'll gain technical skills in digital and analogue electronics, mathematics and computer programming.
You'll also develop core skills that you'll take with you through your career, such as innovation, teamwork, communication, creativity and project planning. You'll learn to apply these skills through practical projects in our well-equipped facilities, ensuring you're prepared for professional practice.
Demand for graduates with expertise in electrical and electronic engineering is high, so you'll graduate with strong employability prospects. Many of our graduates pursue careers in power generation, consumer technology, communications, manufacturing, transport, rail, aviation or electrical companies.
Gain an inside track on the industry through factory tours and professional briefings from leading organisations. With some of the biggest names in engineering on your doorstep, you'll benefit from our local industry links with professionals in practice.
You'll also have the chance to attend careers fairs and engineer 'speed dating' events. These opportunities will help you find employment at the end of your course and take the next step towards changing the world as a qualified engineer.
Get inspired
Our award-winning careers service will develop your employment potential through career coaching and find you graduate jobs, placements and global opportunities.
We can also help find local volunteering and community opportunities, provide support for entrepreneurial activity and get you access to employer events.
Visit our employability pages to learn more about careers, employers and what our students are doing six months after graduating.
See also:

Prospects - careers in engineering

The Guardian - what to do with a degree in electronic or electrical engineering
Fees
Full-time; Sandwich course
Indicative Additional Costs
Supplementary fee information
Your overall entitlement to funding is based on how long the course is that you're registered on. Standard funding is allocated based on the standard number of years that your course lasts, plus one additional year.
You'll apply for funding each year that you study and Student Finance will take into account how long the course is in each year that you apply. So if you register for the five year course and then transfer to the four year course, the number of years you can apply for funding will change. Student Finance will reassess your funding based on how many years you have been in study, not just those years for which you received student finance.
Always seek advice before taking any action that may have implications for your funding.
Additional costs
Additional costs are for items you could need during your studies that aren't covered by the standard tuition fee. These could be materials, textbooks, travel, clothing, software or printing.
Entry
Typical offers
Tariff points: 80
Contextual tariff: See our contextual offers page.
GCSE: Grade C/4 in English and Mathematics, or equivalent.
English Language Requirement: International and EU applicants are required to have a minimum overall IELTS (Academic) score of 6.0 with 5.5 in each component (or approved equivalent*). *The university accepts a large number of UK and International Qualifications in place of IELTS. You can find details of acceptable tests and the required grades you will need in our English Language section. Please visit our English language requirements page.
A-level subjects: No specific subjects required.
EDEXCEL (BTEC) Diploma: No specific subjects required.

For information on required Guided Learning Hours please see our minimum entry requirements page.

Access: No specific subjects required.
Baccalaureate IB: No specific subjects required.
Irish Highers: No specific subjects required.
T Levels: No specific subjects required.
Entry requirements
If you exceed the entry requirements you may be eligible for BEng(Hons) Electronic Engineering.
International applicants
If you are an international student your recommended route of study for this degree is through our International College, which upon successful completion to the required level and with good attendance, guarantees entry to Year one of the degree.
Read more about entry requirements.
How to apply
Read more about undergraduate applications.
For further information
You may also be interested in