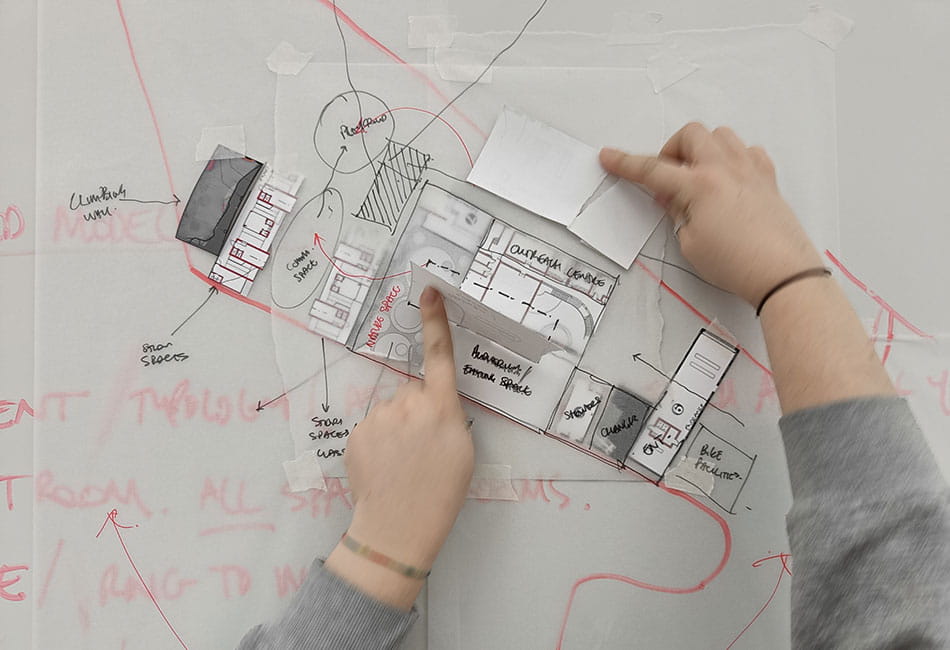 This course is open for applications.
Page last updated 5 December 2023
Introduction
Develop your professional portfolio and lay the foundations for your career on this exciting course with full Royal Institute of British Architects (RIBA) validation and Architects Registration Board (ARB) accreditation.
Why study architecture?
Architecture is constantly evolving, and an architect's role is to respond and adapt to change.
There is always a need for professionals who can provide well-considered and creative solutions to a range of problems within the building industry.
Whether you'll focus on sustainability, artistic concepts, detail design or simple ideas, a solid understanding of materials, methods and technology will allow you to find and provide effective solutions.
Why UWE Bristol?
BSc(Hons) Architecture teaches you the theoretical, historical, environmental, technological and professional factors influencing architecture.
This is one of five courses that cover different specialisms in architecture. We produce sought-after graduates with specialist knowledge and the skill to create exciting buildings.
Be taught by industry-experienced lecturers and visiting tutors, many of whom run their own architectural practices.
Investigate the design, refurbishment, use and re-use of existing and new build structures with an emphasis on building technology. Produce creative solutions from artistic concepts through to detail design.
Develop your design skills and explore computer-aided design (CAD), drawing, modelling, and mapping as well as structural and environmental strategies to support activity. Create an impressive portfolio of design projects, many with real clients and sites.
Assess and review architecture on day trips and residential field trips in the UK and abroad. Gain real-world experience on internships and graduate ready for the next step in your professional studies. 
Use your theoretical and hands-on skills to explore, develop and finely craft architectural design solutions.
You will be eligible to apply for an additional year of study (between years two and three) at one of our partner institutions abroad. Places for the additional year of study are limited and selection is competitive and subject to availability.
Where can it take me?
You'll be expected to work for an architectural practice for a year before joining a Part 2 course. Our Part 2 course, the MArch, ranks among the top 20 in the UK.
When you graduate, your strong analytical and problem-solving skills will make you desirable to employers and you'll be prepared for a wide range of careers.
Take a look at our online yearbook of student projects from our architecture and product design courses.
In order to register as an Architect in the UK, you'll need to have completed Part 1, Part 2 and Part 3 qualifications as identified on the ARB list of accredited qualifications. Please contact us if you need advice about accredited qualifications and qualifying as an Architect in the UK.
Structure
Content
Year one
You will study:
Design Studio 1
Healthy and Responsible Architecture
History of Architecture
Investigating Structures.
Year two
You will study:
Architectural Technology and Environment 2
Architecture and Design Studio 2
Design Representation
Histories and Theories of Architecture
Research and Design Strategies.
Final year*
You will study:
Advanced Technology and Environment 3
Architecture and Design Studio 3
Collaborative Practice
Dissertation
Theories of Architecture and Design.
*If you take the International Academic Placement year, you will also complete the International Academic Placement Year module, before returning for your final year.
The University continually enhances our offer by responding to feedback from our students and other stakeholders, ensuring the curriculum is kept up to date and our graduates are equipped with the knowledge and skills they need for the real world. This may result in changes to the course. If changes to your course are approved, we will inform you.
Learning and Teaching
The teaching staff provide a friendly environment for learning. They actively engage in research and professional practice to make sure you know about the latest ideas and business drivers.
The course is project-led and taught mainly in studios. Learn through lectures, seminars, laboratory work, tutorials and computer-based techniques. 
Work on a variety of conceptual and pragmatic projects, culminating with a year-long special study project in your final year. This combines rigorous research with a fully integrated architectural design project. Explore techniques including CAD, drawing, modelling and mapping.
Collaborate with undergraduates from other disciplines within the school. This encourages mutual respect and understanding of professionals you may work alongside in practice. It also develops your presentation, negotiation, communication and delegation skills.
Attend regular presentations from visiting practitioners and guest lecturers so you can learn about industry challenges and best practice.
See our full glossary of learning and teaching terms.
Approximate percentage of time you'll spend in different learning activities*:
| Year | Scheduled learning and teaching study | Independent study | Placement study |
| --- | --- | --- | --- |
| 1 | 44% | 56% | 0% |
| 2 | 36% | 64% | 0% |
| 3 | 33% | 67% | 0% |
*Calculated from compulsory and optional modules (where applicable) each year
Socialise and learn
Attend guest lectures, field-trips, live projects and social events with like-minded students in the UWE Bristol Architecture Society.
Extra-curricular activities contribute greatly to your personal development and are viewed favourably by potential employers.
Showcase your work
In your final year, showcase your work to prospective employers and the public at the annual degree show.
Take a look at some of our students' exhibits on Tumblr and in our online showcase.
Study time
To become a qualified architect you need three academic qualifications and two years of relevant practice. You'll need an ARB/RIBA Part 1 qualification (three year long undergraduate level) and to follow that with an ARB/RIBA part 2 qualification (two year long postgraduate level). You'll also need to complete two years of experience in practice (one of which can be between parts 1and 2) and you'll then need to do an ARB/RIBA Part 3 qualification.
Assessment
You should expect a range of assessment methods, with a balance between coursework and exams.
Throughout the course, you'll develop your creative portfolio through design projects, many with real clients and sites. After assessment, this portfolio becomes valuable evidence of your skills that you can present to potential employers. 
Approximate percentage of marks awarded by each assessment method*:
| Year | Written exam assessment | Coursework assessment | Practical exam assessment |
| --- | --- | --- | --- |
| 1 | 12% | 88% | 0% |
| 2 | 6% | 94% | 0% |
| 3 | 3% | 91% | 6% |
*Calculated from compulsory and optional modules (where applicable) each year
Features
Professional accreditation
This course is fully accredited by the Royal Institute of British Architects (RIBA) and the Architects Registration Board (ARB).
The accreditation confirms that this course gives you the right knowledge, understanding and skills to become an architect.
Placements
Students who get work experience tend to graduate with better degrees. Experience also hones your skills, industry knowledge and professional network, making you highly employable on graduation.
Throughout the course, you'll develop your portfolio with a series of design projects. Some will be live briefs, working with the community and Architecture Centre in Bristol.
We strongly encourage you to gain additional work experience through relevant work or internships during vacations.
Fieldwork
We arrange day trips so you can visit study locations and meet people that can inform your work. We also arrange residential field trips locally, nationally and internationally.
Study facilities
Learn in modern, well-equipped school facilities, including our award-winning design studios.
Study and collaborate on group assignments in our dedicated Project Room.
Develop CAD, model-making, design and drawing skills in integrated studios.
Create architectural models with the assistance of laser cutters, computerised routers and wind tunnels or in our wood, metal and concrete workshops.
Conduct spatial enquiries and analyse data using industry-standard geographic information system (GIS) and statistical software in our computer labs.
Get support for photography, digital imaging, filming and sound recording from our audio-visual group.
This mix of traditional and highly creative learning environments enables you to learn essential knowledge and real-world skills, standing you in good stead for your professional career.
Learn more about UWE Bristol's facilities and resources.
Take a Virtual Tour of the Architecture facilities and see what's on offer here for you.
Careers
Careers / Further study
After graduating this Part 1 course, it's standard practice to work for an architectural practice for a year to gain experience before joining a Part 2 course.
Our Part 2 course, the MArch, ranks among the top 20 in the UK. It's two years full-time but can be taken part-time.
If you don't continue your studies, you'll have developed strong problem-solving and decision-making skills, with an analytical focus. These qualities are sought after by employers and can be applied in a wide range of careers.
Get inspired
Our award-winning careers service will develop your employment potential through career coaching and find you graduate jobs, placements and global opportunities.
We can also help find local volunteering and community opportunities, provide support for entrepreneurial activity and get you access to employer events.
Visit our employability pages to learn more about careers, employers and what our students are doing six months after graduating.
Fees
Full time course
Indicative Additional Costs
Supplementary fee information
Additional costs
This refers to items you could need during your studies that aren't covered by the standard tuition fee. These could be materials, textbooks, travel, clothing, software or printing.
Entry
Typical offers
Tariff points: 144
Contextual tariff: See our contextual offers page.
GCSE: Grade C/4 in English and Mathematics, or equivalent.
English Language Requirement: International and EU applicants are required to have a minimum overall IELTS (Academic) score of 6.5 with 6.0 in each component (or approved equivalent*). *The university accepts a large number of UK and International Qualifications in place of IELTS. You can find details of acceptable tests and the required grades you will need in our English Language section. Please visit our English language requirements page.
A-level subjects: No specific subjects required.
EDEXCEL (BTEC) Diploma: No specific subjects required. Please list the units you are taking in your application. For further advice on acceptable units please email us.

For information on required Guided Learning Hours please see our minimum entry requirements page.

Access: No specific subjects required.
Baccalaureate IB: No specific subjects required.
Irish Highers: No specific subjects required.
T Levels: No specific subjects required.
Entry requirements
Selection process
We will usually make an assessment based on your UCAS application and we do not require portfolios.
International applicants
Due to capacity issues international applicants who wish to secure their place on the course will need to pay a deposit towards your course tuition fee by Saturday 1 July 2023. Your tuition fee deposit will be automatically deducted from your course tuition fee when you come to UWE Bristol to register.
We will not arrange the Confirmation of Acceptance for Studies (CAS) number necessary for a UK study visa if you have not paid your fee deposit by the deadline above. To find out more about the CAS number application process, please visit Confirmation of Acceptance for Studies (CAS).
To find out more about tuition fee deposits, please go to deposit and fee payments.
For country specific entry requirements please find your country on the country information pages. If you are an international student and do not meet the academic requirements to study this course, you can qualify by completing preparatory study at our International College.
If you are applying to study at UWE Bristol and require additional support to meet our English language requirements, you may be able to attend one of our pre-sessional English courses. Read more about our Pre-sessional English Programme.
Read more about entry requirements.
How to apply
Read more about undergraduate applications.
Read more about international applications and key international deadline dates.
For further information
You may also be interested in