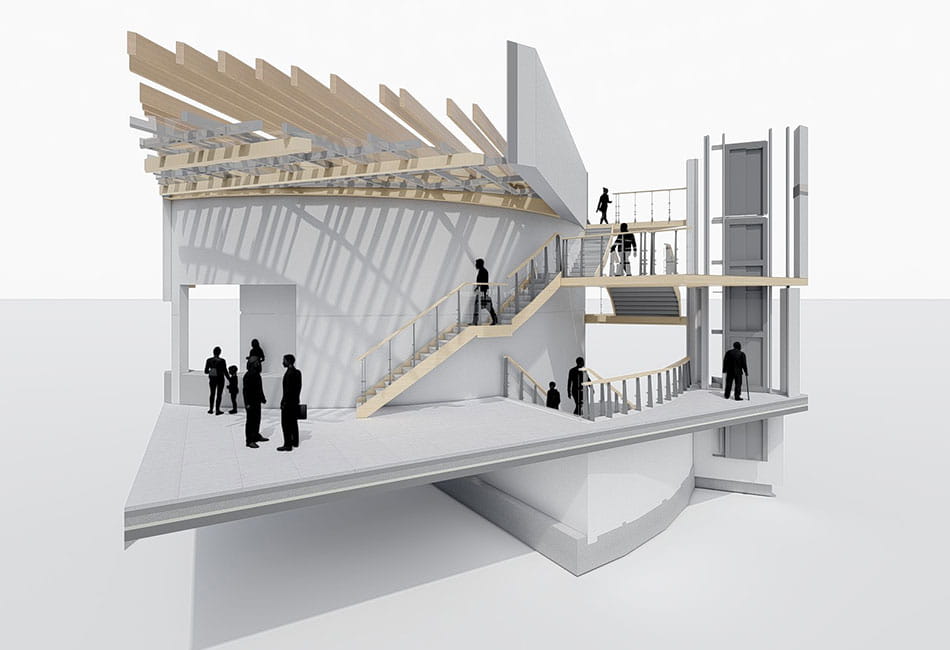 BSc(Hons)

Architectural Technology and Design (with Foundation Year)
This course is open for applications
Page last updated 4 December 2023
Introduction
Get valuable real-world advice from architecture professionals on this course, which is accredited by the Chartered Institute of Building (CIOB) (subject to conditions) and the Chartered Institute of Architectural Technologists (CIAT).
Why study architectural technology and design?
The evolution of architectural forms is influenced by culture and fashion, society and economics, climate and geography, security and self-preservation. 
For architecture to be able to respond to these factors, we need to apply technology. 
In the past, technological limitations imposed restrictions on architecture. These days, technology is almost limitless and architectural expression can develop in exciting ways.
Why UWE Bristol?
BSc(Hons) Architectural Technology and Design (with Foundation Year) is accredited by the Chartered Insitute of Building (CIOB) (subject to conditions) and the Chartered Institute of Architectural Technologists (CIAT).
This is one of five courses that cover different specialisms in architecture. We produce sought-after graduates with specialist knowledge and the skill to create exciting buildings.
This course equips you to become a chartered architectural technologist, working at the heart of the contemporary construction industry.
Gain a solid understanding of technological progression in construction, and where it sits within the history of architecture. 
Study and apply design concepts and construction technologies to a range of building problems. Sketch and assess buildings that inspire and inform your work on day and residential field trips.
Learn from industry-experienced tutors and work on a series of live briefs for real clients in our well-equipped studios. Collaborate with students across a range of disciplines and build your professional portfolio with practical design projects.
Take a year out to work in a professional practice and gain valuable real-world experience that improves your employability.
Our students become designers who can skilfully communicate ideas and contract managers who can control the procurement process.
You will be eligible to apply for an additional year of study (between years two and three) at one of our partner institutions abroad. Places for the additional year of study are limited and selection is competitive and subject to availability.
Where can it take me?
There's a wide range of career opportunities for technologists with design skills.
You could go on to work in architectural and engineering practices in the public or private sectors, or for contractors and developers, project managers and systems manufacturers.
Take a look at our online yearbook of student projects from our architecture and product design courses.
Structure
Content
The optional modules listed are those that are most likely to be available, but they may be subject to change.
Year zero (foundation year)
You will study:
Context of Design and Development
Foundation Design Communication
Foundation Design Studio
Foundation Engineering
Foundation Project in Sustainability.
You normally need to pass your foundation year before going into Year one.
Year one
You will study:
Construction Technology and Services
Design Studio 1
Environmental Physics and Materials.
Year two
You will study:
Commercial Development
Design Representation
Histories and Theories of Architecture
Procurement and Contract Practice
Technology and Design Studio 2.
Placement year (if applicable)
If you study on the five year (sandwich) course, you'll spend a year away from the University on a work placement after Year two.
See the Placements and Fees sections for more information.
Final year*
You will study:
Collaborative Practices in Building Information Management and Modelling
Technology and Design Studio 3.
Plus, optional modules (the amount depending on credit requirement) from:
Conserving Buildings and Places
Energy Management and Performance Evaluation
Technological Innovation and Life Cycles.
Plus one of the following optional modules:
Collaborative Practice
Procuremnent and Contract Law.
*If you take the International Academic Placement year, you will also complete the International Academic Placement Year module, before returning for your final year.
The University continually enhances our offer by responding to feedback from our students and other stakeholders, ensuring the curriculum is kept up to date and our graduates are equipped with the knowledge and skills they need for the real world. This may result in changes to the course. If changes to your course are approved, we will inform you.
Learning and Teaching
The teaching staff provide a friendly environment for learning. They actively engage in research and professional practice to make sure you know about the latest ideas and business drivers.
Learn through a mix of studio work, lectures, seminars, laboratory work, tutorials and computer-based techniques. 
Discover design concepts through studio work and computer modelling, and develop technologies from basic scientific principles.
Build on techniques learned in year one, practicing and applying all aspects of design to a range of building problems.
In your final year, combine the range of your knowledge to large-scale building projects. Produce detailed appraisals and new build design solutions. Create conceptual designs, working drawings and documentation.
Consider production techniques and constraints and provide advice to clients on long-term sustainability issues.
Become a student representative and sit on a wide range of committees from University to course level, where you'll influence discussions and decisions that affect your learning experience.
See our full glossary of learning and teaching terms.
Approximate percentage of time you'll spend in different learning activities*:
| Year | Scheduled learning and teaching study | Independent study | Placement study |
| --- | --- | --- | --- |
| 0 | 31% | 69% | 0% |
| 1 | 43% | 57% | 0% |
| 2 | 29% | 71% | 0% |
| 3 | 26% | 70% | 4% |
*Calculated from compulsory and optional modules (where applicable) each year
Showcase your work
Final year students showcase their work to prospective employers and the public at the annual degree show.
Take a look at some of our students' exhibits on Tumblr and in our online showcase.
Socialise and volunteer
Attend guest lectures, field trips, live projects and social events with like-minded students via Engineers without Borders.
Extra-curricular activities contribute greatly to your personal development and are viewed favourably by prospective employers.
Assessment
You'll be assessed through a mix of coursework/ studio portfolios and examinations, which aim to assess what you know and can do and help you develop the confidence and skills that employers value.
Throughout the course, you'll develop your creative portfolio through design projects, many with real clients and sites. After assessment, this portfolio becomes valuable evidence of your skills that you can present to potential employers. 
Learn more about assessments.
Approximate percentage of marks awarded by each assessment method*:
| Year | Written exam assessment | Coursework assessment | Practical exam assessment |
| --- | --- | --- | --- |
| 0 | 3% | 91% | 6% |
| 1 | 19% | 81% | 0% |
| 2 | 25% | 75% | 00% |
| 3 | 13% | 81% | 6% |
*Calculated from compulsory and optional modules (where applicable) each year
Learn from industry
Reviewers at the presentation of your project work will often include professionals in practice and students who are further along with their studies.
This ensures you get feedback that is practical and useful for your future career.
Features
Professional accreditation
This course is accredited by the Chartered Institute of Architectural Technologists (CIAT).
The Chartered Institute of Architectural Technologists (CIAT) is a dynamic, forward-thinking and inclusive global membership qualifying body for Architectural Technology. The benefit of studying on a CIAT accredited programme is that it will support you in becoming a Chartered Architectural Technologist, MCIAT. When you graduate, you'll be able to apply for Associate Membership of CIAT.
This means we meet established standards in terms of resources, course content, teaching quality, and graduate progression within the profession.
UWE Bristol also holds Chartered Insitute of Building (CIOB) Accredited Centre Status during the period 2022-2027 and this course is CIOB Accredited (subject to conditions) during the period 2022-2027, having been judged to meet the CIOB Education Framework. Prospective members holding these qualifications have full academic exemption and once they have gained three to five years' relevant work experience may enter CIOB membership as an applicant to progress towards Chartered Membership without the requirement for an Individual Assessment.
Placements
Students who get work experience tend to graduate with better degrees. Experience also hones your skills, industry knowledge and professional network, making you highly employable on graduation.
Our course is supported by a group of employers who contribute towards teaching resources and can offer placements and graduate positions to students.
If you choose the five year (sandwich) course, you'll spend a year away from the University on a work placement after Year two. 
You'll get help to find your placement and support throughout from College staff and our award-winning careers service.
We also encourage you to gain work experience through relevant work or internships alongside your studies.
Fieldwork
We arrange day trips so you can visit study locations and meet people that can inform your work. We also arrange residential field trips locally, nationally and internationally.
Study facilities
Learn in a modern, well-equipped specialist facilities, including award-winning design studios.
Study and collaborate on group assignments in our dedicated project room.
Attend model-making workshops and develop computer-aided design (CAD), data analysis and environmental modelling skills in integrated studios.
Create architectural models with the assistance of laser cutters, computerised routers and wind tunnels or in our wood, metal and concrete workshops.
Test lighting using the artificial sky, or sound in the acoustics laboratories, with experienced technicians who support teaching and research.
Consider airflow and cooling, mechanical systems and water flow in our environmental services laboratory.
This mix of traditional and highly creative learning environments enables you to learn essential knowledge and real-world skills, standing you in good stead for your professional career.
Learn more about UWE Bristol's facilities and resources.
Take a Virtual Tour of the Architecture facilities and see what's on offer here for you.
Careers
Careers / Further study
After graduating, your design and technological skills and practical experience can lead to a variety of careers.
The construction industry is becoming better managed and more strategic in its approach, especially in the larger government and civil engineering schemes. 
There's a growing demand for graduate technologists with design skills in the public and private architectural practices, contractors and building component manufacturers.
You could go on to become an Architectural Technologist; Architectural Assistant; Building Information Modelling (BIM) Coordinator; Energy, Fire and Environmental Analyst; Technical Graduate; or Purchasing Coordinator.
Get inspired
Our award-winning careers service will develop your employment potential through career coaching and find you graduate jobs, placements and global opportunities.
We can also help find local volunteering and community opportunities, provide support for entrepreneurial activity and get you access to employer events.
Visit our employability pages to learn more about careers, employers and what our students are doing six months after graduating.
Useful links
Fees
Full-time; Sandwich course
Indicative Additional Costs
Supplementary fee information
Your overall entitlement to funding is based on how long the course is that you're registered on. Standard funding is allocated based on the standard number of years that your course lasts, plus one additional year.
You'll apply for funding each year that you study and Student Finance will take into account how long the course is in each year that you apply. So if you register for the five year course and then transfer to the four year course, the number of years you can apply for funding will change. Student Finance will reassess your funding based on how many years you have been in study, not just those years for which you received student finance.
Always seek advice before taking any action that may have implications for your funding.
Additional costs
This refers to items you could need during your studies that aren't covered by the standard tuition fee. These could be materials, textbooks, travel, clothing, software or printing.
Entry
Typical offers
Tariff points: 88
Contextual tariff: See our contextual offers page.
GCSE: Grade C/4 in English and Mathematics, or equivalent.
A-level subjects: No specific subjects required.
EDEXCEL (BTEC) Diploma: No specific subjects required.

For information on required Guided Learning Hours please see our minimum entry requirements page.

Access: No specific subjects required.
Baccalaureate IB: No specific subjects required.
Irish Highers: No specific subjects required.
T Levels: No specific subjects required.
Entry requirements
If you exceed the entry requirements you may be eligible for BSc(Hons) Architectural Technology and Design.
International Applicants
If you are an international student your recommended route of study for this degree is through our International College, which upon successful completion to the required level and with good attendance, guarantees entry to Year one of the degree.
Read more about entry requirements.
How to apply
Read more about undergraduate applications.
For further information