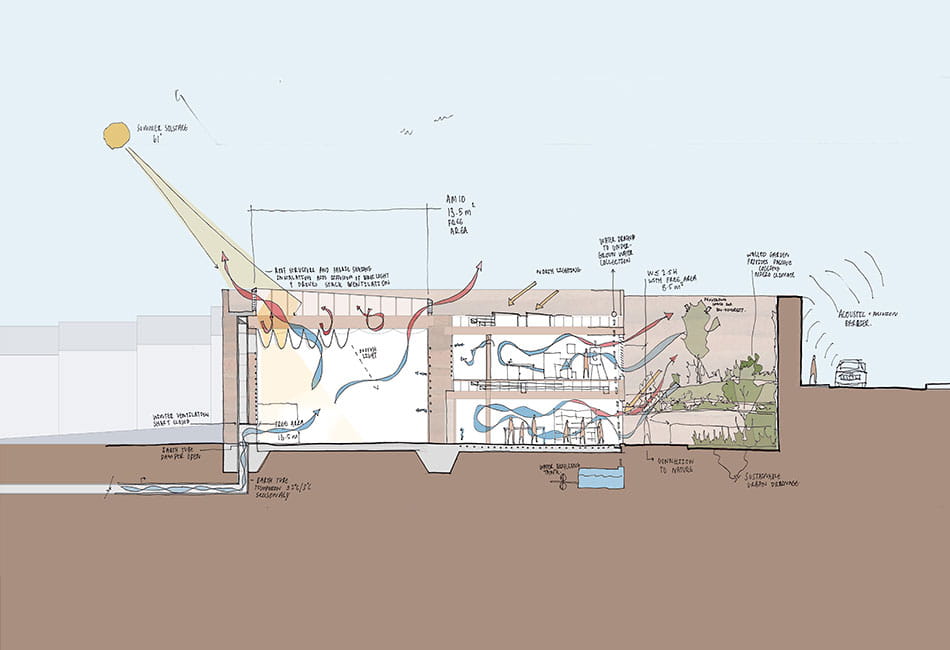 BEng(Hons)

Architecture and Environmental Engineering
This course is open for applications
Page last updated 30 November 2023
Introduction
Become a designer of the future by learning the creative and analytical skills of both architects and engineers, and study towards professional status in both fields.
Why study architecture and environmental engineering?
As the world's resources become scarce, there is a growing need to create buildings that are environmentally responsible.
This calls for design professionals with the creative and analytical skills of both architects and engineers, which is an unusual mix of skills that is highly sought after by employers.
It is these future designers who will achieve design excellence, pursuing imaginative strategies for using resources efficiently.
Why UWE Bristol?
BEng(Hons) Architecture and Environmental Engineering is a unique course.
This is one of five courses that cover different specialisms in architecture. We produce sought-after graduates with specialist knowledge and the skill to create exciting buildings.
It can be difficult to know whether to pursue a degree in arts or sciences. This joint degree enables you to work towards professional status in both engineering and architecture, developing your cultural, artistic and technological interests in parallel.
It's in the overlap between function, aesthetics and physics that true inventiveness can flourish. Each way of thinking stimulates the others, giving you innovative solutions to problems.
Explore architecture, passive design, environmental physics, environmental systems in buildings and the effective use of energy and materials. Gain a rare mix of knowledge and skills that will prepare you for this expanding sector of design.
Learn from industry-experienced tutors and practising professionals who bring up-to-the-minute ideas from their active projects.  
Develop your professional portfolio with a stream of practical design projects from real clients in the Bristol area.
Go on site visits and residential field trips in the UK and overseas to make sure your design thinking is linked to the world beyond your studies.
Where can it take me?
With a dual degree, you'll be ready for a variety of careers in architecture, environmental engineering and sustainability consultancy.
Opportunities are available in small private practices up to large multinationals like Foster & Partners, Arup and Atkins.
Take a look at our online yearbook of student projects from our architecture and product design courses.
In order to register as an Architect in the UK, you'll need to have completed Part 1, Part 2 and Part 3 qualifications as identified on the ARB list of accredited qualifications.  Please contact us if you need advice about accredited qualifications and qualifying as an Architect in the UK.
Take a look at the Engineering building
Step inside our new School of Engineering building at UWE Bristol.
Structure
Content
Year one
You will study:
Design Studio 1
Engineering Principles (Building Engineering)
Environmental Physics and Materials
Mathematics for Civil and Environmental Engineering.
Year two
You will study:
Building Services Applications
Design Representation
Histories and Theories of Architecture
Research and Design Strategies
Studio 2.
Year three
You will study:
Applications of Mathematics in Civil and Environmental Engineering
Design and Engineering Studio 3
Interactive Systems and Comfort Control
Low Carbon Building Services
Theories of Architecture and Design.
Final year
You will study:
Collaborative Practice
Design and Engineering Studio 4
Energy Management and Performance Evaluation
Mechanical Services.
The University continually enhances our offer by responding to feedback from our students and other stakeholders, ensuring the curriculum is kept up to date and our graduates are equipped with the knowledge and skills they need for the real world. This may result in changes to the course. If changes to your course are approved, we will inform you.
Learning and Teaching
Teaching methods are varied depending on the module; studios, lectures, project work and tutorials all play a part.
Collaborate with undergraduates from other disciplines within the School. Grow your mutual respect and understanding of other professions that you're likely to work with during your career. Develop and practice presentation, negotiation, communication and delegation skills.
Explore the ideas and skills needed for the creation of elegant, resource-efficient architecture. Build a body of knowledge encompassing environmental physics, building services systems, and historical context. Connect these theoretical strands to the practical task of design.
Attend regular presentations from visiting practitioners and guest lecturers so you can learn about industry challenges and best practice.
Learn from friendly teaching staff who actively engage in research and professional practice to make sure you know about the latest ideas and business drivers.
See our full glossary of learning and teaching terms.
Approximate percentage of time you'll spend in different learning activities*:
| Year | Scheduled learning and teaching study | Independent study | Placement study |
| --- | --- | --- | --- |
| 1 | 38% | 62% | 0% |
| 2 | 35% | 65% | 0% |
| 3 | 36% | 64% | 0% |
| 4 | 33% | 67% | 0% |
*Calculated from compulsory and optional modules (where applicable) each year
Socialise and volunteer
Attend guest lectures, field trips, live projects and social events with like-minded students in our Architecture Society and Engineers without Borders.
Become a student rep and sit on a range of committees at University and school level, where you can influence decisions that affect your learning experience.
Extra-curricular activities are great for your personal development and are attractive to prospective employers.
Showcase your work
In your final year, showcase your work to prospective employers and the public at the annual degree show. 
Take a look at some of our students' exhibits on Tumblr and in our online showcase.
Assessment
You should expect mix of coursework and exams, which assess what you know and can do and help you develop the confidence and skills that employers' value.
Examinations are held in January or May/June. Coursework is made up of essays, reports, surveys, design projects and teamwork.
We encourage you to do formative work like practice tests to prepare for assessments. This doesn't count towards your marks but the feedback you get will help you improve your performance.
We provide support for students who have difficulties with numeracy, IT, literacy and study skills.
Learn more about assessments.
Approximate percentage of marks awarded by each assessment method*:
| Year | Written exam assessment | Coursework assessment | Practical exam assessment |
| --- | --- | --- | --- |
| 1 | 31% | 69% | 0% |
| 2 | 19% | 81% | 0% |
| 3 | 13% | 78% | 9% |
| 4 | 13% | 81% | 6% |
*Calculated from compulsory and optional modules (where applicable) each year
Features
Professional accreditation
This degree is accredited by the Royal Institute of British Architects (RIBA) and the Architects Registration Board (ARB). It gives you exemptions from RIBA Part 1 exams.
It's also accredited by the Chartered Institute of Building Services Engineers (CIBSE) as a qualifying first degree on the way to Chartered Engineer status.
The course is also accredited by the Board of Architects Malaysia.
Placements
There's no compulsory work placement on this degree, but we strongly encourage you to get experience through work or internships during vacations.
Experience also hones your skills, industry knowledge and professional network, making you an attractive graduate.
Fieldwork
We arrange day trips so you can visit study locations and meet people that can inform your work. We also arrange residential field trips locally, nationally and internationally.
Study facilities
Learn in a modern, well-equipped facilities, including award-winning design studios.
Attend model-making workshops and develop computer-aided design (CAD), data analysis and environmental modelling skills in collaborative workshops.
Create architectural models using laser cutters, computerised routers, artificial sky and wind tunnels, or in our wood, metal and concrete workshops.
Test lighting in environmental physics and acoustics laboratories with experienced technicians who support teaching and research.
Consider airflow and cooling, mechanical systems and water flow in our environmental services laboratory.
This mix of traditional and highly creative learning environments enables you to learn essential knowledge and real-world skills, standing you in good stead for your professional career.
Learn more about UWE Bristol's facilities and resources.
Take a Virtual Tour of the Architecture facilities and see what's on offer here for you.
Start your dream career at UWE Bristol
Careers
Careers / Further study
With strong problem-solving skills, decision-making and analytical skills, you'll graduate ready to create a new generation of environmentally smart buildings.
These attributes are sought after by employers and can be applied in a range of careers.
This degree prepares you for careers in architecture, environmental engineering and sustainability consultancy. Work for small private practices right up to multinationals like Arup, Atkins and Foster & Partners.
You could also continue studying to become a fully qualified Architect or Engineer.
Get inspired
Our award-winning careers service will develop your employment potential through career coaching and find you graduate jobs, placements and global opportunities.
We can also help find local volunteering and community opportunities, provide support for entrepreneurial activity and get you access to employer events.
Visit our employability pages to learn more about careers, employers and what our students are doing six months after graduating.
See also:
Prospects - careers in property and construction
Prospects - careers in engineering and manufacturing
Fees
Full time course
Indicative Additional Costs
Supplementary fee information
Additional costs
Additional costs are for items you could need during your studies that aren't covered by the standard tuition fee. These could be materials, textbooks, travel, clothing, software or printing.
Entry
Typical offers
Tariff points: 120
Contextual tariff: See our contextual offers page.
GCSE: Grade C/4 in English and Mathematics, or equivalent.
English Language Requirement:

International and EU applicants are required to have a minimum overall IELTS (Academic) score of 6.5 with 6.0 in each component (or approved equivalent*).

*The university accepts a large number of UK and International Qualifications in place of IELTS. You can find details of acceptable tests and the required grades you will need in our English Language section.

A-level subjects: Grade C in Mathematics, or grade A in Use of Mathematics, or grade C in Physics.
EDEXCEL (BTEC) Diploma: A merit in one of the following; Further Engineering Mathematics, Further Mathematics for Construction or Physics. Please list the units you are taking in your application. For further advice on acceptable units please email us.

For information on required Guided Learning Hours please see our minimum entry requirements page.

Access: 15 Level 3 credits at Merit in Mathematics or Physics.
Baccalaureate IB: You must have a minimum grade of 5 in Higher Level Mathematics or Physics.
Irish Highers: H2 in Mathematics or Physics.
T Levels: Grade C in A-Level Mathematics or Physics, in addition to your T Level qualification. If you have or are looking to partially complete your T-Level, you are still required to have the equivalent to 2 full A-Levels as part of our minimum entry requirements. As a result, if you are applying with only the core or occupational specialism, this may be insufficient as a stand-alone qualification.
Entry requirements
If you don't meet the entry requirements, you may be eligible for BEng(Hons) Architecture and Environmental Engineering (with Foundation Year).
International applicants
For country specific entry requirements please find your country on the country information pages. If you are an international student and do not meet the academic requirements to study this course, you can qualify by completing preparatory study at our International College.
If you are applying to study at UWE Bristol and require additional support to meet our English language requirements, you may be able to attend one of our pre-sessional English courses. Read more about our Pre-Sessional English Programme.
Read more about entry requirements.
How to apply
Read more about undergraduate applications.
Read more about international applications and key international deadline dates.
For further information
You may also be interested in