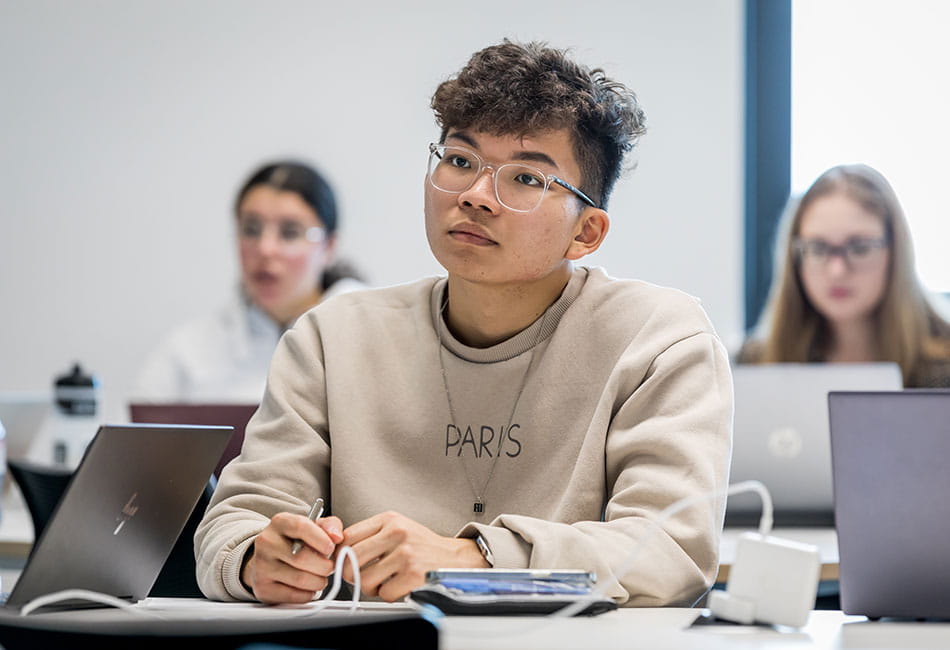 This course is open for applications
Page last updated 30 November 2023
Introduction
We have a strong track record of securing placements with public sector employers like the Treasury, Home Office, and Office of National Statistics; with financial institutions such as Lloyds Bank; and in businesses, charities and international organisations.
Why study economics?
From environmental sustainability to financial stability, and from wages to wealth, economic forces affect every aspect of our lives.
Studying BA(Hons) Economics will give you a solid understanding of how and why, and the skills needed to analyse issues and effect change across a wide range of areas, including the public sector, think tanks, financial institutions and charities.
Why UWE Bristol?
Along with this economics degree we also offer BSc(Hons)Economics. On both, you'll apply the latest economic theories to real and relevant challenges, develop critical thinking and debate ideas from a range of perspectives.
The BSc course gives you the chance to develop your technical skills to a more advanced level. The BA degree provides a rigorous and accessible economics training to those with less mathematical experience.
On both pathways, you'll be taught by a passionate and enthusiastic team of research-active staff with a growing reputation for being at the cutting edge of new ideas in economics. You'll develop your experience and test theoretical learning though placements and study abroad opportunities.
Learn to analyse a wide range of economic issues, such as where does wealth come from? Is our way of life sustainable? Is global trade a force for good? How does the banking and financial system affect our lives? Will robots take people's jobs? Is inequality getting worse and does it matter?
UWE Bristol takes a unique pluralist approach to teaching economics. As well as using traditional textbooks, you'll draw on ideas from a range of viewpoints and disciplines, placing economics in its broader social and political context.
With an emphasis on developing key skills and critical thinking while gaining real-world experience, you'll get regular access to industry and policy-making through placements, field trips and guest lectures.
Where can it take me?
As a graduate with a degree that's rooted in realism and application, you'll be highly attractive to employers.
You could pursue a career in government, banking and finance, retail, non-governmental organisations (NGOs) or charities.
UWE Economics (BA and BSc Economics)
Economics at UWE Bristol is an exciting and cutting-edge applied course which focuses on real and relevant issues, using and applying the latest post-crisis economic theory. In this video Bristol Business School alumni and staff tell you about studying Economics at UWE Bristol, the opportunities available and the skills students take with them into the world of work.
Structure
Content
The optional modules listed are those that are most likely to be available, but they may be subject to change.
Year one
You will study:
Microeconomics
Macroeconomics
Economic Reasoning
Statistics and Data Management
Evolutions of Economy and Industry
History of Economic Thought.
Year two
You will study:
Applied Microeconomics
Macroeconomics: Theory and Applications
Economic Research Methods
Introductory Econometrics.
Plus, two optional modules from:
Good Business, Bad Business and Sustainability
Emerging Economies
Economics of Money and Banking
International Trade and Multinational Business
The Wellbeing of People and Society.
Placement year (if applicable)
If you study on the four year (sandwich) course, you'll spend a year away from the University on a work or study placement after Year two.
Depending on which you choose, you'll either complete a placement learning or learning and development module.
See the Placements and Fees sections for more information.
Final year
You will study:
Final Year Project
Economic Theory and Policy
Plus one from:
Work Integrated Learning
Cross Cultural Learning and Development
Placement Learning
Learning and Development on Study Year Abroad.
Plus optional modules from (the number depending on credit requirements): 
The Economics of Developing Countries
Sustainable Business
Econometrics
Economics of International Financial Markets
Economics of Labour and Migration
Behavioural Economics
Political Economy
Feminist and Gender Economics.
The University continually enhances our offer by responding to feedback from our students and other stakeholders, ensuring the curriculum is kept up to date and our graduates are equipped with the knowledge and skills they need for the real world. This may result in changes to the course. If changes to your course are approved, we will inform you.
"I gained valuable skills from the real-world assignments on my course, such as a debate about competitor research. I'm now applying these skills to competitor analysis for product development in my current role, on a Product Management placement for Airbus Intelligence UK." Ellesha, 2020 Economics graduate. 
Learning and Teaching
Throughout the course, you'll be taught through a mix of lectures, seminars, independent student-led study, online materials, and group projects including presentations and debates.
Lectures, seminars, group project work and tutoring make up 12 hours of contact time each week. You'll spend at least as much time again studying independently. This includes preparing for seminars, reviewing lectures, online work, reading and other research activity. You'll also prepare assessed work and revise for end of module exams.
Developing a solid grounding in core economics concepts and skills, you'll also learn how to conduct quantitative and statistical analysis using industry standard software packages such as STATA and data sources including Bloomberg and Datastream.
In your third year, you'll undertake advanced study in your chosen areas of interest, and complete a dissertation or applied project.
This degree offers opportunities to gain industry experience through placements, field trips and guest lectures. You can also gain experience through short-term internships, paid work as a Student Ambassador or Peer Assisted Learning Leader, or through volunteering.
There's also the chance to participate in Bristol's annual Festival of Economics.
See our full glossary of learning and teaching terms.
Approximate percentage of time you'll spend in different learning activities*:
| Year | Scheduled learning and teaching study | Independent study | Placement study |
| --- | --- | --- | --- |
| 1 | 26% | 74% | 0% |
| 2 | 24% | 76% | 0% |
| 3 | 21% | 79% | 0% |
*Calculated from compulsory and optional modules (where applicable) each year
Assessment
You'll be assessed through a mix of coursework and examinations. Coursework can take the form of essays and reports; business plans and applied research projects; portfolios and weekly notes; assessed group and individual presentations and debates. You'll also reflect and comment on your own learning and personal development.
Learn more about assessments.
Approximate percentage of marks awarded by each assessment method*:
| Year | Written exam assessment | Coursework assessment | Practical exam assessment |
| --- | --- | --- | --- |
| 1 | 53% | 36% | 11% |
| 2 | 51% | 40% | 9% |
| 3 | 46% | 47% | 7% |
*Calculated from compulsory and optional modules (where applicable) each year
Features
Professional accreditation
This degree is accredited by the Chartered Institute of Management Accountants (CIMA), giving valuable exemptions from professional exams.
Placements
We encourage you to do a 40-week paid sandwich placement after year two, either in the UK or abroad. This allows you to gain real-world experience and skills that will increase your employability.
Economics at UWE Bristol has a strong track record for securing placements with the Government Economic Service (i.e. the Treasury, Home Office, Department for Business Innovations & Skills, Department of Work and Pensions, and the Office of National Statistics).
Academic staff will support you through the application process, showing you how to complete the Government Economic Service (GES) application form and how to succeed in interview.
Wherever you choose to do your placement, you'll receive guidance throughout from UWE Bristol's award-winning careers service.
Study year abroad
You'll also have opportunities to study overseas on courses that are taught in English and relevant to your degree. The study year abroad is not a paid placement.
Study facilities
Designed with student input, the Bristol Business School offers state of the art lecture theatres, learning spaces for individual and group study, and conference rooms that you can book.  You'll also have access to cutting-edge learning spaces like the Bloomberg trading room.
In our specialist library, business librarians manage vast collections to support your research. You'll have access to recommended books, trade press, academic journals, and industry databases on and off campus. You can also attend workshops to develop your information skills or visit our online study skills area for additional support with learning.
Learn more about UWE Bristol's facilities and resources.
Take a Virtual Tour of the Economics facilities and see what's on offer here for you.
Careers
Careers / Further study
High demand for graduates with this degree means diverse career prospects and a competitive place in the jobs market.
This course is an ideal launch pad for a career in government (for example the Government Economic Service), banking, finance, management, accountancy, marketing, corporate finance, non-governmental organisations (NGOs), charities and postgraduate studies.
Previous graduates have gone on to work as economists in the Government Economic Service, including the Treasury and the Home Office; in finance and banking for organisations such as Lloyds Banking Group, HSBC and Goldman Sachs; and as economists and analysts across industry and the retail sector.
Get inspired
Our award-winning careers service will develop your employment potential through career coaching and find you graduate jobs, placements and global opportunities.
We can also help find local volunteering and community opportunities, provide support for entrepreneurial activity and get you access to employer events.
Visit our Employability pages to learn more about careers, employers and what our students are doing six months after graduating.
See also:
Fees
Full-time; Sandwich
Indicative Additional Costs
Supplementary fee information
Your overall entitlement to funding is based on how long the course is that you're registered on. Standard funding is allocated based on the standard number of years that your course lasts, plus one additional year.
You'll apply for funding each year that you study and Student Finance will take into account how long the course is in each year that you apply. So if you register for the four year course and then transfer to the three year course, the number of years you can apply for funding will change. Student Finance will reassess your funding based on how many years you have been in study, not just those years for which you received student finance.
Always seek advice before taking any action that may have implications for your funding.
Additional costs
This refers to items you could need during your studies that aren't covered by the standard tuition fee. These could be materials, textbooks, travel, clothing, software or printing.
Entry
Typical offers
Tariff points: 112
Contextual tariff: See our contextual offers page.
GCSE: Grade C/4 in English and Mathematics, or equivalent.
English Language Requirement: International and EU applicants are required to have a minimum overall IELTS (Academic) score of 6.0 with 5.5 in each component (or approved equivalent*). *The university accepts a large number of UK and International Qualifications in place of IELTS. You can find details of acceptable tests and the required grades you will need in our English Language section. Please visit our English language requirements page.
A-level subjects: No specific subjects required.
EDEXCEL (BTEC) Diploma: No specific subjects required.

For information on required Guided Learning Hours please see our minimum entry requirements page.

Access: No specific subjects required.
Baccalaureate IB: No specific subjects required.
Irish Highers: No specific subjects required.
T Levels: No specific subjects required.
Entry requirements
If you don't meet the entry requirements, you may be eligible for BA(Hons) Economics (with Foundation Year).
International applicants
For country specific entry requirements please find your country on the country information pages. If you are an international student and do not meet the academic requirements to study this course, you can qualify by completing preparatory study at our International College.
If you are applying to study at UWE Bristol and require additional support to meet our English language requirements, you may be able to attend one of our pre-sessional English courses. Read more about our Pre-Sessional English Programme.
Direct entry
If you are interested in direct entry to Final year, please see our BA(Hons) Economics (Top Up) course.
Read more about entry requirements.
How to apply
Read more about undergraduate applications.
Read more about international applications and key international deadline dates.
For further information
You may also be interested in