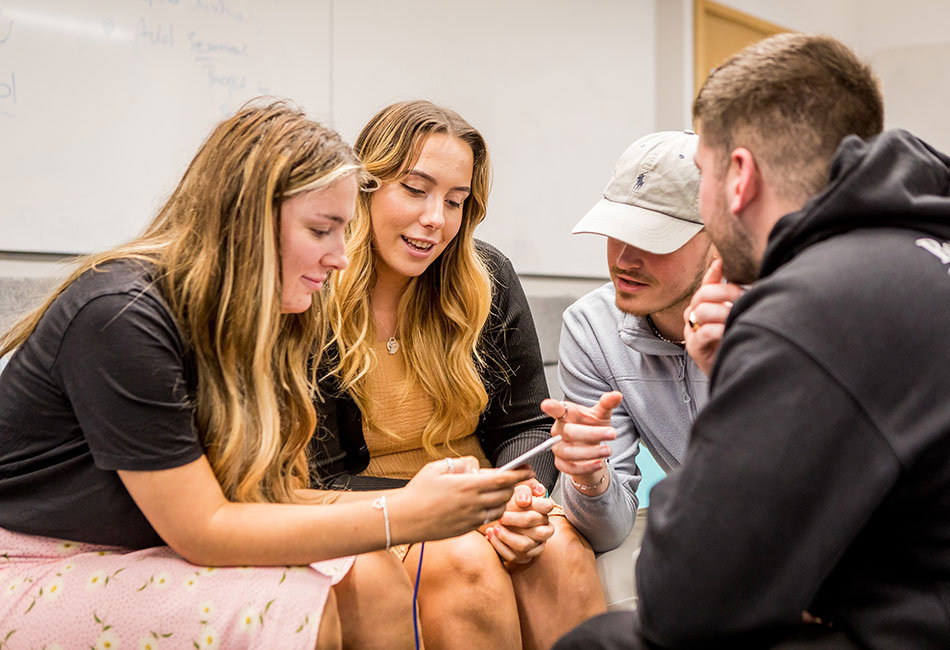 BA(Hons)

Business (Team Entrepreneurship) (with Foundation Year)
This course is open for applications.
Page last updated 7 December 2023
Introduction
This is a groundbreaking course that shows you how to set up and run a business alongside your studies, giving you valuable entrepreneurial experience.
Do you want to learn business by doing business? Are you motivated to think for yourself as well as be part of a team? Do you like learning from others, as well as your own mistakes? If so, our BA(Hons) Business (Team Entrepreneurship) will give you the skills, creativity and confidence to tackle any entrepreneurial challenge, while working well with others.
Why study BA(Hons) Business (Team Entrepreneurship)?
Our Business (Team Entrepreneurship) course is specifically designed with your future working life in mind. Open to those from a wide range of backgrounds, this course will enable you to gain real-world entrepreneurship experience, without needing previous business knowledge.
Team entrepreneurship offers a unique study opportunity. Inspired by the pioneering Finnish 'Team Academy' approach, you'll create and run an enterprise as part of a team. So you'll learn to become an entrepreneur and 'teampreneur' a person skilled at creating value with others.
Why study at UWE Bristol?
Our Business (Team Entrepreneurship) course was one of the first of its kind in the UK. By joining UWE Bristol's established 'Team Academy', you'll benefit from our proven track record for supporting student entrepreneurship.
You'll get support to start and develop your own venture, including funding and access to space on campus. Test out your ideas in a dedicated open-plan space in Bristol Business School, using industry-standard facilities.
You'll also be studying in a city with a vibrant start-up scene, with organisations such as Engine Shed, Business West, NatWest Entrepreneur Accelerator, Launch Space and Future Space.
Springpod Subject Spotlight video - try your course before you apply
UWE Bristol has partnered with Springpod, an online platform that provides immersive career and education opportunities. On this platform, you can sign up and log in to watch a Subject Spotlight video for our BA(Hons) Business (Team Entrepreneurship) course. The video is entitled Starting from scratch: Making your business dreams a reality. In this Subject Spotlight, Marion Gillet explores how to turn your business dreams into reality.
Where can it take me?
Team Entrepreneurship offers you a creative mindset that's invaluable in all roles and industries. You'll graduate with diverse career options, from founding start-ups to working in small to medium sized enterprises or large organisations. You could also progress to careers in the management, consultancy, education, finance, marketing, technology and design sectors.
Structure
Content
There are four core "strands" of learning that run throughout the three years: 
Team Company - The "spine" of the course. You'll learn about the theory and then apply the practice of internal governance and processes - the nuts and bolts of any successful venture. You'll discover the importance of clarity around team rules, roles, activities, decision-making processes, developing targets and measuring progress. You'll also see why the running of team training sessions, workshops and other learning activity and team projects and ventures really matters. Working well with others is what makes the enterprise world go round.
Self-Leadership - There's is no leadership of others without leadership of self. You'll learn the theory and practice to intentionally influence your thinking, feelings and actions towards achieving your personal and team objectives. 
Learning by Doing - A dynamic process of acting and reflecting. Applying different reflective frameworks and methodologies will help you to identify and develop the wide range of entrepreneurial competencies you'll need to thrive in any business environment.
Learning from Others - Develop your capacity to listen and learn, to absorb, adopt and adapt the work of others through enquiry and research. You'll learn skills for identifying, evaluating and applying relevant theories, models, frameworks and methodologies, and to bring criticality and challenge into your entrepreneurial thought processes.
Progression along the years
As you'd expect, the complexity, challenge and expectations of Team Entrepreneurs from their projects and assignments increases each year: 
Year one - routine and habits, building practices as individuals and teams, individual and team project experiments and reflecting.
Year two - develop practices as individuals and teams, develop projects and businesses, and specialisation as a team entrepreneur.
Final year - high performing individuals, growing ventures and businesses, high performing teams, and exit strategy from the course.
You normally need to pass all modules in your foundation year before going into Year one.
Year zero (foundation year)
Development of your academic skills and your understanding of law, economics, accounting, business and management.
You'll study:
Becoming a Professional
Introduction to Organisations, Enterprise and Management 
Economics and Accounting for the Real World
Introduction to Law in a Social, Business and Global Context.
The modules you'll study are as follows:
Year one
You'll study:
Running a Learning Organisation 1 (focuses on how to form your team)
Managing My Learning and Development 1 (focuses on self-directed learning)
Enterprising and Entrepreneurial Practice 1 (focuses on exploring venture creation)
Enquiry into Enterprise and Entrepreneurship 1 (focuses on how to access expert knowledge).
Year two
You'll study:
Running a Learning Organisation 2 (focuses on how to test team capabilities)
Managing My Learning and Development 2 (teaches you more about self-leadership)
Enterprising and Entrepreneurial Practice 2 (focuses on evaluating entrepreneurial opportunities)
Enquiry into Enterprise and Entrepreneurship 2 (focuses on how to select your specialism).
Final year
You'll study:
Running a Learning Organisation 3 (focuses on leveraging your team's performance)
Managing My Learning and Development 3 (teaches you more about self-mastery)
Enterprising and Entrepreneurial Practice 3 (focuses on refining entrepreneurial competencies)
Enquiry into Enterprise and Entrepreneurship 3 (focuses on how to deliver thought leadership).
The University continually enhances our offer by responding to feedback from our students and other stakeholders, ensuring the curriculum is kept up to date and our graduates are equipped with the knowledge and skills they need for the real world. This may result in changes to the course. If changes to your course are approved, we will inform you.
Learning and Teaching
When you join the course, you'll become part of a Team Company with up to 19 other Team Entrepreneurs. Just as you would in the real world, you'll be a team throughout your four year 'career' as an undergraduate.
Together you'll train on the job, combining this with academic work to gain the knowledge, habits and competencies of effective individual and team working. 
With your team, you'll run your own training sessions, supported by your experienced team coach. You'll also receive regular input from 'mentors in residence' who are successful and experienced in a range of sectors and businesses.
You'll also engage in a wide range of professional workshops and personal development sessions to ensure you develop your entrepreneurial potential. Although there are no formal lectures, you're welcome to attend selected lectures offered on other undergraduate courses at UWE Bristol.
You and your teammates will be relying on each other in running your own company and learning, so this is a full-time commitment. You'll be expected to attend six hours of team coaching (training sessions) each week.
See our full glossary of learning and teaching terms.
Approximate percentage of time you'll spend in different learning activities*:
| Year | Scheduled learning and teaching study | Independent study | Placement study |
| --- | --- | --- | --- |
| 0 | 24% | 76% | 0% |
| 1 | 24% | 63% | 13% |
| 2 | 32% | 54% | 14% |
| 3 | 27% | 57% | 16% |
*Calculated from compulsory and optional modules (where applicable) each year
Study time
You'll be expected to attend eight hours of team coaching each week for 36 weeks of the year.
As well as these sessions, there will be a range of workshops, tutorials and collaborative sessions that you need to attend so you fully benefit from the course.
You and your team mates will be running your own company and you should expect this course to be a full-time commitment.
Assessment
Assessment of your development and progression is rigorous and continuous and the complexity, challenge and expectations increase each year. 
We're passionate about ensuring that your learning and development is routinely and fairly assessed, supporting you in achieving the learning outcomes of this course.
Assessment methods include presentations, pitches, essays, portfolios, reports and formal examinations.
Learn more about assessments.
Approximate percentage of marks awarded by each assessment method*:
| Year | Written exam assessment | Coursework assessment | Practical exam assessment |
| --- | --- | --- | --- |
| 0 | 36% | 41% | 23% |
| 1 | 0% | 70% | 30% |
| 2 | 0% | 70% | 30% |
| 3 | 0% | 75% | 25% |
*Calculated from compulsory and optional modules (where applicable) each year.
Features
Fieldwork
We are part of the Team Academy Learning Network, a group of universities offering similar courses in Europe, China and South America. With this comes the opportunity to attend network meetings, or arrange a short exchange.
Study facilities
In our  Bristol Business School, you'll have access to cutting-edge learning spaces.
Designed with student input, it offers learning spaces for individual and group study plus conference rooms you can book. It's a space where students and business come together to collaborate and form new partnerships.
Your Team Company will have its own open plan office space in the Team Entrepreneurship Hub, giving you experience of running an office while you study. It's well-equipped with networked PCs, phones and presentation facilities.
In our specialist library, business librarians manage vast collections to support your research. Attend workshops to develop your information skills or visit Study Skills. 
You'll have access to recommended books, trade press, academic journals, and industry databases on and off campus.
Take a Virtual Tour of the Business Management facilities and see what's on offer here for you.
Guest speakers
This course offers inspiring sessions with industry experts, business and social entrepreneurs who share their experience and answer questions.
These include:
entrepreneurs and founders of successful start-ups
recruitment consultants
professional business coaches, educators and mentors
specialists in the fields of marketing, finance, operations and technology
venture capitalists and angel investors.
With guests from such diverse backgrounds, you'll be able to speed up your own development through the real-life experiences of others.
Five reasons to study BA(Hons) Business (Team Entrepreneurship) at UWE Bristol
Careers
Careers / Further study
This applied course prepares you for entrepreneurial work, whether your own venture or within an existing startup or established business. Whatever path you choose, you'll graduate with excellent career prospects, equipped with the skills, creativity, confidence and knowledge to tackle any challenge and work well with others.
By the end of the course, you'll have experience of starting projects and businesses, earning real money, developing your entrepreneurial skills and competencies. You'll also have the opportunity to act as a consultant to other businesses, develop as a self-leader and leader of others, and build your professional network.
Graduates from this course have said it prepared them well for starting their own ventures. You could also go into mainstream employment with careers in marketing, HR, coaching, education and development.
Get inspired
Our award-winning careers service will develop your employment potential through career coaching and find you graduate jobs, placements and global opportunities.
We can also help find local volunteering and community opportunities, provide support for entrepreneurial activity and get you access to employer events.
Visit our employability pages to learn more about careers, employers and what our students are doing six months after graduating.
Fees
Full-time
Indicative Additional Costs
Supplementary fee information
Additional costs
Additional costs are for items you could need during your studies that aren't covered by the standard tuition fee. These could be materials, textbooks, travel, clothing, software or printing.
Entry
Typical offers
Tariff points: 48
Contextual tariff: See our contextual offers page.
GCSE: Grade C/4 in English and Mathematics, or equivalent.
English Language Requirement: International and EU applicants are required to have a minimum overall IELTS (Academic) score of 6.0 with 5.5 in each component (or approved equivalent*). *The university accepts a large number of UK and International Qualifications in place of IELTS. You can find details of acceptable tests and the required grades you will need in our English Language section. Please visit our English language requirements page.
A-level subjects: No specific subjects required.
EDEXCEL (BTEC) Diploma: No specific subjects required.

For information on required Guided Learning Hours please see our minimum entry requirements page.

Access: No specific subjects required.
Baccalaureate IB: No specific subjects required.
Irish Highers: No specific subjects required.
T Levels: No specific subjects required.
Entry requirements
If you exceed the entry requirements you may be eligible for BA(Hons) Business (Team Entrepreneurship).
We won't be able to accept your application for this course if you require the Student Route visa.
Read more about entry requirements.
How to apply
Read more about undergraduate applications.
For further information