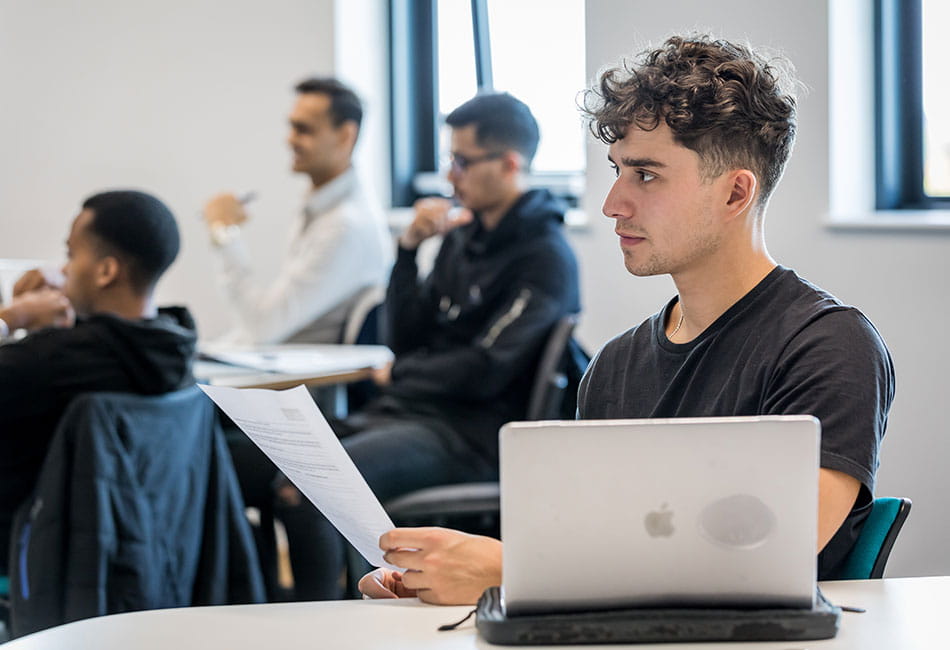 BA(Hons)

Accounting and Business Management (with Foundation year)
This course is open for applications
Page last updated 7 December 2023
Introduction
This applied and industry-engaged course gives you the edge in business by combining key management skills with financial expertise and strategic capabilities. You will also gain some exemptions from professional accounting exams.
Why study accounting and business management?
Effective financial and strategic management skills are highly sought after in business, and combined expertise will help you stand out in the graduate marketplace.
Why UWE Bristol?
The BA(Hons) Accounting and Business Management will prepare you to take on key management roles where your financial acumen will give you a valuable additional perspective.
Teaching balances technical accounting with management theory and practice, so you'll learn to manage effectively and make sound strategic and business and financial decisions.
Through regular guest speakers and employer partnerships, your learning is led by industry best practice and current innovations, so you're all set to enter practice in the real world.
In our Bristol Business School, you'll benefit from purpose-facilities which include interactive learning rooms and spaces for individual and group study.
You'll explore and apply real-time financial data in our Bloomberg Trading Suite, and attain the industry-recognized Bloomberg Certificate. At every stage of the course you'll be able to access academic skills support from the Academic Success Centre.
Develop your entrepreneurial skills though the University enterprise competitions and Grand Challenge projects. Join a Business Clinic team and gain experience of providing pro bono advice to small businesses and voluntary organisations.
This course shares a first year with our BSc(Hons) Accounting and BA(Hons) Accounting and Finance, with full transferability between courses at the end of the first year.
Where can it take me?
A sound financial grounding combined with effective management knowledge and skills will prepare you for leadership roles in a range of business and industry environments.
You might go on to join a graduate management training scheme in a major corporation, or decide to pursue professional qualifications in accounting or finance, or start your own business.
Structure
Content
The optional modules listed are those that are most likely to be available, but they may be subject to change.
Year zero (Foundation year)
You will study:
Becoming a Professional
Introduction to Organisations, Enterprise and Management 
Economics and Accounting for the Real World
Introduction to Law in a Social, Business and Global Context.
You usually need to pass your foundation year before going onto Year one.
Year one
You'll study:
Business Law
Economic Principles in a Contemporary Context
Essential Information and Academic Skills
Introduction to Management Accounting
Introduction to Managerial Finance
Management and Professional Development for Accounting and Finance
Statistics and Data Management.
Year two
You'll study:
Applied Research Skills in Accounting and Finance
Elements of Management in Practice 
Managing People.
Plus, two optional modules from:
Business Ethics: The Dark Side of Work and Organisations
Digital Business Management
Entrpreneurship and Small Business
International Business
Marketing, Planning and Practice
Operations and Business Systems.
Plus, two optional modules from:
Corporate Finance
Credit Management: Theory and Practice
Entrepreneurial Finance
Financial Accounting
Good Business, Bad Business and Sustainability
Personal Financial Planning
Race, Inequality and Justice - An Interdisciplinary Perspective.
Placement year (if applicable)
If you study on the four year (sandwich) course, you'll spend a year away from the University on a work Placement or a Study Year Abroad after Year two.  
Depending on which you choose, you'll either complete a placement learning or learning and development module.
See the Placements and Fees sections for more information.
Final year
You'll study:
Business Strategy and Technology 
Managing Organisational Change
Strategic Management Accounting
Strategic Project (Accounting and Finance)
Work Integrated Learning (Accounting and Finance) or Cross Cultural Learning and Development*.
*If you complete the Sandwich Placement or Study Year Abroad these modules won't be available to study.
Plus, two optional modules from:
Business Innovation and Growth
Credit Risk Analysis and Management
Financial Crime
Financial Management
Financial Technology
International Financial Management
Investment Management
Islamic Banking and Finance
Organisational Leadership
Project Management
Sustainable Business
Virtual Business.
The University continually enhances our offer by responding to feedback from our students and other stakeholders, ensuring the curriculum is kept up to date and our graduates are equipped with the knowledge and skills they need for the real world. This may result in changes to the course. If changes to your course are approved we will inform you.
Learning and Teaching
You will learn through a mixture of lectures, workshops and tutorials, with regular opportunities to hear from and engage with current industry experts, employers and alumni.
In the Bloomberg Trading Suite, you'll explore and apply real-time financial data and you'll gain core professional skills in sessions led by global accounting firms and professional bodies.
The Academic Success Centre will support your academic skills development at every stage of your course, and in your first and second year you'll be supported by additional peer assisted learning.
See our full glossary of learning and teaching terms.
Approximate percentage of time you'll spend in different learning activities*:
| | | | |
| --- | --- | --- | --- |
| Year | Scheduled learning and teaching study | Independent study | Placement study |
| 1 | 26% | 74% | 0% |
| 2 | 24% | 76% | 0% |
| 3 | 18% | 74% | 8% |
*calculated from compulsory and option module choices (where applicable) each year.
Study time
You'll have at least 12 hours contact time a week. Additional independent study tasks include tutorial preparation, group work, coursework assignments and exam revision this will take around 24 hours per week.
We want you to graduate with the best possible employment opportunities so you'll be expected to undertake either summer internships, part-time work experience, Business Clinic activities, or complete a 40-week industry placement as part of your course.
Assessment
Assessment will include business reports, essays, literature reviews, case study evaluations, simulations, presentations and portfolios. Modules leading to professional exemptions will always be assessed by examinations.
Learn more about assessments.
Approximate percentage of marks awarded by each assessment method*:
| | | | |
| --- | --- | --- | --- |
| Year | Written exam assessment | Coursework assessment | Practical exam assessment |
| 0 | 36% | 41% | 23% |
| 1 | 51% | 23% | 26% |
| 2 | 70% | 30% | 0% |
| 3 | 52% | 48% | 0% |
*Calculated from compulsory and optional modules (where applicable) each year.
Features
Professional accreditation
This course is accredited by the Association of Chartered Certified Accountants, the Institute ofChartered Accountants in England and Wales (ICAEW) and the Chartered Institute ofManagement Accountants (CIMA).
Placements
Students who get work experience tend to graduate with better degrees. Experience also hones your skills, industry knowledge and professional network, making you a sought after graduate.
We want you to graduate with the best possible employment opportunities so you'll be expected to undertake either summer internships, part-time work experience, Business Clinic activities, or complete a 40-week industry placement as part of your course.
You can enhance your confidence and capabilities through the Business Clinic, Bloomberg training, enterprise competitions and volunteering.
We also encourage and facilitate international study exchanges with our partners in locations including China, Vietnam and Malaysia.
Study facilities
Designed to give you the best possible learning experience, the Bristol Business School offers technology-enabled classrooms and individual and group study learning spaces, as well as bookable conference rooms.
It is home to the Bloomberg Trading Suite, providing access to real-time trading data and the industry-standard financial research database. The suite is used across a number of modules to develop real-world skills recognised in the investment industry.
In our specialist library, business librarians manage vast collections of hard copy and online resources to support your learning and research. You can attend workshops and study skills sessions to develop your information skills. The Faculty Academic Success Centre provides one-to-one and group study skills support.
Learn more about UWE Bristol's facilities and resources.
Take a Virtual Tour of the Accounting and Finance facilities and see what's on offer here for you.
Careers
Careers / Further study
There is high demand for graduates with leadership and management skills. The added knowledge of finance and strategic decision-making gives you a further competitive edge, opening up many career options.
This course makes an ideal launch pad for careers in management roles with a financial emphasis, or more broadly into investment, accountancy, banking and personal and corporate finance roles.
Our students go on to management and financial roles in a wide range of sectors, working in investment and accounting firms, banks and major companies as well as SMEs and business start-ups. Through the range of option pathways, you can gain specialist knowledge in areas such as sustainability, leadership, entrepreneurship, private wealth management, and credit management.
Recent graduates have secured roles with Amazon, Intel, Lloyds Banking Group, PWC, Hargreaves Lansdown and Airbus.
Further study at UWE Bristol is also an option, with recent graduates progressing to Masters level courses in finance, leadership, business analytics and marketing.
Get inspired
Our award-winning careers service will develop your employment potential through career coaching and find you graduate jobs, placements and global opportunities.
We can also help find local volunteering and community opportunities, provide support for entrepreneurial activity and get you access to employer events.
Visit our employability pages to learn more about careers, employers and what our students are doing six months after graduating.
Fees
Full-time; Sandwich
Indicative Additional Costs
Supplementary fee information
Your overall entitlement to funding is based on how long the course is that you're registered on. Standard funding is allocated based on the standard number of years that your course lasts, plus one additional year.
You'll apply for funding each year that you study and Student Finance will take into account how long the course is in each year that you apply. So if you register for the five year course and then transfer to the four year course, the number of years you can apply for funding will change. Student Finance will reassess your funding based on how many years you have been in study, not just those years for which you received student finance.
Always seek advice before taking any action that may have implications for your funding.
Additional costs
This refers to items you could need during your studies that aren't covered by the standard tuition fee. These could be materials, textbooks, travel, clothing, software or printing.
Entry
Typical offers
Tariff points: 48
Contextual tariff: See our contextual offers page.
GCSE: Grade C/4 in English and Mathematics, or equivalent.
English Language Requirement: International and EU applicants are required to have a minimum overall IELTS (Academic) score of 6.0 with 5.5 in each component (or approved equivalent*). *The university accepts a large number of UK and International Qualifications in place of IELTS. You can find details of acceptable tests and the required grades you will need in our English Language section. Please visit our English language requirements page.
A-level subjects: No specific subjects required.
EDEXCEL (BTEC) Diploma: No specific subjects required.

For information on required Guided Learning Hours please see our minimum entry requirements page.

Access: No specific subjects required.
Baccalaureate IB: No specific subjects required.
Irish Highers: No specific subjects required.
T Levels: No specific subjects required.
Entry requirements
If you exceed the entry requirements you may be eligible for BA(Hons) Accounting and Business Management.
International applicants
If you are an international student your recommended route of study for this degree is through our International College, which upon successful completion to the required level and with good attendance, guarantees entry to Year one of the degree.
Read more about entry requirements.
How to apply
Read more about undergraduate applications.
For further information