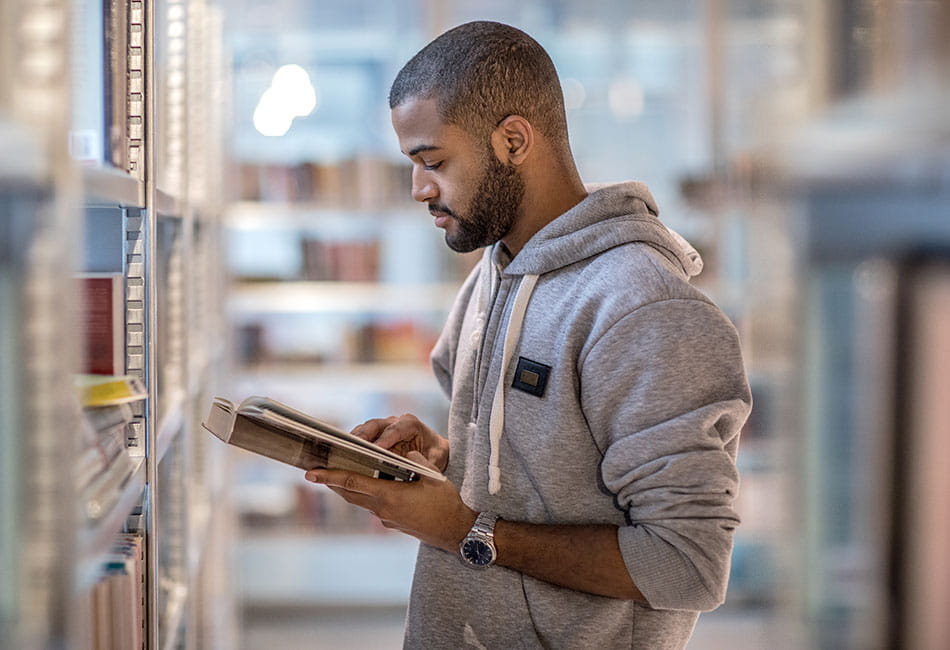 BA(Hons)

English Literature
This course is open for applications
Page last updated 30 November 2023
Introduction
On this course, you will read an exciting range of literary texts, gain excellent knowledge of literature as a public good, and develop high-level skills for your career.
Why study English literature?
A degree in English literature indulges your love of reading and provides intellectual challenge.
It's also practical preparation for careers in the cultural industries, one of Britain's most exciting, diverse and internationally recognised fields.
Graduates in English literature are highly employable, and can show clear evidence of excellent communication, critical and analytical skills.
Why UWE Bristol?
BA(Hons) English Literature shows you how literature is essential to understanding global culture and society.
The core modules focus on the practical, visible impact of literature on the world, with integral fields trips giving you the chance to apply what you're learning in a very tangible sense.
Explore literary texts from the English Renaissance to the 21st century, and learn to critically engage with diverse global voices and concerns.
Consider how literature contributes to major debates in areas like equality and environment, and the part books and authors can play in social and cultural change.
Study in a collaborative environment, working with academics who are passionate about their subject and value your contribution to in-class discussions.
The quality of the course and its teaching is down to our inspiring staff, who are active researchers and experts in their field, and will support you throughout your studies.
Focusing on the avenues that most interest you, through your modules and assessments, you'll graduate confident to pursue your chosen career.
Where can it take me?
You'll leave with sought-after skills in communication, research, problem-solving, team-work, critical thinking, independence and self-motivation.
The door will be open to exciting careers in the cultural industries, the media or the arts, working in marketing, editing, publishing or teaching.
The academic rigour of the course also prepares you well for further study at postgraduate level.
Watch: Why I chose English Literature
Structure
Content
The optional modules listed are those that are most likely to be available, but they may be subject to change.
Year one
You will study:
Literature and Ideas
Literature and the Marketplace
Close Reading
The Child in Literature
Imagined Worlds: Utopian and Dystopian Literature
Travel, Writing and Colonization.
Year two
You will study:
Plus, six optional modules from:
Renaissance Literature
Shakespeare's Heroes and Villains
Romanticism and Slavery in the Age of Revolution
Class and Culture in Victorian Literature
Gender and Society in Victorian Literature
The Golden Age of Children's Literature
The Country House in British Literature 1900-1960
Modern Literature and the City
Beyond the Horizon: Empire and its Legacies in Literature
American Genres
The Black Atlantic: from the Middle Passage to Hip Hop.
Placement year (if applicable)
If you study on the four year (sandwich) course, you'll spend a year away from the University on a work placement after Year two.
Depending on which you choose, you'll either complete a placement learning or learning and development module.
See the Placements and Fees sections for more information.
Final year
You will study:
English Independent Project.
Plus, three optional modules (two if you've completed a study year abroad or placement year) from:
Children's Fiction since 1900
Gothic Literature
Contemporary American Narrative
Contemporary British Fiction
Crime and Detection in Nineteenth-Century Literature
Moving Words: Travel Writing and Modernity.
This structure is for full-time students only. Part-time students study the same modules but the delivery pattern will be different.
The University continually enhances our offer by responding to feedback from our students and other stakeholders, ensuring the curriculum is kept up to date and our graduates are equipped with the knowledge and skills they need for the real world. This may result in changes to the course. If changes to your course are approved, we will inform you. 
"I enjoyed the broad assessment methods, which developed my communication and teamwork skills. These skills prepared me for roles in customer service and HR, which led me to work as a Student Recruitment Officer at the Dyson Institute of Engineering and Technology." Lynsey, 2019 English Literature graduate
Learning and Teaching
You'll be taught through a mix of lectures, small-group seminars, workshops, tutorials, and field trips where you can put your theoretical thinking into practice.
The large variety of assessments from essays and presentations, to posters and book jackets will strengthen your communication, presentation, creative expression, analytical and critical skills.
As an integral part of the course, you will be trained in the use of Adobe software, including Photoshop and online platforms, giving you a strong base for a career in publishing, marketing, advertising or the media.
Craft your skills as a researcher, working with academics and partners helping to shape new thinking in the field.
Develop independence and enterprise skills, to take your talents in interesting directions and open the door to different careers. 
To find out more, see our full glossary of learning and teaching terms.
Approximate percentage of time you'll spend in different learning activities*:
| Year | Scheduled learning and teaching study | Independent study | Placement study |
| --- | --- | --- | --- |
| 1 | 24% | 76% | 0% |
| 2 | 24% | 76% | 0% |
| 3 | 19% | 81% | 0% |
*calculated from compulsory and optional modules (where applicable) each year
Get involved
Participate in all things English literature by joining our Eng;lish Society and attending its events, or become a peer assisted learning leader or student ambassador.
Bristol is an exciting cultural hub and you can also gain experience with our established partners, such as the BBC, Watershed, the Arnolfini and local literary festivals.
Visit school children to talk about the books they read, or work with a children's publisher to discover how they advertise new books.
Study time
Full-time students study both year-long and semester modules, with a total of 12 hours of contact time a week.
Assessment
We use a wide variety of assessments for the modules, focusing on the different kinds of writing you want to develop during your degree.
For example, you can write essays, produce posters and book jackets, understand what it takes to write a book review, and collaborate with other students in group presentations.
Learn more about assessments.
Approximate percentage of marks awarded by each assessment method*:
| Year | Written exam assessment | Coursework assessment | Practical exam assessment |
| --- | --- | --- | --- |
| 1 | 28% | 66% | 6% |
| 2 | 26% | 60% | 14% |
| 3 | 6% | 81% | 13% |
*calculated from compulsory and optional modules (where applicable) each year
Features
Professional accreditation
On completion of the English Independent Project module, you'll be awarded the Institute of Leadership and Management (ILM) Level 3 Award in Management awarded by the City and Guilds of London Institute.
Placements
The course includes an optional placement between years two and three. This will last at least 26 weeks and will be relevant to your subject area.
Work experience hones your skills by putting them into practice in a work environment, equips you with industry knowledge and helps you develop a strong professional network, making you highly sought after when you graduate.
Get help to find your placements and support throughout from College staff and our award-winning careers service.
Fieldwork
You'll visit venues such as a bookshop and heritage centre, to see first-hand how literature is used in the world, and the valuable contribution it makes to society, culture and the economy.
Study facilities
English Literature is based at Frenchay Campus, along with other Arts and Cultural Industries courses. 
The campus library houses a large collection of books and e-resources. These include Literature Online, Eighteenth-Century Collections, Project Muse, OED online and various digital archives and scholarly journals. You'll develop into a competent researcher with excellent data retrieval skills.
Learn more about UWE Bristol's facilities and resources.
Take a Virtual Tour of the English, History and Writing facilities and see what's on offer here for you.
Start your dream career at UWE Bristol
Careers
Careers / Further study
Graduates in English literature are highly employable, thanks to their strong skills for employment and broad knowledge base.
Tailoring what and how you study, you can shape the course towards your chosen career path.
Building professional, research and enterprise skills into the modules you study, you'll be encouraged to apply them at every opportunity, including on field trips.
Former students have gone on to work as marketing executives, content managers for publishers, HR recruitment consultants, and teachers in primary, secondary and further education. Many choose to continue their studies with postgraduate degrees in English and related subjects.
Get inspired
Our award-winning careers service will develop your employment potential through career coaching and help find you graduate jobs, placements and global opportunities.
We can also help find local volunteering and community opportunities, provide support for entrepreneurial activity and get you access to employer events.
Visit our employability pages to learn more about careers, employers and what our students are doing six months after graduating.
Useful links
Fees
Full-time, sandwich course
Indicative Additional Costs
Part time course
Supplementary fee information
Your overall entitlement to funding is based on how long the course is that you're registered on. Standard funding is allocated based on the standard number of years that your course lasts, plus one additional year.
You'll apply for funding each year that you study and Student Finance will take into account how long the course is in each year that you apply. So if you register for the four year course and then transfer to the three year course, the number of years you can apply for funding will change. Student Finance will reassess your funding based on how many years you have been in study, not just those years for which you received student finance.
Always seek advice before taking any action that may have implications for your funding.
Additional costs
Additional costs are for items you could need during your studies that aren't covered by the standard tuition fee. These could be materials, textbooks, travel, clothing, software or printing.
Entry
Typical offers
Tariff points: 112
Contextual tariff: See our contextual offers page.
GCSE: Grade C/4 in English, or equivalent.
English Language Requirement:

International and EU applicants are required to have a minimum overall IELTS (Academic) score of 6.0 with 5.5 in each component (or approved equivalent*).

*The university accepts a large number of UK and International Qualifications in place of IELTS. You can find details of acceptable tests and the required grades you will need in our English Language section.

A-level subjects: No specific subjects required.
EDEXCEL (BTEC) Diploma: No specific subjects required.

For information on required Guided Learning Hours please see our minimum entry requirements page.

Access: No specific subjects required.
Baccalaureate IB: No specific subjects required.
Irish Highers: No specific subjects required.
T Levels: No specific subjects required.
Entry requirements
If you don't meet the entry requirements, you may be eligible for BA(Hons) English Literature (with Foundation Year).
International applicants
For country specific entry requirements please find your country on the country information pages.
If you are an international student and do not meet the academic requirements to study this course, you can qualify by completing preparatory study at our International College.
If you are applying to study at UWE Bristol and require additional support to meet our English language requirements, you may be able to attend one of our pre-sessional English courses. Read more about our Pre-Sessional English Programme.
Read more about entry requirements.
How to apply
Read more about undergraduate applications.
Read more about international applications and key international deadline dates.
For further information