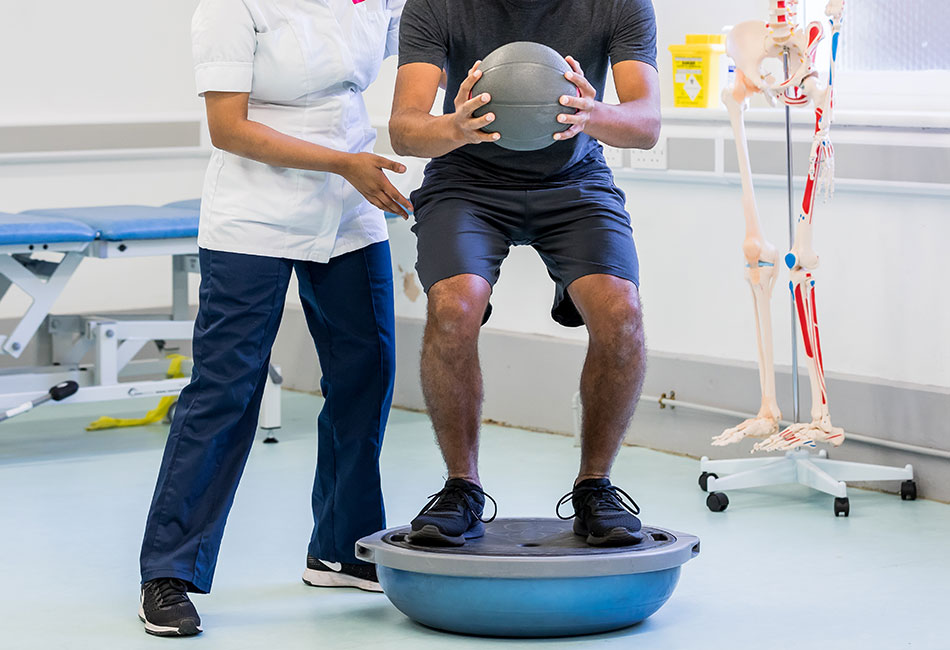 Higher/Degree Apprenticeship

Physiotherapist

BSc(Hons) Physiotherapy
Page last updated 29 November 2023
Introduction
Our Physiotherapist apprenticeship offers you BSc(Hons) Physiotherapy degree approved by the Health and Care Professions Council (HCPC) and accredited by the Chartered Society of Physiotherapy (CSP).
Why study for a Physiotherapist apprenticeship?
Physiotherapy is a varied, stimulating and highly rewarding profession. Physiotherapists work with individuals and their families and carers, from birth to end of life, in a wide range of health and social care settings. These settings include the NHS, private sector, with charities, in hospital or in the community.
Physiotherapy helps people affected by injury, illness or disability to maintain and restore movement and function. Through a holistic, person-centred approach, physiotherapists use a range of physical and psychological methods, including movement, exercise, manual therapy, education, health promotion and coaching.
The BSc(Hons) Physiotherapist (Level 6) apprenticeship provides a new and innovative route to becoming a physiotherapist. You'll 'earn while you learn' as you progress through the four-year course, combining on-the-job learning through clinical employment, additional and varied practice placements and academic learning.
Why UWE Bristol?
Collaborating with UWE Bristol and your employer, you'll benefit from practice-based and academic learning that's cohesive and effective. The course will provide the structure, environment and support network to create a safe and positive learning experience.
You'll have the opportunity to develop knowledge, skills and experience using a variety of learning platforms, both online and in person. You'll also engage in practical skill-building sessions and problem-based learning with others in your cohort.
UWE Bristol will work in partnership with your employers to optimise work-based learning opportunities and experiences. We'll support the developmental needs of your assessors and mentors, equipping them to teach you how to apply your knowledge and skills in a real-world setting.
You'll refine your ability to work with patients, their families and other healthcare professionals, developing your inter-professional and interpersonal skills to support rehabilitation and wellbeing.
Extensive student support is available throughout the apprenticeship. You'll also have 24/7 access to IT support, whether you're on campus or at your workplace.
Benefits to your employer
Our Physiotherapist apprenticeship benefits health and social care services struggling to employ physiotherapists, enabling them to 'grow their own' from their own employees. This apprenticeship offers a new way to plan for your future, allowing your employer to invest in your training and education, while retaining your talents.
On successful completion, you'll be ready to take your next step towards becoming a confident, autonomous physiotherapist who can make a positive contribution to your organisation. You'll develop the skills needed for success in this career, from clinical reasoning and problem solving, to leadership and communication. By training as a person-centred practitioner, you'll not only offer strong practical skills, but strong interpersonal skills to match.
Careers
On successful completion, you'll achieve a BSc(Hons) Physiotherapy degree, approved by the Health and Care Professions Council (HCPC) and accredited by the Chartered Society of Physiotherapy (CSP). You'll also be eligible to register with the Health and Care Professions Council (HCPC) and apply for full membership of the Chartered Society of Physiotherapy (CSP).
In addition to supporting your development in the workplace, this apprenticeship will help you to understand the career landscape in your sector and plan for your longer-term ambitions. Our award-winning Careers Service is on hand to give you independent advice and guidance at any point in your studies.
Course details
Content
We'll encourage you to take responsibility for your own learning and acquire continuing professional development (CPD) habits that are essential for lifelong learning as a physiotherapist.
The structure consists of three elements: on-the-job learning, practice placements and off-the-job learning.
You'll study a range of subject areas which are listed below.
Year one
Applied Physiotherapy Practice 1*
Fundamentals of Human Anatomy and Physiology
Clinical Anatomy for Physiotherapy
Fundamentals of Musculoskeletal Physiotherapy.
Year two
Fundamentals of Neuroscience for Physiotherapy
Fundamentals of Respiratory Physiotherapy
Informing Practice Through Research and Enquiry
Developing Clinical Reasoning in Musculoskeletal Physiotherapy and Practice 2a*
Applied Physiotherapy Practice 2b*.
Year three
Developing Clinical Reasoning in Neurological Physiotherapy
Developing Clinical Reasoning for Cardiorespiratory Physiotherapy
Physiotherapy Practice Across the Lifespan
Healthy Futures
Applied Physiotherapy Practice 3*.
Year four
Complex Clinical Reasoning in Neurological and Musculoskeletal Practice
Integration of Learning in Practice
Management of the Critically Ill Patient: Complex Clinical Reasoning
Research and Evidence in Practice.
*Modules include a Practice Placement Component
Please note these modules are indicative and can vary.
The course has been developed in line with the Level 6 Physiotherapist (Integrated Degree) standard set out by the Institute for Apprenticeships and Technical Education.
Learning and Teaching
On-the-job learning
Approximately 80% of your time will consist of on-the-job learning. You'll have support from an assessor and mentor working within your organisation to help provide opportunities for learning around key knowledge, skills and behaviours.
Practice placements
You'll also undertake five blocks of placement learning, where you'll complete 1000 hours of assessed placement activity, in settings outside of your usual workplace. While on placement, you'll be supported and assessed by a Practice Educator.
Off-the-job learning
The rest of the course (approximately one day per week) consists of academic teaching and learning in the form of scheduled and independent learning. Scheduled learning will involve activities such as practical sessions, workshops, learning pod activities, lectures, seminars, group work, project supervision and external visits. Independent learning may involve reading, case study preparation, workbook completion and assignment work.
This element of the course involves a blended approach of online and face-to-face delivery. Our innovative online materials include recorded lectures, webinars, wikis, blogs, social media and group discussion boards.
These online and electronic teaching options enhance your learning experience and expose you to digital learning. You'll gain the transferable skills required in contemporary care provision, as well as reduce the travel time required for direct contact sessions.
Face-to-face learning days will include practical sessions, designed to simulate a clinical environment that reflects the real world. In-person learning will be delivered at UWE Bristol's Glenside Campus in Bristol and/or at a southern site.
Entry
Typical offers
Tariff points: 128
GCSE: Grade C/4 or above in English and Mathematics or equivalent (we accept Functional Skills Level 2 in Maths and English).
A-level subjects: Grade C in Biology or Human Biology.
EDEXCEL (BTEC) Diploma: You'll need a minimum of five units in Biology or Human Biology. You may be asked to do more based on the size of your units. Please email Admissions with a list of your units for further clarification. We'll accept BTEC Sport and Exercise Science and Applied Science. For information on required Guided Learning Hours, please see our minimum entry requirements page.
Access: 15 Level 3 credits at Distinction in Biology.
Baccalaureate IB: A minimum grade 6 in Higher Level Biology or Human Biology.
Irish Highers: H1 in Biology or Human Biology.
T Levels: Science. If you partially achieve your T Level, you can meet our subject requirements if you have at least a C in your Core Section. For further advice on acceptable subjects please email us.
Entry requirements
In order to be eligible to apply, applicants will need to be employed in a health or social care position for a minimum of 30 hours per week and be sponsored by their employer.
As part of your commitment to the apprenticeship, you'll have to complete at least six hours per week of off-the-job learning activity within your normal contracted working hours, which is supported by your employer. 
We use the UCAS Tariff system to make offers to applicants. You can use the UCAS Tariff Calculator to convert your qualifications and grades into points.
Applicants with Level 3 Senior Healthcare Support Worker Apprenticeship are also welcome to apply.
Employers must ensure the applicant meets the entry requirements before they are put forward for consideration.
In addition, all applicants are required to complete: 
Health assessment, declaration and vaccinations - Applicants must be in good health and be up to date with routine immunisations (for example, tetanus, diphtheria, polio and MMR). Employers are responsible for ensuring this can be evidenced at the start of the course. Applicants will also be required to confirm their status in respect of several infectious diseases and immunisations (tuberculosis, measles, mumps, rubella, chicken pox, varicella, hepatitis B, hepatitis C, HIV antibodies) and be prepared to have all required vaccinations funded by the employer. If vaccinations are not up to date, this will affect ability to continue the course. Concerns with regards to vaccinations should be raised at the point of application.
Disclosure of criminal background - Applicants are required to complete a Disclosure and Barring Service (DBS) enhanced check with UWE Bristol. Offers of a place will be subject to the disclosure of criminal background. The Rehabilitation of Offenders Act 1974 does not apply, and all convictions, including those which are spent, must be disclosed. This is in accordance with the Rehabilitation of Offenders Act 1974 (Exceptions) Order 1975.
Selection process
All candidates are considered on an individual basis. Shortlisted candidates will be invited to attend an interview. The interviewing panel will include a member of UWE Bristol's Physiotherapy programme team, a local employer and a service user, who'll ask questions about the candidates understanding of the role of the physiotherapist and that they understand the commitment and the apprenticeship journey. There may be some preparatory work in the form of a case vignette provided prior to the interview.
ESFA eligibility requirements
To study an apprenticeship, you need to:
be aged 16 years or over
be an EEA citizen (with Right to Work in the UK) and not be in any other kind of full-time education (including being enrolled on any other apprenticeship programme)
be employed (for at least the full planned duration of your apprenticeship) in a role that is linked to the appropriate industry for the apprenticeship training
receive at least legal minimum wage for apprentices (wages vary depending on experience, employer and level or type of apprenticeship)
commit to at least 6 hours per week of apprenticeship training during your normal working hours
have support from your employer, including a mentor/line manager. Your employer is also responsible for funding your apprenticeship.
More information about eligibility for apprenticeship funding is available on the GOV.UK website. 
How to apply
Prospective apprentices should usually apply for an apprenticeship through an employer. If you're are interested in any of our apprenticeships, speak to your employer in the first instance.
For further information
For course-specific enquiries, please contact the Programme Leader.
For all other enquiries, please email our Apprenticeship Hub apprenticeships@uwe.ac.uk or call +44 (0)117 32 84888.
For further information about Higher and Degree Apprenticeships.