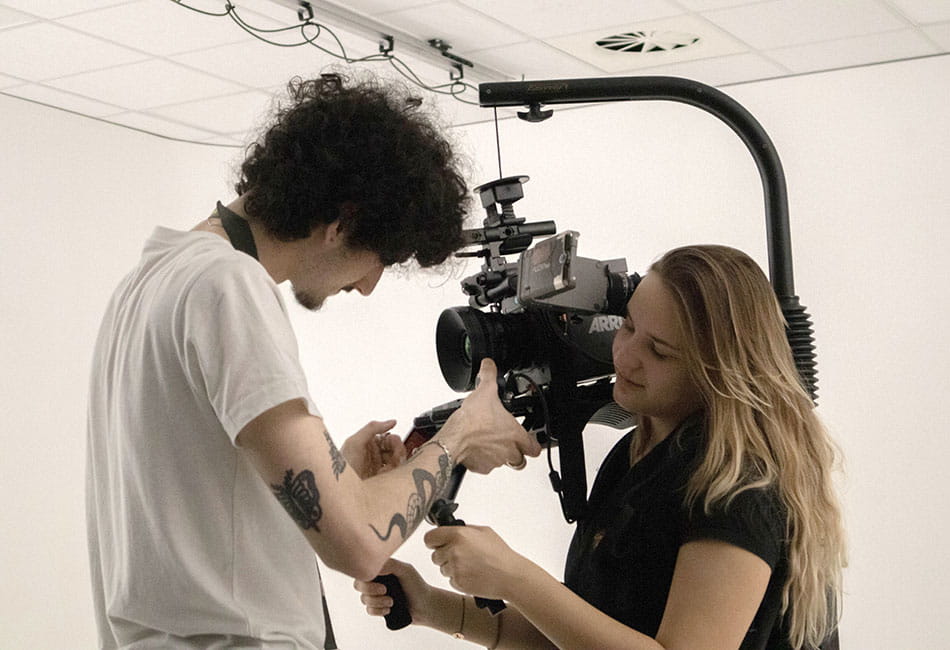 This course is open for applications
Page last updated 30 November 2023
Introduction
This production-based course gives you the practical and intellectual skills you need for a successful career in today's creative industries.
Why study filmmaking?
Our everyday lives are filled with moving images through social media, TV streaming, broadcast TV and cinema to mention just a few.
Traditional cinema is still a huge and vibrant industry, and the surge in streaming services has created more opportunities for filmmakers to reach their audiences and produce truly cinematic storytelling.
We're also seeing the expansion of virtual and augmented reality and starting to discover how filmmakers will use this technology in the future.
The industry needs creative new filmmakers to produce adverts, music videos, social media campaigns, political films, documentaries big and small, TV series, independent titles and big summer blockbusters.
Why UWE Bristol?
BA(Hons) Filmmaking is based at Bower Ashton Studios, part of the City Campus. Exceptional facilities and resources include digital media studios and production and fabrication workshops offering traditional tools and the latest technology.
This is a production-based degree - you'll learn by making. Our teaching team works at the cutting edge of contemporary media practice, with high levels of practical experience and expertise.
Attend lectures and seminars at the Arnolfini and Watershed. Develop drama and documentary storytelling skills by developing advanced craft techniques used in the professional media. Gain an in-depth understanding of culture and context.
The course pushes boundaries, intellectually and imaginatively. Explore filmmaking for the 21st century through development of eclectic short form projects that span the vast opportunities for audience and presentation in the modern industry. Build the knowledge to navigate the industry as it changes over the next 10 to 20 years by applying cutting-edge techniques.
Our City Campus is a creative powerhouse. It spans across Bristol and is made up of Bower Ashton and renowned contemporary arts centres Spike Island, Arnolfini and Watershed.
The city boasts a strong, skilled-pool of locally-based crew and facilities companies, which includes award-winning freelancers, production and post-production companies.
Be a part of Bristol's vibrant arts and cultural scene, where students and workers in the creative industries often collaborate.
Our strong industry contacts include the BBC, ITV, Aardman, Films@59, Bottle Yard Film Studios and E3 Media. They provide ongoing professional input and work experience opportunities.
Attend talks from broadcast commissioners, cinematographers, directors, composers and coders/designers who will share their influences and techniques. Recent guest speakers include director Ben Wheatley (High Rise), writer and director Gurindha Chandha (Bend It Like Beckham). We have also held masterclasses with editor St John O'Rorke (The White Princess) and art director Sarah Hauldron (Gosford Park).
Showcase your work to talent scouts and potential employers at the final year degree show and graduate with an impressive portfolio of work.
Where can it take me?
The filmmaking industry is in a hugely exciting period covering a vast array sectors and outputs, and it doesn't seem to be slowing down any time soon.
Our multi-skilled graduates go on to work in the creative industries for a range of media and multimedia production companies - as researchers, camera operators, editors, assistant directors/producers, mixers, graders and cinematographers.
Others go on to further study on MA or doctoral research projects.
Structure
Content
The optional modules listed are those that are most likely to be available, but they may be subject to change.
Year one
You will study:
Film Style 1: Sound and Vision
Introduction to Filmmaking
Professional Practice: Short Form 1
Script and the Actor.     
Year two
You will study:
Film Style 2
Professional Practice 2
Story 2: Documentary
Story 2: Narrative.
Plus, either:
Or
Final year
You will study:
Independent Research Project in Filmmaking
Production 1
Production 2
Professional Practice 3
Short Form 3: Commericals.
The University continually enhances our offer by responding to feedback from our students and other stakeholders, ensuring the curriculum is kept up to date and our graduates are equipped with the knowledge and skills they need for the real world. This may result in changes to the course. If changes to your course are approved, we will inform you.
Learning and Teaching
Learn through a mix of lectures and seminars. Take part in an extensive range of craft technical workshops at each level of the course.
As well as studying technical, practical and theoretical ideas to enhance every stage of your creative output, the modern filmmaker also needs a solid understanding of teamwork, ethics and professionalism.
You'll explore these elements in preparation for the needs of today's creative film industry.
See our full glossary of learning and teaching terms.
See our students' exhibits on Tumblr and Vimeo. Follow us on Twitter.
Approximate percentage of time you'll spend in different learning activities*:
| Year | Scheduled learning and teaching study | Independent study | Placement study |
| --- | --- | --- | --- |
| 1 | 54% | 46% | 0% |
| 2 | 45% | 55% | 0% |
| 3 | 20% | 80% | 0% |
*Calculated from compulsory and optional modules (where applicable) each year.
Get involved
Look forward to plenty of opportunities to network, take part in projects, and collaborate in Bristol and beyond.
Make use of the facilities at Bottleyard Yard Film Studios for your film projects, and get experience on shoots. You'll have access to many of the companies based there, such as Bristol Costume Services.
Take part in research projects through the Digital Cultures Research Group and Moving Image Research Group. Students recently took part in Virtual Maggie, a project that considers the use of visual effects as a way to develop simulated performers for feature films and television.
Award-winning students
Our students are regularly selected for international film festivals, and have won numerous awards for their work, including the Royal Television Society Short Form Award 2019.
Assessment
You can expect to be assessed through projects, essays, group presentations and audio-visual presentation. There are no exams.
You'll write critical of your own production work and relate it to the broader context and history of professional media production.
Learn more about assessments.
Approximate percentage of marks awarded by each assessment method*:
| Year | Written exam assessment | Coursework assessment | Practical exam assessment |
| --- | --- | --- | --- |
| 1 | 0% | 100% | 0% |
| 2 | 0% | 90% | 10% |
| 3 | 0% | 100% | 0% |
*Calculated from compulsory and optional modules (where applicable) each year
Features
Professional accreditation
This course is industry recognised by ScreenSkills, the industry-led skills body for the UK's screen-based industries, and carries the ScreenSkills quality mark which indicates courses best suited to prepare students for a career in the screen industries.
"The course has very close links to the creative industries and is even more industry-focused since its redesign" Michelle Stein, ScreenSkills Industry Evaluator.
Placements
Students who get work experience tend to graduate with better degrees. Experience also hones your skills, industry knowledge and professional network, making you a sought after graduate.
We have strong links with broadcasters and the film industry, the cultural and voluntary sectors and commerce. You'll spend at least 15 days on work experience in Year two and Final year.
Your placement could be with a major TV channel, a small independent film company or an up-and-coming digital media agency. Past students have spent time at Tigress Productions, worked on low-budget features in Halifax and Bristol and interned at Films@59, Al Jazeera and the Encounters and Afrika Eye film festivals.
Get help to find your placements and support throughout from department staff and our award-winning careers service.
Study exchange
Grow your personal and professional network, and develop specialist subject knowledge by spending a semester at one of our fantastic partner universities abroad.
Increase your confidence, intercultural communication skills and boost your employability.
Explore our study abroad pages to find out more.
Fieldwork
From the start, you'll be encouraged to go out and make films using a range of techniques in different environments.
You'll be introduced to the pressures of working both on location and on film sets built in our brand new production studio.  
Explore every element available to the filmmaker, such as scriptwriting, production design, creative producing, sound recording and sound design.
With each module, you'll be encouraged and supported to develop work that challenges and enriches your own approach and abilities as a filmmaker.
Study facilities
Fimmaking is based at Bower Ashton Studios with access to specialist facilities and resources and animation studios.
Bower Ashton offers an excellent base for you within the exciting City Campus, connecting teaching and learning with some of the best creative and cultural organisations in Bristol. You'll attend lectures and seminars at the Arnolfini and Watershed in Bristol city centre.
Bower Ashton houses the main creative and cultural industries library as well as student support services.
A mix of traditional and hands-on learning environments helps you quickly take on essential knowledge and skills, standing you in good stead for your professional career.
Take a Virtual Tour of the Filmmaking, Animation and Photography facilities and see what's on offer here for you.
Careers
Careers / Further study
Tailoring what and how you study, you can shape the course towards your chosen career path.
Our graduates go on to work in media companies ranging from the BBC, ITV, Aardman Animations and Heart Radio to interactive multimedia companies and arts-based organisations.
Posts include production managers, camera operators, sound mixers, colour graders, researchers and cinematographers.
Past students include:
An RTS Documentary National Award Winner
Head of Channel 4 T4 and Music
Ars Electronica Winner
Grierson-nominated Editor
Adam Curtis' Editor
Head of the BBC Centre of Technology
BAFTA-winning web designer for Aardman Animations
BBC Producer/Director and Series Director
Emmy-nominated Art Director
Editor for Andrea Arnold and Ken Loach
Managing Director of Spectrecom Television Studios
Cannes Young Director of the Year
Media Adviser to the Shadow Minister for Media and Communications.
Get inspired
Our award-winning careers service will develop your employment potential through career coaching and find you graduate jobs, placements and global opportunities.
We can also help find local volunteering and community opportunities, provide support for entrepreneurial activity and get you access to employer events.
Visit our employability pages to learn more about careers, employers and what our students are doing six months after graduating.
See also
Fees
Full time course
Indicative Additional Costs
Supplementary fee information
Additional costs are for items you could need during your studies that aren't covered by the standard tuition fee. These could be materials, textbooks, travel, clothing, software or printing.
Entry
Typical offers
Tariff points: 128
Contextual tariff: See our contextual offers page.
GCSE: Grade C/4 in English, or equivalent.
English Language Requirement: International and EU applicants are required to have a minimum overall IELTS (Academic) score of 6.0 with 5.5 in each component (or approved equivalent*). *The university accepts a large number of UK and International Qualifications in place of IELTS. You can find details of acceptable tests and the required grades you will need in our English Language section. Please visit our English language requirements page.
A-level subjects: No specific subjects required.
EDEXCEL (BTEC) Diploma: No specific subjects required. For information on required Guided Learning Hours please see our minimum entry requirements page.
Access: No specific subjects required.
Baccalaureate IB: No specific subjects required.
Irish Highers: No specific subjects required.
T Levels: No specific subjects required.
Entry requirements
International applicants
For country specific entry requirements please find your country on the country information pages. If you are applying to study at UWE Bristol and require additional support to meet our English language requirements, you may be able to attend one of our pre-sessional English courses. Read more about our Pre-Sessional English Programme.
Selection process
Filmmaking is a highly competitive course with a large volume of applications each year. We operate a 'gathered field' approach to ensure a fair admissions process and enable us to offer places to the strongest applicants in each cycle. To do this, we will review all applications after the UCAS equal consideration deadline, rather than at the point they are submitted.
Applicants will be required to submit a digital portfolio for review within 21 days of their application being received.
For guidance on what to include in your portfolio, please visit our selection page.
All eligible applications will be considered in February, with the majority of decisions communicated to applicants in early March. Decisions will be made primarily on the basis of the work and the ideas that you present in your digital portfolio. We may invite you for an interview if we have questions about your portfolio or think further discussion may be useful; interviews will be held in early April.
Read more about entry requirements.
How to apply
Read more about undergraduate applications.  
Read more about international applications and key international deadline dates.
For further information