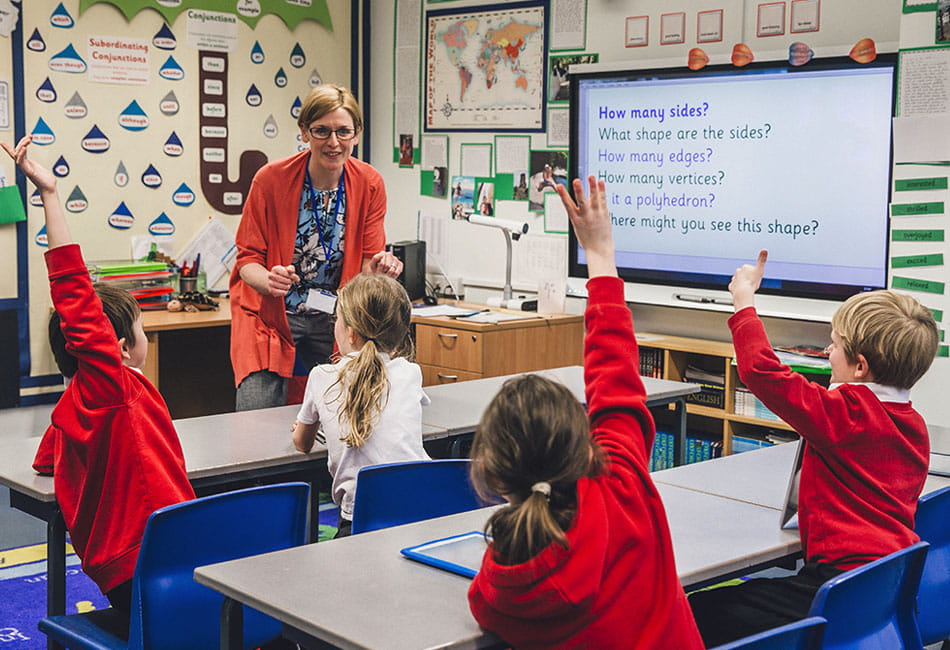 BA(Hons)

Primary Education (QTS) *
* subject to final UWE Bristol approval
This course is open for applications
Page last updated 30 November 2023
Introduction
Graduate from this rewarding Primary Education degree with Qualified Teacher Status (QTS).
Why study primary education?
Prepare to enter the classroom as a transformational professional, ready to make a real difference to the lives of the children you teach.
Why UWE Bristol?
BA(Hons) Primary Education will give you a broad and inspiring grounding in education. You'll develop your skills in teaching five to eleven year olds across key stages one and two, to professional standards.
Our primary education degree will support you to become a thoughtful, creative, and well-rounded educator who understands why as well as how children learn well. There are many ways of being a great teacher we'll help you to be the best teacher you can be. 
Read, discuss, and question current practice and policy and make links between educational theory and practice. Explore current and future-facing areas including education for sustainable development, inclusion, and digital education. This course prepares you for a career as a teacher and leads to the award of Qualified Teacher Status (QTS).
Your course will include experience in diverse schools and settings with children from a range of cultural backgrounds, and across the spectrum of needs. Become an expert communicator, creating a positive, safe environment and thoughtful, evidence-based, and exciting educational experiences for the children you work with.
Where can it take me?
The Primary Education degree with QTS prepares you for a career as a teacher, with excellent prospects for employment. You'll graduate ready to teach all the subjects of the National Curriculum at key stages one and two. Plus, you'll meet all the standards required to become a qualified member of the teaching profession. 
This award leads to Qualified Teacher Status (QTS). The focus for achieving QTS is particularly in the practice modules. UWE Bristol have chosen Sheffield Hallam University (SHU) as our accredited provider for the QTS elements of the course. We've worked closely with SHU to design a high-quality course which meets the DfE's new Initial Teacher Training (ITT) curriculum requirements. We're continuing to work together to assure our provision and share good practice.
Completing the course demonstrates that you have all the personal and professional attributes you need to become a successful teacher.
Structure
Content
*The modules listed are indicative of the course structure and subject to final UWE Bristol approval:
Year one
You'll study:
Thriving at University
Child Development and Learners' Lives
Teaching and Learning
Building Learning in Primary Education
Learning Through Curiosity and Inquiry
Creative Learners, Creative Teachers.
Year two
You'll study:
Children, Schools, and Society
Ethical Education
Exploratory Project
Broadening Horizons and Making a Difference
Preparing for and Learning from Primary Practice
Developing Practice.
Final year
You'll study:
Professional Practice
Curriculum, Pedagogy and Practice
Final Project
Becoming a Transformational Teacher.
The University continually enhances our offer by responding to feedback from our students and other stakeholders, ensuring the curriculum is kept up to date and our graduates are equipped with the knowledge and skills they need for the real world. This may result in changes to the course. If changes to your course are approved, we will inform you.
Learning and Teaching
Learn through lectures, seminars and workshops, tutor and student-led study groups, and one-to-one tutorials.
You'll specialise in teaching across the primary phase at key stage one and key stage two and develop your professional skills against the current teacher professional standards.
Study in groups and independently and use online resources. Develop your independent working, time management, communication, collaborative, digital and professional skills.
Placements are a very important part of this course. You'll spend several weeks of each year working in schools and educational settings to gain practical experience. We'll support you at every step and help ensure you learn effectively. 
Find out more about our academic staff, their teaching expertise and research interests.
To find out more, see our full glossary of learning and teaching terms.
Percentage of time spend in different learning activities, per year.
| Year | Scheduled learning and teaching study | Independent study | Placement study | % check |
| --- | --- | --- | --- | --- |
| 1 | 25% | 60% | 15% | 100% |
| 2 | 25% | 55% | 20% | 100% |
| 3 | 20% | 30% | 50% | 100% |
Study time
This is a full-time course, and you'll attend classes on most weekdays.  
The final year of the course starts 2-3 weeks earlier than years one and two, usually in the first week of September. This is to allow time for the placement and intensive practice days required as part of the DfE's new ITT curriculum. We'll remind you of this in your second year to support your planning for your final year.
Assessment
We use a range of assessments throughout the course, designed to enhance your learning and support your future employability. We don't use written exams as part of our assessments.
Learn more about assessments.
Percentage of time spend in different assessment methods, per year.
| Year | Written exam assessment | Coursework assessment | Practical exam assessment | % check |
| --- | --- | --- | --- | --- |
| 1 | 0% | 65% | 35% | 100% |
| 2 | 0% | 55% | 45% | 100% |
| 3 | 0% | 60% | 40% | 100% |
Features
Placements
School experience is central to all QTS courses. You'll gain work-based experience throughout the course. In year one, you'll engage in a range of school experiences in a design which ensures practice is interwoven into your academic studies.
Your second year will involve a four-week placement, and further intensive teaching experiences related to your course.  You'll usually spend at least 100 days on placement in your final year, plus further intensive teaching days, as specified by the DfE's new ITT curriculum.
We work closely with our partner schools to develop your competence and confidence. Some students are offered jobs on graduation by their placement schools.
Our award-winning careers and employability service will guide and support you to find the right placement.
Study facilities
You'll use modern, purpose-built facilities: high-quality teaching rooms, industry standard technology, and equipment that can be booked out and borrowed.
Our friendly staff are always on hand to help.
Take a Virtual Tour of the Education and Teaching facilities and see what's on offer here for you.
Careers
Careers / Further study
You'll graduate ready to teach all the subjects of the National Curriculum at key stages 1 and 2 and meet all the standards required to become a qualified member of the teaching profession. 
This course prepares you for a career as a teacher. Successful completion leads to the award of Qualified Teacher Status. Please note that we work with Sheffield Hallam University who are our accredited partner for the QTS elements of our awards.
This course gives you the opportunity to enhance your skills and improve your job prospects.
Our award-winning careers service will develop your employment potential through career coaching and help find you graduate jobs, placements and global opportunities.
We can also help find local volunteering and community opportunities, provide support for entrepreneurial activity and get you access to employer events.
Visit our Employability pages to learn more about careers, employers and what our students are doing six months after graduating.
See also:
For further information on your career in teaching, including salary scales and case studies of current trainee teachers, visit The Department of Education website and Prospects - careers in teaching and education.
Fees
Full time course
Indicative Additional Costs
Supplementary fee information
Additional costs are for items you could need during your studies that aren't covered by the standard tuition fee. These could be materials, textbooks, travel, clothing, software or printing.
Find out more about available scholarships and bursaries which if you're eligible, can offer financial support during your study.
Entry
Typical offers
Tariff points: 112
Contextual tariff: See our contextual offers page.
GCSE: Grade C/4 in English, Mathematics and Science, or equivalent. We don't accept Level 2 Key Skills, Functional Skills or Certificates in Adult Literacy and Numeracy as suitable alternatives to GCSEs for this course.
English Language Requirement: International and EU applicants are required to have a minimum overall IELTS (Academic) score of 6.0 with 5.5 in each component (or approved equivalent*). *The university accepts a large number of UK and International Qualifications in place of IELTS. You can find details of acceptable tests and the required grades you will need in our English Language section. Please visit our English language requirements page.
A-level subjects: No specific subjects required.
EDEXCEL (BTEC) Diploma: No specific subjects required.

For information on required Guided Learning Hours please see our minimum entry requirements page.

Access: No specific subjects required.
Baccalaureate IB: No specific subjects required.
Irish Highers: No specific subjects required.
T Levels: No specific subjects required.
Entry requirements
The Primary ITE course includes a high level of placement-based learning and working with children. We would encourage all applicants to get relevant experience of working or volunteering with children to help prepare them for this crucial element of their course.
Selection process
Applicants who meet the entry criteria will be invited to an interview day with course tutors, consisting of a group discussion and interview. For more details, please visit our selection page.
Additional requirements (as mandated by the DfE)
Health checks - for Fitness to Teach
A clear Enhanced DBS Disclosure including check of children's barred list
Satisfactory references including one from latest employer and/or latest role involving working with children.
Verification of identity and right to work in the UK
Check for sanction, restriction or prohibition on teaching issued by the Teaching Regulation Agency (TRA) (if in teaching role)
Criminal records checks overseas. If you have lived, studied or worked overseas for three months or more in the last five years a Certificate of Good Conduct from the country of residence will be required even if you are a UK applicant or currently based in the UK.
The university will also check that candidates are not:
subject to a prohibition order issued by the Secretary of State
or have obtained a childcare disqualification waiver from Ofsted
All information will be treated in confidence.
Further Statutory Guidance
If you would like information regarding issues that could disqualify you from teaching training, please contact us on +44 (0)117 32 83333.
Read more about entry requirements.
How to apply
Read more about undergraduate applications.
Read more about international applications and key international deadline dates.
For further information