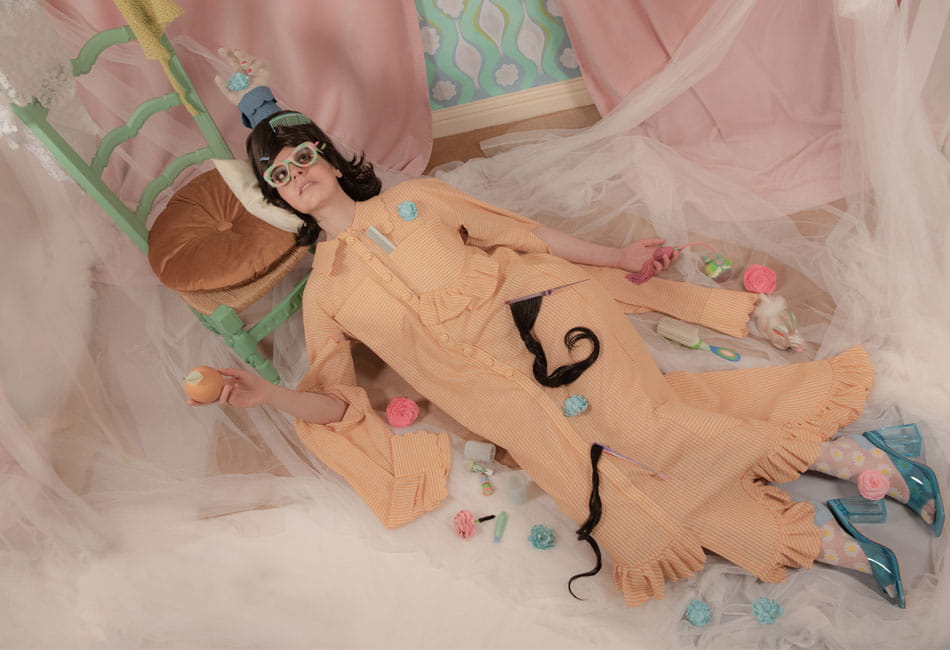 This course is open for applications
Page last updated 6 December 2023
Introduction
Learn in a creative and supportive studio environment with professional-standard facilities and a focus on helping you gain real-world skills for the workplace.
Why study illustration?
Studying illustration opens the door to diverse careers in the creative industries.
You will respond to ideas, explore narratives and work across a range of media, including 2D, 3D and moving image.
Self-directed projects could range from editorial to narrative, 3D model-making to film, animation to artists' books, providing excellent preparation for the commercial world.
Why UWE Bristol?
BA(Hons) Illustration encourages you to create and develop your own personal visual language. Problem-solving through drawing and making is core.
You'll be based at Bower Ashton Studios, part of the City Campus. Exceptional facilities and resources include industry-standard digital media studios and production and fabrication workshops.
Explore a range of media and deepen your awareness of the ideas, concepts and contexts of illustration through theoretical studies. Build an awareness of the professional world and develop core skills through individual experimentation.
Innovation and individualism are celebrated. Investigate potential contexts and audiences for your work and test yourself against industry expectations through live briefs, and national and international competitions.
City Campus is a creative powerhouse that spans the city of Bristol and is made up of Bower Ashton, Spike Island, Arnolfini and Watershed.
Our strong industry links with the thriving city of Bristol ensure input from illustrators and creatives. Visits from respected practitioners will keep you up to date with contemporary illustration practice.
Attend lectures and seminars at the Arnolfini and Watershed and work in our production and fabrication workshops, equipped with traditional tools and the latest technology.
Showcase your work to talent scouts and potential employers at the final year Degree Show and D&AD New Blood, London.
Focusing on the avenues that interest you, you'll graduate with an impressive portfolio of work, ready to make your mark as an illustrator.
Where can it take me?
This course prepares you for a sustainable and flexible career in illustration.
Alongside established freelance illustration career paths, our graduates work as film directors, set designers, art/creative directors, illustration agents, visualisers, designers, model-makers, animators, storyboard artists, puppeteers and theatrical/film costume and prop designers.
Watch: The learning and teaching experience
Structure
Content
The optional modules listed are those that are most likely to be available, but they may be subject to change.
Year one
You will study:
Introduction to Illustration
Narrative and Sequence
Professional Practice and Work Experience in Illustration 1
Visual Culture 1
Visual Essay.
Year two
You will study:
Word and Image
Process and Practice
Professional Practice and Work Experience in Illustration 2
Visual Culture 2
Developing Visual Narratives.
Plus, one optional module from:
Professional Practice and Work Experience in Illustration 2
Collaborate.
Final year
You will study:
Preparation for Extended Study in Illustration
Extended Study in Illustration
Professional Practice and Work Experience in Illustration 3
Visual Culture 3.
This structure is for full-time students only. Part-time students study the same modules but the delivery pattern will be different.
The University continually enhances our offer by responding to feedback from our students and other stakeholders, ensuring the curriculum is kept up to date and our graduates are equipped with the knowledge and skills they need for the real world. This may result in changes to the course. If changes to your course are approved, we will inform you.
Learning and Teaching
Teaching is mainly studio based, with workshops, seminars, tutorials and lectures.
You'll explore traditional and digital media, attend visual culture lectures, and develop a critical and analytical approach to yours and others' work.
Build your creative, professional and research skills, working with active researchers, authors and thought leaders. Get involved in projects with the Centre for Fine Print Research, the Pervasive Media Studio and Bristol VR Lab.
Build critical questioning and persuasion skills, and expand your ideas about what illustration can be and do.
Attend talks from industry professionals, find out about career options and go on work experience. Get advice from practising illustrators about presenting a professional portfolio.
Take responsibility for your own creative progress through self-directed study.
Many illustrators work freelance, so we'll cover areas such as how to find clients and promote yourself.
You'll be fully aware of the business and working processes in your chosen area
See our full glossary of learning and teaching terms.
Look at illustration students' work on Instagram.
Approximate percentage of time you'll spend in different learning activities*:
| Year | Scheduled learning and teaching study | Independent study | Placement study |
| --- | --- | --- | --- |
| 1 | 54% | 46% | 0% |
| 2 | 45% | 55% | 0% |
| 3 | 20% | 80% | 0% |
*Calculated from compulsory and optional modules (where applicable) each year.
Get involved
Attend workshops with the Association of Illustrators on contracts, copyright and invoicing; and with The Central Illustration Agency on sustainable careers and career preparation. 
The D&AD runs a Graduate Academy and many students have won places to secure this additional support.
Work on projects with Beneficial Shock magazine, a global publication that uses illustration to discuss film, run by course lecturers.
Assessment
All modules are assessed, and marks from modules undertaken in year two and final year can contribute to the final award.
You can expect to be assessed through projects, essays, group presentations and visual presentation.
Approximate percentage of marks awarded by each assessment method*:
| Year | Written exam assessment | Coursework assessment | Practical exam assessment |
| --- | --- | --- | --- |
| 1 | 0% | 100% | 0% |
| 2 | 0% | 100% | 0% |
| 3 | 0% | 100% | 0% |
*Calculated from compulsory and optional modules (where applicable) each year.
Features
Fieldwork
Go on European and international visits and field studies throughout the course.
Study facilities
BA(Hons) Illustration is based at the Bower Ashton Studios. It's an excellent base within the exciting City Campus, connecting teaching and learning with some of the best creative and cultural organisations in Bristol. 
Bower Ashton houses the main library supporting the creative and cultural industries as well as student support services.
A mix of traditional and hands-on learning environments helps you quickly take on essential knowledge and skills, standing you in good stead for your professional career.
Learn more about UWE Bristol's facilities and resources.
Take a Virtual Tour of the Art facilities and see what's on offer here for you.
Careers
Careers / Further study
Tailoring what and how you study, you can shape the course towards your chosen career path.
Our graduates go on to work across all areas of the creative industries.
They are film directors, set designers, art/creative directors, illustration agents, visualisers, designers, model-makers, animators, storyboard artists, puppeteers, theatrical/film costume and prop designers.
Past students work as:
Animator/filmmaker at Arthur Cox
Model/puppet-maker at Aardman Animation
Prop-maker for Harry Potter Film Franchise
Creative Director at Landor Associates
Art Editor at NoBrow
Artist at Damien Hirst Studios
Art Editor at MacMillan Publishers.
Others establish successful freelance careers as illustrators.
Our alumni also include a Batsford Prize winner and the designer of the new Elbow album cover.
Get inspired
Our award-winning careers service will develop your employment potential through career coaching and find you graduate jobs, placements and global opportunities.
We can also help find local volunteering and community opportunities, provide support for entrepreneurial activity and get you access to employer events.
Visit our employability pages to learn more about careers, employers and what our students are doing six months after graduating.
Fees
Full time course
Indicative Additional Costs
Part time course
Supplementary fee information
Your overall entitlement to funding is based on how long the course is that you're registered on. Standard funding is allocated based on the standard number of years that your course lasts, plus one additional year.
You'll apply for funding each year that you study and Student Finance will take into account how long the course is in each year that you apply. So if you register for the four year course and then transfer to the three year course, the number of years you can apply for funding will change. Student Finance will reassess your funding based on how many years you have been in study, not just those years for which you received student finance.
Always seek advice before taking any action that may have implications for your funding.
Additional costs
This refers to items you could need during your studies that aren't covered by the standard tuition fee. These could be materials, textbooks, travel, clothing, software or printing.
Entry
Typical offers
Tariff points: 112
Contextual tariff: See our contextual offers page.
GCSE: Grade C/4 in English, or equivalent.
English Language Requirement: International and EU applicants are required to have a minimum overall IELTS (Academic) score of 6.0 with 5.5 in each component (or approved equivalent*). *The university accepts a large number of UK and International Qualifications in place of IELTS. You can find details of acceptable tests and the required grades you will need in our English Language section. Please visit our English language requirements page.
A-level subjects: No specific subjects required.
EDEXCEL (BTEC) Diploma: No specific subjects required.

For information on required Guided Learning Hours please see our minimum entry requirements page.

Access: No specific subjects required.
Baccalaureate IB: No specific subjects required.
Irish Highers: No specific subjects required.
T Levels: No specific subjects required.
Entry requirements
If you don't meet the entry requirements, you may be eligible for BA(Hons) Illustration (with Foundation Year).
International applicants
For country specific entry requirements please find your country on the Country Information pages. If you are an international student and do not meet the academic requirements to study this course, you can qualify by completing one of our Art and Design foundation programmes.
If you are applying to study at UWE Bristol and require additional support to meet our English language requirements, you may be able to attend one of our pre-sessional English courses. Read more about our Pre-Sessional English Programme.
Selection process
Applicants will be required to submit a digital portfolio for review within 21 days of their application being received.
For more details on the process, please visit our selection page.
Read more about entry requirements.
How to apply
Read more about undergraduate applications.
Read more about international applications and key international deadline dates.
For further information