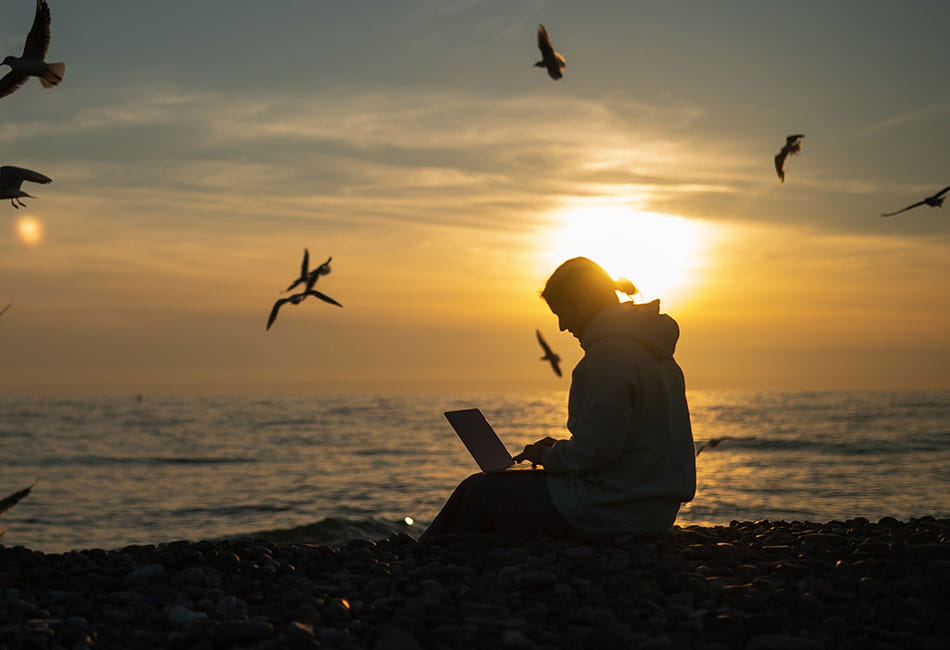 BSc(Hons)

Wildlife Ecology and Conservation Science
This course is open for applications
Page last updated 30 November 2023
Introduction
Study wildlife from a scientific perspective on this specially-developed degree, created in partnership with Bristol Zoo Project.
Why study wildlife ecology and conservation?
Conserving biodiversity and avoiding the mass extinction of species are huge global challenges.
We need ecologists who can use their skills and scientific knowledge to help tackle these issues, and explore new and novel approaches to conserving wildlife.
By looking at the nature of global biodiversity, and the effects of habitat loss and climate change, you can equip yourself with the knowledge and tools you need to make a difference in this field.
Why UWE Bristol?
BSc(Hons) Wildlife Ecology and Conservation Science explores wildlife conservation issues at local, national and global levels. Created in partnership with Bristol Zoo Project, it gives you unique access to the zoo's expertise.
Mixing theory with practice, you'll delve into the relationship between wildlife and society, and consider the impact of human activities on the living world.
Deepen your knowledge of conservation by carrying out work in natural habitats close to Bristol, including the Severn Estuary, the Cotswolds woodlands and grasslands, the Somerset Levels and Avon Gorge.
Tap into our many links with local conservation organisations, and go on placements, volunteering and where possible, field-based work and residential trips in the UK and overseas.
Choose our sandwich course option to spend your third year on a work placement in this country, Europe or further afield, applying your knowledge to topical conservation issues.
Explore the steps that can be taken to alleviate biodiversity decline, and get the strong foundation you need for a career in conservation.
We're pleased to inform you that Bristol Zoological Society plans to expand as they move to their Bristol Zoo Project location in the next few years. This relocation will enable their team to develop future facing wildlife conservation projects and education facilities. This puts UWE Bristol in the unique position of being co-creators of this state-of-the-art facility, providing exciting new opportunities for you as a wildlife conservation student.
Where can it take me?
You'll be well prepared to go into a wide range of jobs. You could work in national and international wildlife conservation, conservation consultancy, media and wildlife film-making, wildlife and enterprise, or wildlife conservation research.
As a science graduate, your skills will be highly valued, and you could go into a range of non-science graduate positions.
Structure
Content
The optional modules listed are those that are most likely to be available, but they may be subject to change.
Year one
You will study:
Life on Earth
The Earth
Field Skills (includes residential field trip, where possible)
Wildlife and Society.
Year two
You will study:
Environmental and Field Techniques (includes residential trip, where possible)
Conservation in Practice
Ecology and Ecosystem Protection.
Plus optional modules from (the number depending on credit requirements): 
Plant Growth and Survival
The Microbial World
Wildlife Ecology.
Placement year (if applicable)
If you study on the four year (sandwich) course, you'll spend a year away from the University on a work or study placement after year two.
Depending on which you choose, you'll either complete a placement learning or learning and development module.
See the placements and fees sections for more information.
Final year
You will study:
Research Project or Dissertation Project
Contemporary Conservation Science.
Plus optional modules from (the number depending on credit requirements): 
Global Forest Systems
Marine Ecosystems
Professional Practice in Applied Sciences
Primate Ecology and Conservation
Remote Sensing and Geographical Information Systems (GIS)
Science Communication
Sustainable Food Production
Tropical Expedition
Wildlife, Crime and Forensics
Wildlife, Film and Media.
The University continually enhances our offer by responding to feedback from our students and other stakeholders, ensuring the curriculum is kept up to date and our graduates are equipped with the knowledge and skills they need for the real world. This may result in changes to the course. If changes to your course are approved, we will inform you.
This structure is for full-time students only. Part-time students study the same modules but the delivery pattern will be different.
Learning and Teaching
The course offers a wide-ranging curriculum taught through lectures, seminars and tutorials, complemented by laboratory investigations, case studies, workshops, work-based experiences and where possible, fieldwork.
During the first and second years of your degree, a quarter of your study time will take place at Bristol Zoo Project, where you'll learn about live conservation projects. The zoo offers an exceptional learning facility for investigating wildlife conservation, including ex-situ conservation, animal behaviour and conservation communication strategies.
Hone and develop your skills with organisations tackling a broad variety of conservation issues, from the local to the global.
Learn about research methods, field surveys, data analysis and interpretation, essential to the scientific study of wildlife.
Use our advanced film-making equipment and expertise to produce your own conservation film.
Put the theory into practice through field work opportunities.
Receive one-to-one guidance and feedback throughout from our experienced academic and personal tutors.
See our full glossary of learning and teaching terms.
Percentage of time you'll spend in different learning activities, each year: 
| Year | Scheduled learning and teaching study | Independent study | Placement study | % check |
| --- | --- | --- | --- | --- |
| 1 | 32% | 68% | 0% | 100% |
| 2 | 28% | 67% | 5% | 100% |
| 3 | 22% | 78% | 0% | 100% |
Assessment
We use different assessments to support different learning styles, and the wide range of concepts, knowledge and skills we want you to develop. 
You'll be assessed with unseen, open-book and practical exams, essays, practical reports, individual and group projects, oral and visual presentations, case study analysis, taxonomic collections and problem-solving exercises. 
We also use blogs, online portfolios and web page design, to help you develop sought-after e-communication skills.
The placement year is assessed on a reflective portfolio, work supervisor's report and oral presentation.
The first year assessments don't contribute to your final degree mark.
Percentage of time you'll spend on different assessment methods, each year:
| Year | Written exam assessment | Coursework assessment | Practical exam assessment | % check |
| --- | --- | --- | --- | --- |
| 1 | 37% | 46% | 17% | 100% |
| 2 | 25% | 65% | 10% | 100% |
| 3 | 22% | 65% | 13% | 100% |
Features
Professional accreditation
Accredited by the Institution of Environmental Sciences (IES), this course provides you with the tools to succeed in your future career.
Placements
Students who go on work experience tend to graduate with better degrees. Experience also hones your skills, industry knowledge and professional network, making you a sought after graduate.
You'll have opportunities to do placements, internships and volunteering.
If you choose the four year (sandwich) course, you'll spend a year away from the University on a work or study placement after year two.
Students have worked with organisations including the Royal Society for the Protection of Birds (RSPB), Plymouth Marine Laboratory (PML), Centre for Ecology and Hydrology, Bristol Natural History Consortium, National Trust, ARKive and Kew Gardens.
You could also get overseas experience. Students have worked on the Damara terns in Namibia, and with elephants in Africa, kiwis in New Zealand and gorillas in Cameroon.
You'll get help to find a placement and support throughout from school staff and our award-winning careers service.
Fieldwork
Spend a significant part of your time working in the field and getting to know the spectacular landscapes around Bristol.
There are two residential trips including a trip to Dartmoor during year one, an optional final year trip to Cornwall, and the chance to go on a choice of research expeditions which includes a trip to the threatened forests of Madagascar where you'll study lemur behaviour, chameleons and human-wildlife interactions.
You'll investigate a range of natural and semi-natural habitats, and develop the practical skills to study wildlife and conservation science in the field.
Find out about a field trip in Cornwall from our students studying Marine Ecosystems, and read about a recent field trip to a tropical island near Cuba to study the ecosystem.
Study facilities
Although you'll not be directly handing wildlife, this course offers a unique partnership with Bristol Zoo Project giving you access to the zoo's expertise.
With access to well-equipped science laboratories, a glasshouse and a dedicated field centre at the University, you'll be supported and mentored by a team of specialists at the forefront of their profession.
You'll get to use extensive equipment for fieldwork and field-based laboratory work at our field centres.
Learn more about UWE Bristol's facilities and resources.
Take a Virtual Tour of the Environmental Science facilities and see what's on offer here for you.
Careers
Careers / Further study
By the end of the course, you'll be well set up for working with national and international conservation organisations, or ecological consultants such as Wildlife Trusts, The Woodland Trust and other non-government organisations (NGOs).
Practical experience in plant and animal survey work, competency at mapping (GIS), and knowledge of monitoring protected species such as great crested newts, reptiles, bats, badgers or water voles are especially valuable in finding rewarding jobs.
If you're interested in conservation education, there are opportunities with the Field Studies Council and other educational organisations.
There are also many options for postgraduate study and research degrees. You could specialise in an area such as wildlife film-making, science communication or environmental consultancy.
Get inspired
Our award-winning careers service will develop your employment potential through career coaching and find you graduate jobs, placements and global opportunities.
We can also help find local volunteering and community opportunities, provide support for entrepreneurial activity and get you access to employer events.
Visit our employability pages to learn more about careers, employers and what our students are doing six months after graduating.
Fees
Full-time; Sandwich course
Part time course
Indicative Additional Costs
Supplementary fee information
Your overall entitlement to funding is based on how long the course is that you're registered on. Standard funding is allocated based on the standard number of years that your course lasts, plus one additional year.
You'll apply for funding each year that you study and Student Finance will take into account how long the course is in each year that you apply. So if you register for the four year course and then transfer to the three year course, the number of years you can apply for funding will change. Student Finance will reassess your funding based on how many years you have been in study, not just those years for which you received student finance.
Always seek advice before taking any action that may have implications for your funding.
Additional costs
Additional costs are for items you could need during your studies that aren't covered by the standard tuition fee. These could be materials, textbooks, travel, clothing, software or printing.
Entry
Typical offers
Tariff points: 112
Contextual tariff: See our contextual offers page.
GCSE: Grade C/4 or above in English, Mathematics and Double Science, or equivalent.
English Language Requirement:

International and EU applicants are required to have a minimum overall IELTS (Academic) score of 6.0 with 5.5 in each component (or approved equivalent*).

*The university accepts a large number of UK and International Qualifications in place of IELTS. You can find details of acceptable tests and the required grades you will need in our English Language section.

A-level subjects: Grade C in a Science subject.
Relevant subjects: Subjects that meet the Science requirement for this course: Applied Science, Biology, Human Biology, Chemistry, Environmental Science/Studies, Geography, Geology, Maths. Use of Maths, Physics, Psychology, Science in the Environment, Statistics.
EDEXCEL (BTEC) Diploma: You will need a minimum of five units in a Science subject. You may be asked to do more based on the size of your units. Please list the units you are studying in your application. For further advice on acceptable units, please email us.

For information on required Guided Learning Hours please see our minimum entry requirements page.

Access: 15 Level 3 credits at Merit in a Science subject.
Baccalaureate IB: A minimum Grade 5 in a Higher Level Science subject.
Irish Highers: H2 in a Science subject.
T Levels: Science or Healthcare Science. If you partially achieve your T Level, you can meet our subject requirements if you have at least a C in your Core Section. For further advice on acceptable subjects please email us.
Entry requirements
If you don't meet the entry requirements, you may be eligible for BSc(Hons) Wildlife Ecology and Conservation Science (with Foundation Year).
International applicants
For country specific entry requirements please find your country on the country information pages. If you are an international student and do not meet the academic requirements to study this course, you can qualify by completing preparatory study at our International College.
If you are applying to study at UWE Bristol and require additional support to meet our English language requirements, you may be able to attend one of our pre-sessional English courses. Read more about our Pre-Sessional English Programme.
Read more about entry requirements.
How to apply
Read more about undergraduate applications.
Read more about international applications and key international deadline dates.
For further information
You may also be interested in