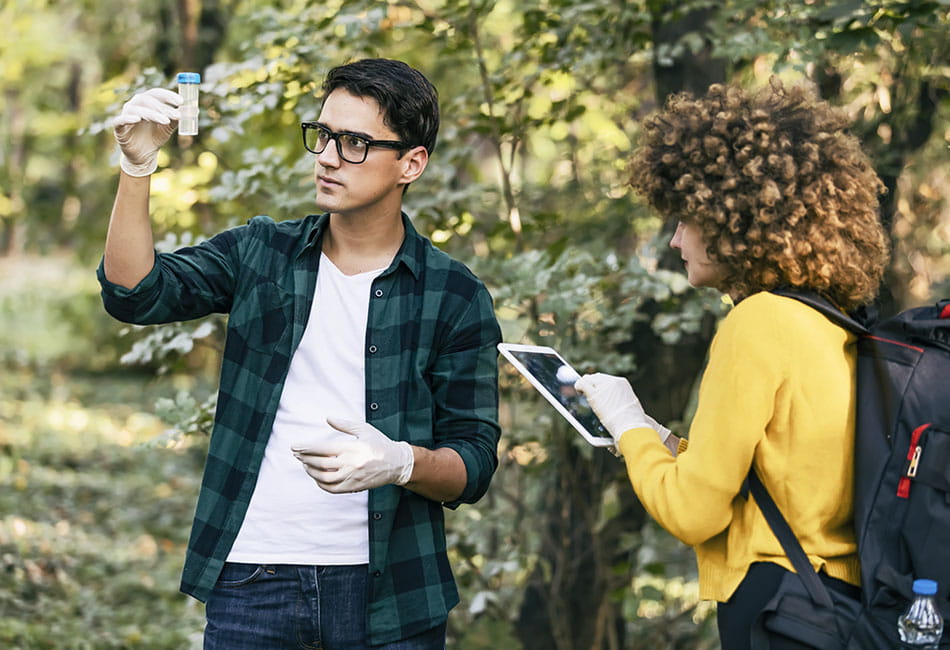 BSc(Hons)

Environmental Science
This course is open for applications
Page last updated 30 November 2023
Introduction
Accredited by the Institution of Environmental Sciences (IES), this course prepares you for a career tackling some of today's most important environmental challenges.
Why study environmental science?
The environment we live in is changing rapidly. Solving and managing the problems caused by environmental change is increasingly important.
Drawing on a variety of scientific fields, environmental scientists can help us to unpick the challenges we're up against and put forward the urgent solutions our planet needs.
Why UWE Bristol?
BSc(Hons) Environmental Science brings together knowledge from a variety of fields to give you a deep understanding of the environmental challenges facing the world today.
Through a practical, hands-on approach that runs through all the modules, you'll gain exposure to the skills and technology employed at the forefront of environmental science.
Carry out your own investigations in our specialist labs, and use the latest mapping software in our dedicated computer suite.
Learn to analyse and interpret complex data, and pioneer environmentally sound, scientifically robust, practical solutions.
As a recent European Green Capital, Bristol is becoming known as a hub for environmental innovation and opportunity. You'll have the opportunity to tap into interesting projects and collaborations.
Undertake work placements, volunteering roles, field-based work and residential trips in natural and urban environments, in the UK and abroad.
Go on inspiring expeditions to the threatened forests of Madagascar or diving on the coral reefs of Cuba.
If you choose the sandwich course option, you'll get to spend your third year working with a public or private sector employer in this country, Europe or further afield, applying your knowledge to current environmental issues.
Where can it take me?
Our graduates take their skills into internationally-renowned organisations such as the International Union for Conservation of Nature (IUCN).
Others go into industry, working with employers such as Thames Water, the Environment Agency, Wessex Water, Atkins or charities like the Woodland Trust.
Some become film-makers, or take part in conservation projects around the world, everywhere from the Seychelles to Panama.
You could also continue studying to MSc or PhD level.
Structure
Content
The optional modules listed are those that are most likely to be available, but they may be subject to change.
Year one
You will study:
Life on Earth
The Earth
Field Skills (includes residential field trip, where possible)
Environment and Society.
Year two
You will study:
Environmental and Field Techniques (includes residential field trip, where possible)
Ecology and Ecosystem Protection.
Plus, optional modules from (the number depending on credit requirements):
Earth Science
Environmental Impacts and Mitigation
Atmosphere and Climate
Hydrology to Oceanography
The Microbial World.
Placement year (if applicable)
If you study on the four year (sandwich) course, you'll spend a year away from the University on a work placement after Year two.
You'll complete a placement learning module.
See the Placements and Fees sections for more information.
Final year
You will study:
Dissertation Project or Independent Research Project
Resource Security and Sustainability.
Plus, optional modules from (the number depending on credit requirements):
Scientific Frontiers and Enterprise
Energy Technologies
Tropical Expedition
Marine Ecosystems (including field trip)
Environmental Forensics
Remote Sensing and Geographical Information Systems (GIS)
Global Forest Systems
Science Communication
Professional Practice in Applied Sciences
Sustainable Food Production
Environmental Microbiology.
The University continually enhances our offer by responding to feedback from our students and other stakeholders, ensuring the curriculum is kept up to date and our graduates are equipped with the knowledge and skills they need for the real world. This may result in changes to the course. If changes to your course are approved, we will inform you.
This structure is for full-time students only. Part-time students study the same modules but the delivery pattern will be different.
"The focus on employability skills on my course helped me to feel prepared to work in the field after graduating. I had the opportunity to complete regular field experiences and residential trips, plus the contacts I gained enabled me to complete three placements." Molly, 2021 Environmental Science graduate.
Learning and Teaching
Get a strong grounding in each topic in lectures, seminars and tutorials. Then enrich and deepen your understanding through laboratory workshops, fieldwork exercises and case studies.
Learn about everything from geology to climate science. Study the problems and solutions linked to our changing environment. Develop the science communication skills to help you stand out from other environmental graduates.
Learn in diverse environments with regular fieldwork and residential field trips (where possible).
Benefit from teaching linked with world-class environmental research.
You'll learn from field leaders, working in areas such as the conservation of bird's nest ferns in rainforests, the decontamination of water in Third World countries and the use of plants to measure radiation levels.
Carry out your own research project, working with an academic supervisor in your chosen area of interest.
Identify and develop the skills you'll need for your ideal career.
Receive one-to-one guidance and feedback from our team of environmental science specialists.
See our full glossary of learning and teaching terms.
Approximate percentage of time you'll spend in different learning activities*:
| Year | Scheduled learning and teaching study | Independent study | Placement study | % check |
| --- | --- | --- | --- | --- |
| 1 | 32% | 68% | 0% | 100% |
| 2 | 28% | 72% | 0% | 100% |
| 3 | 20% | 80% | 0% | 100% |
*Calculated from compulsory and optional modules (where applicable) each year
Assessment
We'll assess your work using a mix of coursework and exams including unseen, open-book and practical exams, essays, practical reports, individual and group projects, oral and visual presentations, case-study analysis, taxonomic collections and problem-solving exercises.
We use different types of assessment to reflect the range of theoretical concepts, knowledge and practical skills we cover on the course.
Learn more about assessments.
Approximate percentage of marks awarded by each assessment method*:
| Year | Written exam assessment | Coursework assessment | Practical exam assessment |
| --- | --- | --- | --- |
| 1 | 37% | 51% | 12% |
| 2 | 37% | 53% | 10% |
| 3 | 22% | 65% | 13% |
*Calculated from compulsory and optional modules (where applicable) each year
Features
Professional accreditation
Accredited by the Institution of Environmental Sciences (IES), this course provides you with the tools to succeed in your future career.
Placements
Students who go on work experience tend to graduate with better degrees. Experience also hones your skills, industry knowledge and professional network, making you a sought after graduate.
If you choose the four year (sandwich) course, you'll spend a year away from the University on a work placement after Year two.
We'll encourage you to apply for placements, a paid summer vacation internship and volunteering roles, through our links with industry, government organisations, consultancies and conservation groups.
Our students work with leading employers, such as the RSPB, Plymouth Marine Laboratory, the Environment Agency, MoD, Kew Gardens and Tongariro Natural History Society in New Zealand.
You'll get help to find a placement and support throughout from staff within the School and our award-winning careers service.
Fieldwork
Fieldwork is an essential part of studying and understanding environmental issues, so you'll spend a significant part of your time doing fieldwork.
As well as going on short local trips in and around Bristol, with its rich variety of urban and natural environments, we arrange UK and international residential visits each year (where possible). You'll have the opportunity to go to places like Devon, Cornwall, Wales, Madagascar and Cuba.
Study facilities
Benefit from our well-equipped analytical and computer laboratories, glasshouse and dedicated field centre.
Learn more about UWE Bristol's facilities and resources.
Take a Virtual Tour of the Environmental Science facilities and see what's on offer here for you.
Careers
Careers / Further study
Environmental issues impact at local, national and international levels, and our students go on to make a valuable contribution in many different areas.
Past students have worked as pollution scientists, water quality experts and environmental managers with organisations including The Environment Agency, Wessex Water and DEFRA.
Some find roles as environmental consultants, working on renewable energy, waste management or the consequences of climate change. Others go into environmental education in schools, field studies organisations or postgraduate study.
Get inspired
Our award-winning careers service will develop your employment potential through career coaching and find you graduate jobs, placements and global opportunities.
We can also help find local volunteering and community opportunities, provide support for entrepreneurial activity and get you access to employer events.
Visit our employability pages to learn more about careers, employers and what our students are doing six months after graduating.
Find out what being a water quality scientist involves.
See also:
UWE - careers in environmental management
The Guardian - what to do with a degree in environmental science
Fees
Full-time; Sandwich course
Part time course
Indicative Additional Costs
Supplementary fee information
Your overall entitlement to funding is based on how long the course is that you're registered on. Standard funding is allocated based on the standard number of years that your course lasts, plus one additional year.
You'll apply for funding each year that you study and Student Finance will take into account how long the course is in each year that you apply. So if you register for the four year course and then transfer to the three year course, the number of years you can apply for funding will change. Student Finance will reassess your funding based on how many years you have been in study, not just those years for which you received student finance.
Always seek advice before taking any action that may have implications for your funding.
Additional costs
Additional costs are for items you could need during your studies that aren't covered by the standard tuition fee. These could be materials, textbooks, travel, clothing, software or printing.
Entry
Typical offers
Tariff points: 112
Contextual tariff: See our contextual offers page.
GCSE: Grade C/4 or above in English, Mathematics and Double Science, or equivalent.
English Language Requirement: International and EU applicants are required to have a minimum overall IELTS (Academic) score of 6.0 with 5.5 in each component (or approved equivalent*). *The university accepts a large number of UK and International Qualifications in place of IELTS. You can find details of acceptable tests and the required grades you will need in our English Language section. Please visit our English language requirements page.
A-level subjects: Grade C in a Science subject.
Relevant subjects: Subjects that meet the Science requirement for this course: Applied Science, Biology, Human Biology, Chemistry, Environmental Science/Studies, Geography, Geology, Maths. Use of Maths, Physics, Psychology, Science in the Environment, Statistics.
EDEXCEL (BTEC) Diploma: You will need a minimum of five units in a Science subject. You may be asked to do more based on the size of your units. Please list the units you are studying in your application. For further advice on acceptable units, please email us.

For information on required Guided Learning Hours please see our minimum entry requirements page.

Access: 15 Level 3 credits at Merit in a Science subject.
Baccalaureate IB: A minimum Grade 5 in a Higher Level Science subject.
Irish Highers: H2 in a Science subject.
T Levels: You must be studying Science. For further advice on acceptable subjects please email us.
Entry requirements
If you don't meet the entry requirements, you may be eligible for BSc(Hons) Environmental Science (with Foundation Year).
International applicants
For country specific entry requirements please find your country on the country information pages. If you are an international student and do not meet the academic requirements to study this course, you can qualify by completing preparatory study at our International College.
If you are applying to study at UWE Bristol and require additional support to meet our English language requirements, you may be able to attend one of our pre-sessional English courses. Read more about our Pre-Sessional English Programme.
Read more about entry requirements.
How to apply
Read more about undergraduate applications.
Read more about international applications and key international deadline dates.
For further information
You may also be interested in