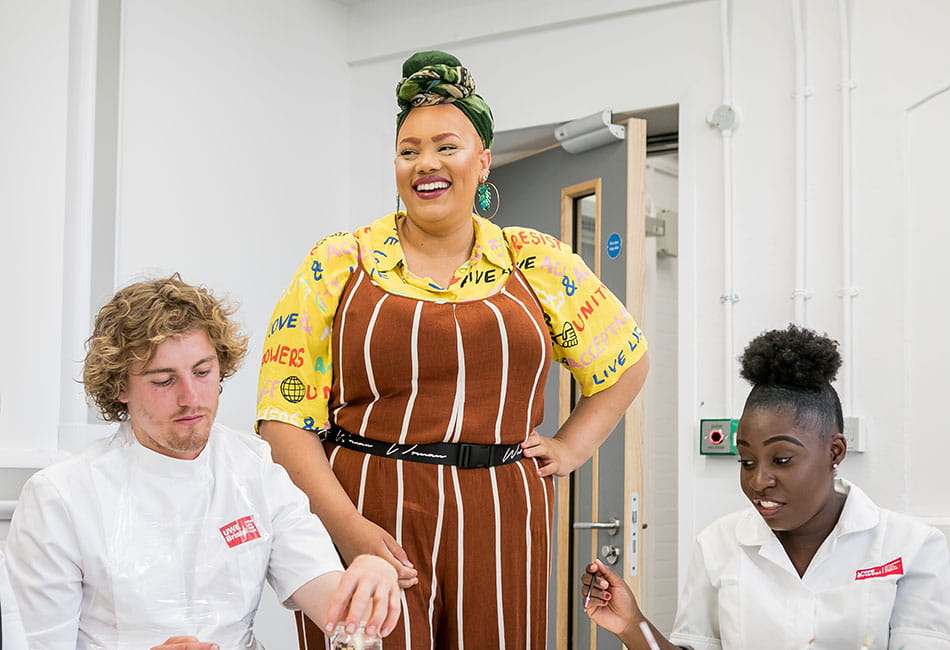 BSc(Hons)

Occupational Therapy
This course is open for applications
Page last updated 30 November 2023
Introduction
The strong practical focus, our close links with employers, and the experience of our academic team, mean that a high percentage of graduates are in work or further study after six months.
Why study occupational therapy?
Occupational therapists recognise that being able to perform meaningful, everyday activities is crucial to people's health and wellbeing. 
Physical and mental illness, impairment and ageing can turn these occupations into challenges that reduce independence and undermine people's identity.
Working in different roles and settings, occupational therapists use activity therapeutically, supporting clients to recover valued occupations and, in turn, regain their independence and health. 
A £5,000 per year training grant is available for home students. Further information is available on the NHS Business Services website.
Why UWE Bristol?
BSc(Hons) Occupational Therapy is approved by the Health and Care Professions Council (HCPC) so you'll be eligible to apply for registration with them when you graduate, something you must do to practise in this field. It's also accredited by the Royal College of Occupational Therapists (RCOT).
Focus on the relationship between occupation and health and wellbeing and gain the contemporary, evidence-based knowledge and skills you need to establish yourself as an occupational therapist.
Learn to work with clients, carers and other professionals to deliver safe, effective and ethical interventions supporting people to be independent in their occupations, and enjoy better health and wellbeing.
With a strong focus on employability, you'll become confident in applying your skills and knowledge to different settings and working with service users.
Get ready for practice in our specialist simulation facilities, dedicated skills suite and occupational therapy resource centre. Spend at least 1,000 hours on practice placements with regional health and social care providers.
As well as volunteering locally as part of Widening Occupation Weeks (WOW), you may have the opportunity to volunteer abroad.
Work with a supportive and accessible academic team who are research active and have a wealth of clinical experience to share.
Where can it take me?
Occupational therapists are in demand across the UK.
Graduates usually work in primary and secondary healthcare, in the NHS, local authority social services and housing departments, independent and third sector organisations, education or research.
BSc(Hons) Occupational Therapy is also recognised as an entry qualification in many other countries (although some may have extra professional registration criteria).
Structure
Content
Year one
You will study:
Human Occupation, Health and Well-being: Part 1
Human Occupation, Health and Well-being: Part 2
Fundamentals of Human Anatomy and Physiology (Occupational Therapy)
Aspects of Human Performance
Foundations of Professional Practicefor Occupational Therapy 1.
Year two
You will study:
Occupational Therapy and Physical Challenges
Occupational Therapy and Psychosocial Challenges
Professional Practice for Occupational Therapy 2
Occupational Therapy and Complex Needs
Informing Practice Through Research and Inquiry (Occupational Therapy)
Occupational Therapy Skills and Strategies for Practice.
Final year
You will study:
Professional Practice for Occupational Therapy 3
Professional Reflexivity in Practice
Healthy Futures
Research and Evidence in Practice (Occupational Therapy)
Promoting Occupation and Leadership in Evolving Practice
Leadership Skills in Context.
The University continually enhances our offer by responding to feedback from our students and other stakeholders, ensuring the curriculum is kept up to date and our graduates are equipped with the knowledge and skills they need for the real world. This may result in changes to the course. If changes to your course are approved, we will inform you.
Learning and Teaching
You'll learn through a mix of campus-based learning, including lectures, workshops, case scenarios and practicals, and occupational therapy placements.
Explore the link between occupation and health and wellbeing, and understand the challenges people face, such as disease, ill health, impairment and barriers to participation.
Gain a strong theoretical grounding in occupational science, anatomy, physiology and psychology and learn about occupational therapy approaches and roles.
Develop practical skills in occupational therapy, such as assessment and intervention, clinical reasoning and reflection, information management, and oral and written communication.
Study issues relating to professional behaviour, such as the Health Professions Council's Standards of Conduct, Performance and Ethics and the Royal College of Occupational Therapists' Code of Ethics and Professional Conduct.
Carry out your own research and learn how to apply evidence to support and change practice, while learning to collaborate with other health and social care professionals.
Consolidate and deepen your professional skills on placements, linking the theory to practice in a diverse range of settings.
Find out more about our partnerships.
See our full glossary of learning and teaching terms.
Percentage of time spent in different learning activities, per year.
| Year | Scheduled learning and teaching study | Independent study | Placement study | % check |
| --- | --- | --- | --- | --- |
| 1 | 26% | 53% | 21% | 100% |
| 2 | 20% | 57% | 23% | 100% |
| 3 | 22% | 72% | 6% | 100% |
Get involved
Join our award winning, student-run Occupational Therapy Society, supported by The Student's Union at UWE. Go on external trips, attend film shows and hear from guest speakers discussing topical issues.
Assessment
You'll be assessed through a mixture of written assignments, professional practice placement assessment, and oral and poster presentations. There will be an online exam and a Structured Oral and Practical Examination (SOPE) too.
Learn more about assessments.
Percentage of time spend in different assessment methods, per year.
| Year | Written exam assessment | Coursework assessment | Practical exam assessment | % check |
| --- | --- | --- | --- | --- |
| 1 | 24% | 38% | 38% | 100% |
| 2 | 0% | 43% | 57% | 100% |
| 3 | 0% | 67% | 33% | 100% |
Features
Professional accreditation
BSc(Hons) Occupational Therapy at UWE Bristol is approved by the Health and Care Professions Council (HCPC) so you are eligible to apply for registration with them when you graduate.
It's also accredited by the Royal College of Occupational Therapists (RCOT).
Placements
UWE Bristol's geographical area for placement provision covers the whole of the South, South West and West of England. Placements across this region help support and provide a wealth of clinical experience across many areas within the NHS healthcare service and the Private Voluntary and Independent sector. These placements are vital to meet the professional regulatory body standards in practice for our affiliated health and social care courses. 
To access this variety of opportunities within the health and social care courses, there's  an expectation that all students at times will have to travel across large areas. In some cases this can be more than 50 miles away  and may be outside of normal working hours due to the nature of shift work on some courses. 
When considering your application to these courses, you must ensure you have means to travel to your placement location at unsociable hours, and/or funds available to secure short-term accommodation options to participate in your placement, if required.  
With around 1,000 hours of practice placements, you'll spend a third of the course applying your knowledge and building professional skills in the workplace.
We have excellent links with NHS trusts and health and social care employers throughout the South West. You'll get a broad range of experiences putting you in a strong position for future employment.
Your practice educator, will be a qualified therapist and will assess and give you feedback throughout your placement.They'll look at how you interact with clients, families, carers and other healthcare professionals, and how you use your occupational therapy skills.
International opportunities
Get involved in volunteering opportunities both in the UK and abroad.
Study facilities
Benefit from specialist facilities at UWE Bristol, including our occupational therapy resource centre, with simulated living environments where you'll develop hands-on skills and see first hand how occupational therapy works.
Take the opportunity to hone your professional skills in our inter-professional skills and simulation centre.
The Glenside campus library is one of the best healthcare libraries in the country, offering a huge range of books, journals, audio-visual materials and specialist health and social care software packages.
Learn more about UWE Bristol's facilities and resources.
Take a Virtual Tour of the Physiotherapy, Occupational Therapy and Sport Rehabilitation facilities and see what's on offer here for you.
Careers
Careers / Further study
Occupational therapists are in demand across the UK.
Choose from a variety of careers in the NHS, or health and social care organisations in the private and third sectors.
Work in the community or a hospital, in a GP practice, nursing home, school, prison, community centre or the occupational health department of a company.
Some graduates take research-based roles or work in education, and others continue studying on postgraduate courses. 
Most students are in work or further study six months after graduating.
Get inspired
Our award-winning careers service will develop your employment potential through career coaching and find you graduate jobs, placements and global opportunities. Visit the careers service pages to learn more about careers, employers and what our students are doing six months after graduating.
We can also help find local volunteering and community opportunities, provide support for entrepreneurial activity and get you access to employer events.
Find out more about occupational therapy careers on the Royal College of Occupational Therapists' website.
Learn more about NHS careers.
Fees
Full time course
Indicative Additional Costs
Supplementary fee information
Additional costs are for items you could need during your studies that aren't covered by the standard tuition fee. These could be materials, textbooks, travel, clothing, software or printing.
A £5,000 per year training grant is available for home students. Further information is available on the NHS Business Services website.
Entry
Typical offers
Tariff points: 128
Contextual tariff: See our contextual offers page.
GCSE: Grade C/4 in English and Mathematics, or equivalent.
English Language Requirement:

International and EU applicants are required to have a minimum overall IELTS (Academic) score of 7.0 with 6.5 in each component (or approved equivalent*).

*The university accepts a large number of UK and International Qualifications in place of IELTS. You can find details of acceptable tests and the required grades you will need in our English Language requirements.

A-level subjects: No specific subjects required.
EDEXCEL (BTEC) Diploma: No specific subjects required.

For information on required Guided Learning Hours please see our minimum entry requirements page.

Access: No specific subjects required.
Baccalaureate IB: No specific subjects required.
Irish Highers: No specific subjects required.
T Levels: Health, Healthcare Science or Science.

If you partially achieve your T Level, you can meet our subject requirements if you have at least a C in your Core Section. For further advice on acceptable subjects please email us.
Entry requirements
If you don't meet the entry requirements of this course, you may be eligible for the Health Professions Foundation Year.
Additional requirements
All applicants are required to complete:
Disclosure and Barring Service (DBS) Check*
Health Checks*.
*All information will be treated in confidence and only taken into account when absolutely necessary.
About your Health Checks
Offers of places are subject to Occupational Health Clearance and students are expected to disclose pre-existing and historical health conditions. You must be in good health and up-to-date with all routine immunisations that are required for working in health and social care settings. If you are offered a place on this course, you will be required to complete a questionnaire and must be prepared to undergo a medical examination. You will also be required to confirm your status in respect of a number of infectious diseases (tuberculosis, measles, mumps, rubella, chicken pox, varicella, hepatitis B, hepatitis C, HIV antibodies) and be prepared to have all required vaccinations.  Please note that the list of required vaccinations may change, in response to advice from the Department of Health. If your vaccinations are not up-to-date, this will affect your ability to continue on your course. If you have any concerns with regards to vaccinations please raise this at the point of application.
Selection process
Shortlisted applicants will be invited to an online Microsoft Teams interview. The interview panel will consist of 2 staff from the programme team staff and either, practice-based occupational therapists, service-user representatives or carers. The interview will take the form of questions from the panel members and will last up to 30 minutes with you also having the opportunity to ask us about the course/placements and any other aspects of becoming an occupational therapist.
Recruitment for this course is informed by Health Education England's Values Based Recruitment Framework. The purpose of this framework is to ensure that we recruit students whose individual values and behaviours align with the values of the NHS Constitution.
Watch our video for top tips on writing a healthcare personal statement and download our health and social care personal statement guide (PDF).
International Applicants
For country specific entry requirements please find your country on the country information pages. If you are an international student and do not meet the academic requirements to study this course, you can qualify by completing preparatory study at our International College.
If you are applying to study at UWE Bristol and require additional support to meet our English language requirements, you may be able to attend one of our pre-sessional English courses. Read more about our Pre-Sessional English Programme.
Deferred entry
We do not accept deferred entry applications for this course.
Read more about entry requirements.
How to apply
Read more about undergraduate applications.
Read more about international applications and key international deadline dates.
For further information
You may also be interested in