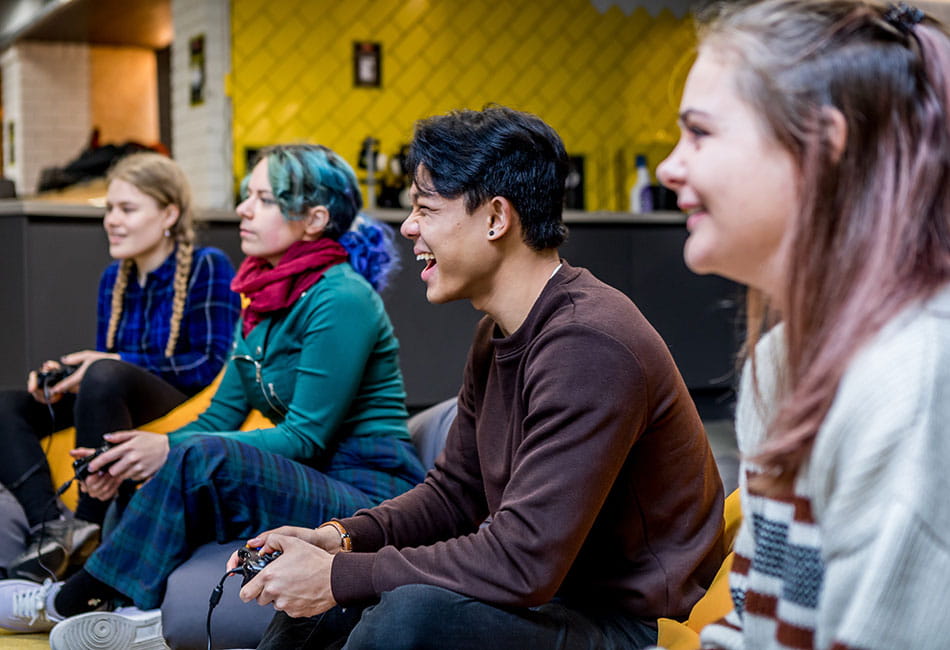 BSc(Hons)

Games Technology
This course is open for applications
Page last updated 30 November 2023
Introduction
Use engines like Unity and UnrealEngine to develop games for various platforms and gain first-hand industry experience on live projects through our in-house studio, PlayWest.
Why study games technology?
As well as providing entertainment, games offer creative ways to engage with content.
The need to facilitate this - along with the evolution of the internet, multimedia and mobile devices - has led to significant growth in the games industry.
With new and exciting game applications in public services, education, business and healthcare, there is growing demand for professionals who can apply games concepts across a range of industries.
Why UWE Bristol?
BSc(Hons) Games Technology gives you a foundation in problem solving, programming (using C++) and software design for the entertainment industry.
Explore artificial intelligence, 3D environments, virtual reality (VR) and effective software design for games.
Gain an understanding of the history and theories around play, games and user engagement. As UWE Bristol is a member of The PlayStation® First Academic Programme, students can gain experience of developing for Sony PlayStation using their official development kits.
Learn through practical projects, creating playable scenarios that consolidate new concepts and applications.
Attend talks from visiting industry professionals and apply learning through individual and group programming projects.
Gain valuable real-world experience and a professional portfolio through placements that prepare you for a career in the gaming industry.
You may also have the chance to apply for a BAFTA Scholarship, which can offer you financial support towards your living expenses at university.
Where can it take me?
Our graduates work across AAA developers, including Rockstar North, Frontier Developments and Naughty Dog, and local developers such as Opposable Games and Mobile Pie.
Outside of the games industry, you'll find career opportunities in software engineering, simulations, digital media, mobile device applications, web development and IT.
Structure
Content
Year one
You'll study:
Game Development Evolution
Games in C++ 
Games Technology: 101
Principles of 3D Environments.
Year two
You'll study:
Game Engine Programming
Gameplay Programming
More Games in C++ 
Play and Games.
Placement year (if applicable)
If you study on the four year (sandwich) course, you'll spend a year away from the University on a work placement after year two.
You'll complete a Professional Experience or International Experience module.
See the Placements and Fees sections for more information.
Final year
You'll study:
Advanced Technologies
Commercial Games Development*
Comprehensive Creative Technologies Project.
*If you've completed the sandwich placement year, you'll study a reduced credit version of this module.
The University continually enhances our offer by responding to feedback from our students and other stakeholders, ensuring the curriculum is kept up to date and our graduates are equipped with the knowledge and skills they need for the real world. This may result in changes to the course. If changes to your course are approved, we will inform you.
"After meeting the Founder of Okko Health at UWE Bristol's Degree Show, I was hired there as a Games Developer after graduating. In my role, I've applied my rapid prototyping skills and basic vision science knowledge from my degree to build mobile-based eyesight games." Benji, 2019 Games Technology graduate.
Learning and Teaching
We encourage you to become a proactive, independent learner.
Learn through a mix of face-to-face lectures and tutorials, virtual learning environments, practical work and independent project work.
Study the history of electronic games, investigate current technological developments and create your first playable scenarios in a dedicated authoring environment.
Examine theory behind play, games and user engagement. Find out how software development delves into game engine architecture and advanced C++ programming concepts, as well as level design and the simulation/emulation of real world environments.
Develop individual areas of specialism across a range of advanced technologies. These include graphics, physics, artificial intelligence, networking and multi-processor programming.
Take part in local and national game jams to build on our previous successes, like when our teams won both 'Best game' and 'Best mobile game' at Brains Eden game jam.
Work on live projects with in-house studio PlayWest. Build your professional network and experience at games industry events such as EGX Rezzed, Develop and our own PlayWest student and alumni conference.
Attend regular presentations and masterclasses with professionals from the games development community and learn about best practice and industry issues. Recent sessions have been held at the Bristol Games Hub, a centre for indie games development.
See our full glossary of learning and teaching terms.
Approximate percentage of time you'll spend in different learning activities*:
| Year | Scheduled learning and teaching study | Independent study | Placement study |
| --- | --- | --- | --- |
| 1 | 29% | 71% | 0% |
| 2 | 24% | 76% | 0% |
| 3 | 20% | 80% | 0% |
*Calculated from compulsory and optional modules (where applicable) each year
Showcase your work
Show your creations at our annual degree show, with the best projects going on to exhibit at the yearly Develop conference in Brighton.
Socialise and network
Attend regular 'Games Night' social events and challenge your peers and lecturers, either on the large screens in our Games Studio or at special locations off-site.
Get involved with the Online Gaming Society's events, including socials, LAN nights and trips to festivals like GamesCon, GAMEfest and Eurogamer.
Assessment
You'll be assessed through a mix of practical exercises and portfolios of work, along with individual and group projects and examinations.
Where possible, assessments will contribute towards a graduate portfolio of work that you can demonstrate to potential employers.
Learn more about assessments.
Approximate percentage of marks awarded by each assessment method*:
| Year | Written exam assessment | Coursework assessment | Practical exam assessment |
| --- | --- | --- | --- |
| 1 | 25% | 75% | 0% |
| 2 | 6% | 94% | 0% |
| 3 | 0% | 79% | 21% |
*Calculated from compulsory and optional modules (where applicable) each year
Features
Professional accreditation
This degree is accredited by TIGA.
Placements
Students who get work experience tend to graduate with better degrees. Experience also hones your skills, industry knowledge and professional network, making you highly employable on graduation.
If you choose the four year (sandwich) course, you'll spend a year away from the University on a work placement after year two.
We have good relationships with independent developers in and around Bristol. They provide opportunities ranging from working on specific games to software development placements. Past students have worked in mobile games and applications.
In-house studio PlayWest also provides opportunities to work on live industry projects, including paid undergraduate and graduate internships.
You'll get help to find your placement and support throughout from our Placement Team and award-winning careers service.
Study facilities
Develop practical skills and bring games to life in our state-of-the-art facilities.
Design games in our dedicated games studio, which has over 40 workstations providing the latest generation gaming hardware and industry standard software.
Hone your professional skills with the UWE Bristol Games Community, which provides access to advanced collaboration tools.
Access a specially designed group learning and development space with games hardware including PlayStation 4 development kits.
A mix of traditional and creative learning environments will enable you to learn essential knowledge and real-world skills, standing you in good stead for your professional career.
Take a Virtual Tour of the Computer Science and Creative Technologies facilities and see what's on offer here for you.
Careers
Careers / Further study
As a graduate, you'll have opportunities to work with developers in the UK and worldwide.
Our graduates hold programming positions at Sony and Rockstar North, and studios throughout the UK and abroad.
Other career opportunities include software development and engineering, simulations, digital media, mobile device applications, web development and IT.
Get inspired
Our award-winning careers service will develop your employment potential through career coaching and find you graduate jobs, placements and global opportunities.
We can also help find local volunteering and community opportunities, provide support for entrepreneurial activity and get you access to employer events.
Visit our employability pages to learn more about careers, employers and what our students are doing six months after graduating.
Fees
Full-time; Sandwich course
Indicative Additional Costs
Supplementary fee information
Your overall entitlement to funding is based on how long the course is that you're registered on. Standard funding is allocated based on the standard number of years that your course lasts, plus one additional year.
You'll apply for funding each year that you study and student finance will take into account how long the course is in each year that you apply. So if you register for the four year course and then transfer to the three year course, the number of years you can apply for funding will change. Student finance will reassess your funding based on how many years you have been in study, not just those years for which you received student finance.
Always seek advice before taking any action that may have implications for your funding.
Additional costs
Additional costs are for items you could need during your studies that aren't covered by the standard tuition fee. These could be materials, textbooks, travel, clothing, software or printing.
Once you apply to our BSc(Hons) Games Technology, you may be eligible to apply for the BAFTA Scholarship Scheme. To be eligible to apply, you'll need to be recognised as a British citizen by UK law or you have Settled or Refugee Status. If you're offered a scholarship through this scheme, you'll receive a financial contribution towards your living expenses throughout your studies. Undergraduate scholars also benefit from mentoring support, as well as free access to BAFTA events across the UK.
Entry
Typical offers
Tariff points: 120
Contextual tariff: See our contextual offers page.
GCSE: Grade C/4 in English and Mathematics, or equivalent.
English Language Requirement:

International and EU applicants are required to have a minimum overall IELTS (Academic) score of 6.0 with 5.5 in each component (or approved equivalent*).*The university accepts a large number of UK and International Qualifications in place of IELTS. You can find details of acceptable tests and the required grades you will need in our English Language section. Please visit our English language requirements page.

A-level subjects: No specific subjects required.
EDEXCEL (BTEC) Diploma: No specific subjects required. Please list the units you are taking in your application. For further advice on acceptable units please email us.

For information on required Guided Learning Hours please see our minimum entry requirements page.

Access: No specific subjects required.
Baccalaureate IB: No specific subjects required.
Irish Highers: No specific subjects required.
T Levels: No specific subjects required.
Entry requirements
If you don't meet the entry requirements, you may be eligible for BSc(Hons) Games Technology (with Foundation Year).
International applicants
For country specific entry requirements please find your country on the country information pages. If you are an international student and do not meet the academic requirements to study this course, you can qualify by completing preparatory study at our International College.
If you are applying to study at UWE Bristol and require additional support to meet our English language requirements, you may be able to attend one of our pre-sessional English courses. Read more about our Pre-Sessional English Programme.
Read more about entry requirements.
How to apply
Read more about undergraduate applications.
Read more about international applications and key international deadline dates.
For further information