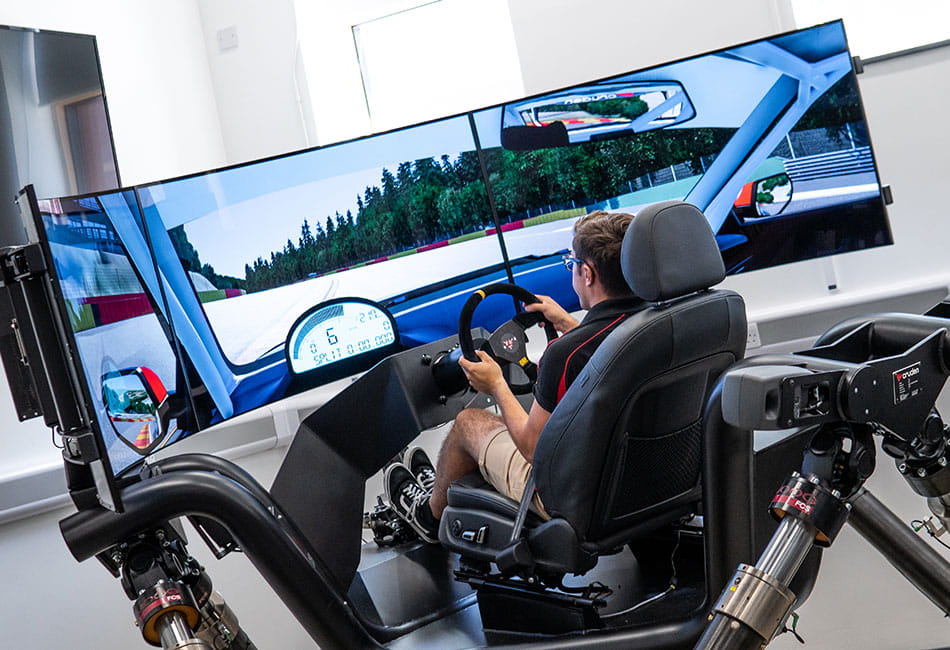 BEng(Hons)

Automotive Engineering (with Foundation Year)
This course is open for applications
Page last updated 4 December 2023
Introduction
Get on track for our IMechE accredited BEng(Hons) Automotive Engineering degree, by completing a foundation year. If you're committed to an engineering future and have a less conventional background, this is the course for you.
Why study automotive engineering?
The automotive industry is set for global growth over the next decade.
Environmental challenges mean new vehicles must be cleaner and more efficient, while urbanisation is driving a need for better transport solutions.
This will create demand for professionals with knowledge and skills in automotive design and manufacture. And if you're always asking questions, exploring different alternatives, and thinking creatively then you're just who we're looking for.
Why UWE Bristol?
BEng(Hons) Automotive Engineering gives you a strong grounding in mathematics, design, manufacturing and mechanical engineering.
Discover how engineering will challenge you and change the way you learn. You'll tackle real world issues through live projects, and be encouraged to take risks as you develop solutions in our state-of-the art labs.
Study automotive manufacturing, engine systems, vehicle dynamics, materials, structures and safety. Gain hands-on experience, testing designs for automotive projects using our facilities.
You'll be taught in our new state-of-the-art School of Engineering designed to revolutionise the way engineering is taught. Featuring engine test cells, dedicated collaborative learning spaces and all of the latest high-tech equipment, it's purpose-built to support a wide range of engineering disciplines.
Investigate an engineering problem that interests you, while developing engineering, project management and report writing skills.
Complete work placements in areas like product development, vehicle dynamics and design, and manufacturing. Compete with our multi-disciplinary team UWE Formula Student, which regularly succeeds at the annual Formula Student competition.
With opportunities at some of the biggest names in engineering on your doorstep, you'll be able to increase your employability and find the engineer you are.
Where can it take me?
Careers range from automotive design to manufacture and maintenance. You could help research the next wave of green and sustainable transport technologies.
Structure
Content
The optional modules listed are those that are most likely to be available, but they may be subject to change.
Year zero (foundation year)
You will study:
Engineering Experimentation
Foundation Group Project
Foundation Mechanics
Foundation Mathematics: Algebra and Calculus
Introduction to Mechatronics.
You normally need to pass your foundation year before going into year one. 
Year one
You will study:
Engineering Practice 1
Solid Mechanics, Materials and Manufacturing
Dynamics Modelling and Simulation
Thermofluids
Applied Electrical Technology.
Year two
You will study:
Engineering Practice 2
Engineering Research
Structural Mechanics
Applied Thermofluids
Dynamics
Systems Design.
Placement year (if applicable)
If you study on the five year sandwich course, you'll spend a year away from the University on a work placement after year two.
You'll complete a placement learning module.
See the Placements and Fees sections for more information.
Year three (Final Year for BEng)
You will study:
Engineering Project
Group Design and Integration Project
Vehicle Design Fundamentals
Automotive Manufacturing
Emerging Automotive Technology 1
Vehicle Dynamics
Professionalism for Engineers (You will not study this module if you have completed the placement year).
Plus, one optional module from the following:
Advanced Manufacturing Technology
Control Engineering
Materials and Structures for Special Applications
Composite Engineering
Integrated Electro-mechanical Systems
Advanced Heat Transfer
Engineering and Society.
The University continually enhances our offer by responding to feedback from our students and other stakeholders, ensuring the curriculum is kept up to date and our graduates are equipped with the knowledge and skills they need for the real world. This may result in changes to the course. If changes to your course are approved, we will inform you.
Learning and Teaching
Learn through a mix of lectures and tutorials, experimental laboratory work, engineering fabrication, drawing and design, computing and application-based mini projects.
Attend regular talks with professionals from organisations such as McLaren, Triumph and Jaguar Land Rover.
See automotive engineering in action at facilities such as Castle Combe, Jaguar Land Rover's manufacturing facility and Nissan's technical research and development centre.
Get involved in national competitions and initiatives to boost your skills and experience. Our UWE Formula Student team represents disciplines across UWE Bristol. Reflecting real-world practice, the team work on the business, marketing and costing of their race car, as well as the engineering.
Showcase your work to employers and the public at our annual degree show.
See our full glossary of learning and teaching terms.
Approximate percentage of time you'll spend in different learning activities*: 
| Year | Scheduled learning and teaching study | Independent study | Placement study |
| --- | --- | --- | --- |
| 0 | 27% | 73% | 0% |
| 1 | 29% | 71% | 0% |
| 2 | 24% | 76% | 0% |
| 3 | 19% | 81% | 0% |
*calculated from compulsory and option module choices (where applicable) each year
Assessment
You'll be assessed through a mix of examinations and assignments. Some modules will include formal presentations as part of the assessment.
Learn more about assessments.
Approximate percentage of marks awarded by each assessment method*: 
| Year | Written exam assessment | Coursework assessment | Practical exam assessment |
| --- | --- | --- | --- |
| 0 | 37% | 58% | 5% |
| 1 | 67% | 28% | 5% |
| 2 | 58% | 41% | 1% |
| 3 | 50% | 46% | 4% |
*Calculated from compulsory and optional modules (where applicable) each year
Features
Professional accreditation
This course is accredited by the Institution of Mechanical Engineers (IMechE).
The accredited BEng (Hons) will meet, in part, the exemplifying academic benchmark requirements for registration as a Chartered Engineer and Students will need to complete an approved format of further learning pursuant to the requirements of UK-SPEC.
Placements
Students who go on work experience tend to graduate with better degrees. Experience also hones your skills, industry knowledge and professional network, making you a sought after graduate.
On a work placement, you will be able to apply your engineering knowledge at a choice of stages in the automotive industry.
Past students have completed placements with JCB, Prodrive, Nissan and Vauxhall as well as smaller dynamic companies in and around the region. Work with these can range from product development, vehicle dynamics and design, to manufacturing.
Study facilities
Our engineering building is designed to inspire the engineers of the future. Built for hands-on investigation, with engine test cells, wind tunnels and collaborative learning spaces. An ideal environment for encouraging you to explore, take risks and discover ways to change the world for the better.
You will apply what you've learnt and develop vital professional skills, using the latest simulation equipment. As well as helping you develop the practical simulator skills demanded by employers, this equipment will enable you to assess performance before concepts are built.
You will test designs on our state-of-the-art driving simulator that utilises a Formula One monocoque and a wrap-around screen and can be programmed to test concepts on any car type and test-drive these on a range of terrains. Plus, test fuelling and ignition systems on our dedicated motorcycle rolling road.
Take a Virtual Tour of the Engineering facilities and see what's on offer here for you.
Take a look at the Engineering building
Step inside our new School of Engineering building at UWE Bristol.
Careers
Careers / Further study
You could work in automotive research and development, design, manufacture and maintenance.
With green transport technologies a focus of future transport developments, opportunities for eco-minded automotive engineers are predicted to increase.
Depending on your year two results, you could transfer to our four-year MEng Automotive Engineering course, which would give you a master's rather than a bachelor's degree.
With a MEng, you fully meet the academic requirements to become a Chartered Engineer with the Institution of Mechanical Engineers.
Get inspired
Our award-winning careers service will develop your employment potential through career coaching and find you graduate jobs, placements and global opportunities.
We can also help find local volunteering and community opportunities, provide support for entrepreneurial activity and get you access to employer events.
Visit our employability pages to learn more about careers, employers and what our students are doing six months after graduating.
Fees
Full-time; Sandwich course
Indicative Additional Costs
Supplementary fee information
Your overall entitlement to funding is based on how long the course is that you're registered on. Standard funding is allocated based on the standard number of years that your course lasts, plus one additional year.
You'll apply for funding each year that you study and Student Finance will take into account how long the course is in each year that you apply. So if you register for the five year course and then transfer to the four year course, the number of years you can apply for funding will change. Student Finance will reassess your funding based on how many years you have been in study, not just those years for which you received student finance.
Always seek advice before taking any action that may have implications for your funding.
Additional costs
Additional costs are for items you could need during your studies that aren't covered by the standard tuition fee. These could be materials, textbooks, travel, clothing, software or printing.
Entry
Typical offers
Tariff points: 80
Contextual tariff: See our contextual offers page.
GCSE: Grade C/4 in English and Mathematics, or equivalent.
English Language Requirement:

International and EU applicants are required to have a minimum overall IELTS (Academic) score of 6.0 with 5.5 in each component (or approved equivalent*).

*The university accepts a large number of UK and International Qualifications in place of IELTS. You can find details of acceptable tests and the required grades you will need in our English Language section. Please visit our English language requirements page.

A-level subjects: No specific subjects required.
EDEXCEL (BTEC) Diploma: No specific subjects required.

For information on required Guided Learning Hours please see our minimum entry requirements page.

Access: No specific subjects required.
Baccalaureate IB: No specific subjects required.
Irish Highers: No specific subjects required.
T Levels: No specific subjects required.
Entry requirements
If you exceed the entry requirements you may be eligible for BEng(Hons) Automotive Engineering.
International applicants
If you are an international student your recommended route of study for this degree is through our international college, which upon successful completion to the required level and with good attendance, guarantees entry to year one of the degree.
Read more about entry requirements.
How to apply
Read more about undergraduate applications.
For further information
You may also be interested in