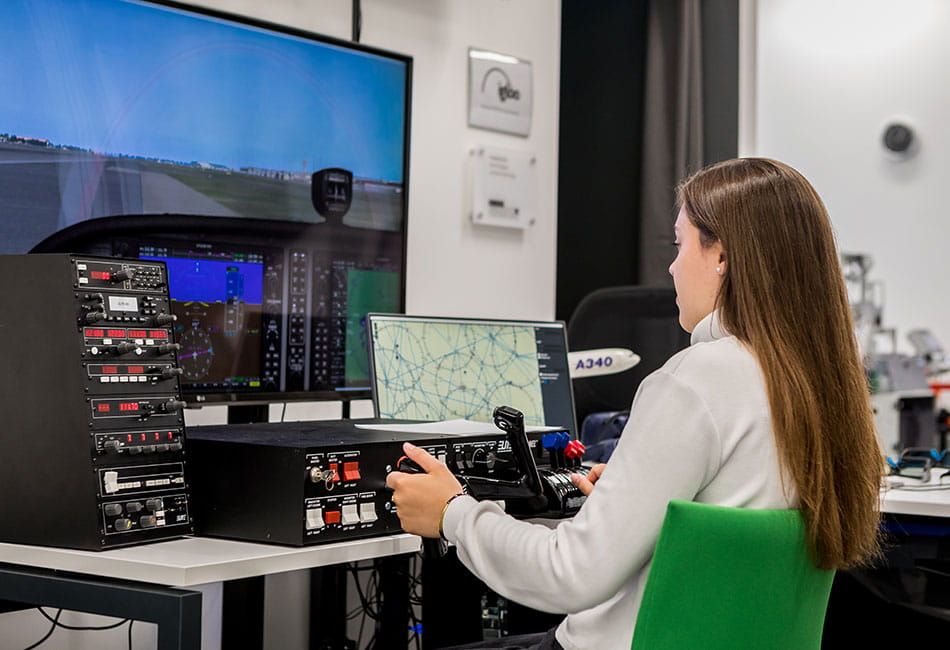 BEng(Hons)

Aerospace Engineering with Pilot Studies
Please note the entry requirements stated for this course are indicative. The entry requirements for 2024 will be published by October 2023.
Page last updated 4 July 2023
Introduction
This course was designed with input from regional aerospace partners to give you the industry relevant skills needed to become a technical specialist.
Why study aerospace engineering ?
Engineering is where creative thinkers become world changers. An aerospace engineering degree will challenge you to ask questions, take risks and explore new perspectives.
You'll turn ideas into reality as you apply the principles of science and technology to the research, design, manufacture and certification of current and future aerospace vehicles.
If you're fascinated by the history, technology and progress of aircraft and spacecraft, we'll take your passion and transform it into career-shaping skill and experience.
Why UWE Bristol?
Our new inclusive, problem-based curriculum will broaden our engineering audience, enabling students from a wider range of backgrounds to pursue a career in engineering. To date, we're the first university in the UK to transform our curriculum alongside constructing a new engineering building.
You'll be taught in our new state-of-the-art School of Engineering, designed to revolutionise the way engineering is taught. Featuring engine test cells, dedicated collaborative learning spaces and all of the latest high-tech equipment, it's purpose-built to support a wide range of engineering disciplines.
The course was accredited for the intakes from 2020-2022 by the Royal Aeronautical Society on behalf of the Engineering Council and re-accreditation is currently being sought for the intakes from 2023 onwards.
Our BEng(Hons) Aerospace Engineering with Pilot Studies has been developed with input from regional aerospace partners. Gain the skills you need to become a technical specialist and future leader within the aerospace industry.
Where can it take me?
As a student engineer, you'll start your professional journey towards becoming an incorporated or chartered engineer from day one. You'll learn by doing, applying and revisiting your early skills through embedded project weeks and development of digital and physical prototypes, as you would in practice.
As a graduate, you'll be set for a career in the aerospace industry. You'll have exciting career prospects, from working on the design and manufacture of civil and military aircraft, to working with helicopters and jet engines.
Take a look at the Engineering building
Step inside our new School of Engineering building at UWE Bristol.
Structure
Content
The optional modules listed are those that are most likely to be available, but they may be subject to change.
Year one
You will study:
Aerospace Thermofluids
Dynamics Modelling and Simulation
Engineering Practice 1
Introduction to Pilot Studies
Solid Mechanics, Materials and Manufacturing.
Year two
You will study:
Engineering Practice 2
Engineering Research
Structural Mechanics
Fundamental Aerodynamics
Flight
Aerospace Systems Design
Fundamental Aero-Propulsion.
Placement year (if applicable)
If you study on the four year sandwich course, you'll spend a year away from the University on a work placement after year two.
You'll complete a placement learning module.
See the Placements and Fees sections for more information.
Year three (Final year for BEng)
You will study:
Engineering Project
Aerospace Group Design Project
Pilot and Airline Operations
Professionalism for Engineers.
Plus, two optional modules from:
Aero Structures
Avionics
Composite Engineering
Control Engineering
Further Aero-Propulsion
Further Aerodynamics
Spaceflight
Space Engineering
Digital Manufacturing in Aerospace
Integrated Electro-Mechanical Systems.
The University continually enhances our offer by responding to feedback from our students and other stakeholders, ensuring the curriculum is kept up to date and our graduates are equipped with the knowledge and skills they need for the real world. This may result in changes to the course. If changes to your course are approved, we will inform you.
"My industrial placement year at an aerospace manufacturing company gave me insight into the real-world applications of engineering. This experience helped me to progress to my current role as a Flight Test Engineer for Leonardo Helicopters." Ben, 2018 Aerospace Engineering with Pilot Studies graduate
Learning and Teaching
Learn through lectures, tutorials and seminars with a programme of laboratory, practical and project work.
You'll design, develop and optimise a model aircraft in the first year Introduction to Aeronautics module. You'll have the opportunity to undertake a flight test course in a real aircraft in your third year and you'll also work in group projects to such as the ImechE Umnanned Aerial System (UAS) Challenge.
See our full glossary of learning and teaching terms.
Approximate percentage of time you'll spend in different learning activities*:
| Year | Scheduled learning and teaching study | Independent study | Placement study |
| --- | --- | --- | --- |
| 1 | 29% | 71% | 0% |
| 2 | 26% | 74% | 0% |
| 3 | 24% | 76% | 0% |
*Calculated from compulsory and optional modules (where applicable) each year
Pilot studies programme
Gain insight into the aviation industry through flight training. Focus on areas such as navigation, aviation safety, aircraft instrument systems and regulations at a practical level. If you meet the flight training requirements (e.g. medical and security checks), you'll graduate with an Aerospace Engineering (pilot studies) degree.
From academic year 2020/21 Aerospace Engineering with Pilot Studies will provide flight training to the level of Private Pilot License (PPL) only. The theoretical training is included in the curriculum from the very beginning of your course. However, the practical part brings the additional cost of flying.
The average PPL training takes about 40 hours of flying. We deliver the pilot part in partnership with Wings Alliance so that you may fly with one of the training schools in the local area of Bristol. We can also offer training in the US at Northwestern Michigan College.
Ultimately you can fly in any other country as well. Practical training flight hours incurs the additional cost, which depends on the factual number hours as well as the site location. The minimum number of flight hours required from you at the end of your final year is 20. However, we encourage you to get your license.
If you want to be an airline pilot, you need further training which is beyond the scope of our programme. An aerospace engineer, who holds a pilot license usually presents a broader understanding of practical aspects such as performance, ergonomy and systems.
Assessment
You can expect to be assessed through a mix of assignments, exams, continuous assessment and group work depending on the module. In your final year, a project report and presentation will form part of the assessment.
We encourage you to exhibit your final year work at our annual degree show, where you can discuss your work and celebrate your achievements with family, friends and potential employers.
See our full glossary of assessment terms.
Approximate percentage of marks awarded by each assessment method*:
| Year | Written exam assessment | Coursework assessment | Practical exam assessment |
| --- | --- | --- | --- |
| 1 | 64% | 31% | 5% |
| 2 | 50% | 49% | 1% |
| 3 | 27% | 69% | 4% |
*Calculated from compulsory and optional modules (where applicable) each year
Features
Professional accreditation
The course was accredited for the intakes from 2020-2022 by the Royal Aeronautical Society on behalf of the Engineering Council and re-accreditation is currently being sought for intakes from 2023 onwards.
Placements
Students who get work experience tend to graduate with better degrees. Experience also hones your skills, industry knowledge and professional network, making you a sought after graduate.
If you choose the four year (sandwich) course, you'll spend a year away from the University on a work placement after Year two.
We work in partnership with Bristol employers like Airbus, Rolls Royce, GE Aviation and Leonardo Helicopters. We also have strong relationships with smaller companies across the UK.
They provide work placements and graduate employment opportunities for our students. Past students have worked with Airbus, GE Aviation, E-Stress, Rolls Royce, Qinetic and Lockeed Martin.
Get help to find your placement and support throughout from department staff and our award-winning careers service.
Find out more about our partner employers and how students benefit from their placements.
Fieldwork
Throughout the course, you'll see aerospace engineering in action at a range of facilities.
This includes visits to Airbus, GKN and the National Composites Centre and museums such as the Fleet Air Arm Museum in Yeovil.
In your first year, you'll design and build a model glider aircraft's wings, then race it against the competition.
Study facilities
Our engineering building is designed to inspire the engineers of the future. Built for hands-on investigation, with engine test cells, wind tunnels and collaborative learning spaces. An ideal environment for encouraging you to explore, take risks and discover ways to change the world for the better.
Apply what you've learned and develop vital professional skills in well-equipped facilities.
Design, model and simulate new aerospace concepts using industry-standard computer-aided design (CAD), Finite Element Analysis (FEA) and Computational Fluid Dynamics (CFD) simulation and planning software on our extensive PC network.
Test vehicle aerodynamics in our subsonic and supersonic wind tunnels. Develop and test materials using our composite manufacturing facilities and stress and materials laboratories.
Try out designs using our industry standard flight simulator, which you can update with your prototype aircraft's model data to validate its handling qualities and performance.
A mix of traditional and hands-on learning environments helps you quickly take on essential knowledge and skills, standing you in good stead for your professional career.
Learn more about UWE Bristol's facilities and resources.
Get a feel for the Engineering facilities we have on offer here from wherever you are.
Start your dream career at UWE Bristol
Careers
Careers / Further study
Our BEng(Hons) Aerospace Engineering with Pilot Studies will equip you with industry knowledge and an in-depth understanding of the aerospace design and build process. Study materials and manufacturing, stress and dynamics, energy and thermodynamics to gain a solid grounding in aerospace engineering.
There's an increasing demand for qualified aerospace engineers in the industry, so you'll have strong employability prospects. Many of our graduates go into careers in the design and manufacture of civil and military aircraft, helicopters and jet engines.
Our course will prepare you for employment in leading aerospace companies such as Airbus UK, BAE Systems, Rolls-Royce, Leonardo, MBDA, Boeing and GE Systems.
Graduate ready to take up your place within the exciting, fast-paced aerospace industry. You'll develop core skills that you'll take with you through your career, such as innovation, teamwork and creativity.
In your second year, you'll have the opportunity to specialise through the Systems, Design and Manufacturing pathways, allowing you to follow your career aspirations.
Get an inside track on the industry through regular factory tours and professional briefings from leading aerospace organisations, and work on placements to build up valuable experience and professional skills.
Get inspired
Our award-winning careers service will develop your employment potential through career coaching and find you graduate jobs, placements and global opportunities.
We can also help find local volunteering and community opportunities, provide support for entrepreneurial activity and get you access to employer events.
Visit our employability pages to learn more about careers, employers and what our students are doing six months after graduating.
Fees
Full-time; Sandwich course
Indicative Additional Costs
Supplementary fee information
Your overall entitlement to funding is based on how long the course is that you're registered on. Standard funding is allocated based on the standard number of years that your course lasts, plus one additional year.
You'll apply for funding each year that you study and Student Finance will take into account how long the course is in each year that you apply. So if you register for the four year course and then transfer to the three year course, the number of years you can apply for funding will change. Student Finance will reassess your funding based on how many years you have been in study, not just those years for which you received student finance.
Always seek advice before taking any action that may have implications for your funding.
Additional costs
This refers to items you could need during your studies that aren't covered by the standard tuition fee. These could be materials, textbooks, travel, clothing, software or printing.
Entry
Typical offers
Tariff points: 112
Contextual tariff: See our contextual offers page.
GCSE: Grade C/4 in English Literature or Language and Mathematics, or equivalent. We do not accept Level 2 Key Skills, Functional Skills or Certificate in Adult Numeracy and Literacy as alternatives to GCSEs.
English Language Requirement:

International and EU applicants are required to have a minimum overall IELTS (Academic) score of 6.0 with 5.5 in each component (or approved equivalent*).

*The university accepts a large number of UK and International Qualifications in place of IELTS. You can find details of acceptable tests and the required grades you will need in English Language requirements.

A-level subjects: Grade C in Mathematics, plus a pass in one of the following: Biology, Chemistry, Computing/Computer Science, Design and Technology, Electronics, Engineering, ICT, Further Maths, Music Technology, Physics, Statistics.

Maths requirement can also be met by the Cambridge Pre-U Mathematics at Merit 3.

Relevant subjects: Biology, Chemistry, Computing/Computer Science, Design and Technology, Electronics, Engineering; ICT, Further Maths, Mathematics, Music Technology, Physics, Statistics.
EDEXCEL (BTEC) Diploma: You must be studying one of the following: Aeronautical Engineering, Construction and the Built Environment, Electrical/Electronic Engineering, Engineering, Land-based Technology, Manufacturing Engineering, Mechanical Engineering, or Operations and Maintenance Engineering.

To include Merit in one of the following units: Further Engineering Mathematics or Further Mathematics for Construction.

Please list the units you are taking in your application. For further advice on acceptable units please email us.

For information on required Guided Learning Hours please see our minimum entry requirements page.

Access: 15 Level 3 credits at Merit in Mathematics and 15 credits at Pass in another science or technology subject.
Baccalaureate IB: A minimum grade of 5 in Higher Level Mathematics and a pass in one of the following at Higher Level: Biology, Chemistry, Computer Science, Design Technology, Physics, Environmental Systems and Societies.
Irish Highers: H2 in Mathematics plus a pass in one of the following subjects: Biology; Chemistry; Engineering; Physics; Technology.
T Levels: You must achieve a Grade C in A-Level Mathematics, in addition to your T Level qualification.
Entry requirements
If you don't meet the entry requirements, you may be eligible for BEng(Hons) Aerospace Engineering with Pilot Studies (with Foundation Year).
International applicants
For country specific entry requirements please find your country on the country information pages. If you are an international student and do not meet the academic requirements to study this course, you can qualify by completing preparatory study at our International College.
If you are applying to study at UWE Bristol and require additional support to meet our English language requirements, you may be able to attend one of our pre-sessional English courses. Read more about our Pre-Sessional English Programme.
Read more about entry requirements
---
.
How to apply
Read more about undergraduate applications.
Read more about international applications and key international deadline dates.
For further information
You may also be interested in