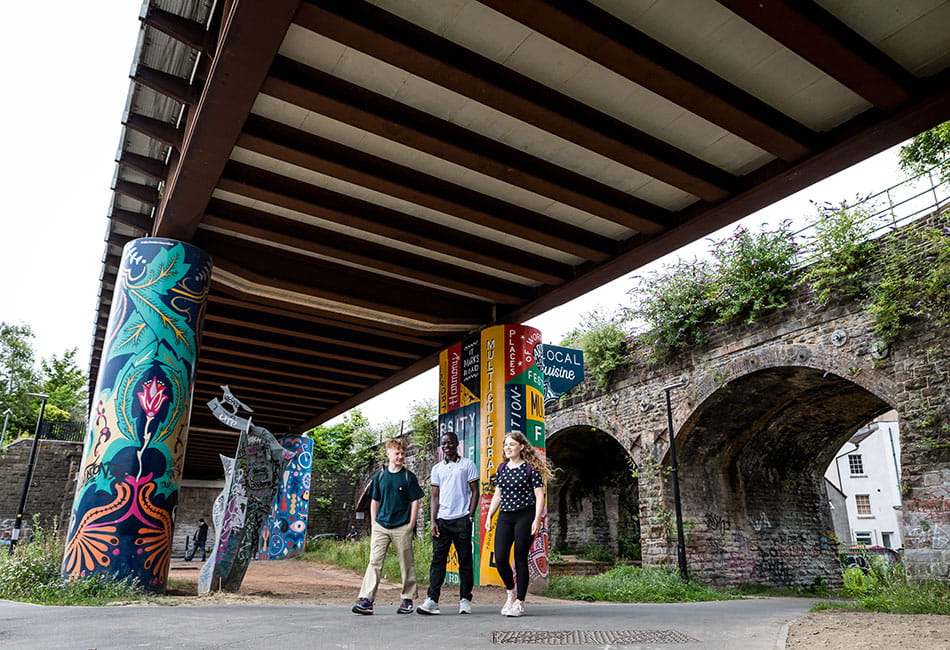 This course is open for applications
Page last updated 30 November 2023
Introduction
This course is accredited by the Royal Geographical Society (with IBG). Take a sandwich year and study with one of our international partners in locations such as the US or Canada.
Why study geography?
Geography is unique in integrating the social sciences with the natural sciences. It's about understanding the earth's peoples and their impact, as well as its landscapes, places and environments.
Geographers play a key role in developing and managing the response to challenges that are on the news on a daily basis - from globalisation and urbanisation, to terrorism and climate change.
Why UWE Bristol?
This BA(Hons) Geography course in human geography is strongly applied, meaning you'll look beyond the theories to explore their real-world application.
You'll broaden your geographical experience through field trips investigating innovative projects as diverse as industrial change in Wales and urban development in Mallorca all included within course fees.
Our strong industry links mean you'll get the chance to undertake inspiring learning opportunities outside the classroom: whether it's a work placement, a study year abroad, or an international research opportunity.
And because our geography tutors come from a variety of academic and industry backgrounds, your learning will be inspired by real-world experiences and different perspectives. Teaching and assessment alike are designed to embrace a range of formats and interactions, so that all learning styles are catered for. 
As well as mastering specialist techniques such as computer-based spatial analysis, you'll develop important transferable skills in communication, creative thinking and problem-solving skills which are valued by employers across the board.
You'll also have the opportunity to tailor the programme to your interests through module options including the regeneration and transformation of cities, international tourism development, global crime and migration.
Where can it take me?
As a graduate of this course your skills will equip you to pursue a career in a wide range of areas, from regeneration and renewable energy, to local and central government.
Past students have gone on to become town planners, property developers, environmental consultants and researchers.
Structure
Content
The optional modules listed are those that are most likely to be available, but they may be subject to change.
Year one
You'll study:
An Introduction to Geographic Information Systems and Remote Sensing
Environmental Challenges
Field Study in Human Geography
Geographies of Globalisation
People, Places and Change.
Year two
You'll study:
Professional Development
Researching Human Geography.
Plus five optional modules from:
City Regeneration
Climate and Environmental Justice
Culture, Geography and Tourism
Geographies of Security
Geopolitics of Migration
Professional Experience
Sustainable Resource Management  
Transport and Mobility.
Placement year (if applicable)
If you study on the four year (sandwich) course, you'll spend your third year away from the University on a work or study placement. 
Depending on which you choose, you'll either complete a placement learning or learning and development module.
See the Placements and Fees sections for more information.
Final year
You'll study:
Or
Professional Experience** and Independent Project.
If you study on the four year (sandwich) course, you'll study the Independent Project module.
*This modue lis not available to study if you undertake the work placement or study abroad year
**This module is not available in the final year, if you study it in Year 2.
Plus three optional modules from:
Advanced Geographical Expedition
Contemporary Security Issues
Decolonising Environmental Management
GIS and Remote Sensing Applications
International Tourism and Sustainable Development  
Sustainable Transport: Technologies and Behaviour
Transforming Global Cities
Water and Energy Futures.
The University continually enhances our offer by responding to feedback from our students and other stakeholders, ensuring the curriculum is kept up to date and our graduates are equipped with the knowledge and skills they need for the real world. This may result in changes to the course. If changes to your course are approved, we will inform you.
Learning and Teaching
Our dedicated and well-informed lecturing staff achieve consistently high scores on the National Student Survey and provide a friendly environment for learning. They're active researchers or industrial consultants and stay aware of advances in the field.
Find out more about our College's approach to learning and teaching.
Learn through a blend of lectures, seminars, small group work, debates, laboratory classes, fieldwork, practical work such as IT and internet skills, and conference organisation.
Gain a solid grounding in geography before you choose specialist areas. These include resource management, urban studies and sustainability, and cultural geographies such as migration, identity and tourism.
Attend presentations from visiting professionals to learn about industry challenges and decide which field to go into. Develop key analytical, communication and business skills that will help you succeed in the workplace.
Receive mentoring from more advanced students through our Peer Assisted Learning (PAL) scheme.
For more details see our full glossary of learning and teaching terms.
Approximate percentage of time you'll spend in different learning activities*:
| Year | Scheduled learning and teaching study | Independent study | Placement study |
| --- | --- | --- | --- |
| 1 | 27% | 73% | 0% |
| 2 | 31% | 69% | 0% |
| 3 | 19% | 81% | 0% |
*Calculated from compulsory and optional modules (where applicable) each year
Socialise and network
Meet fellow geographers and campaign on environmental issues in our thriving Geography and Environment Society.
Showcase your work
Demonstrate your environmental ideas at the annual degree show.
Study time
Lectures, workshops and seminars, group project work and tutoring account for 12 hours of contact time each week.
You'll be expected to spend at least twice as much time studying independently and studying for assessments.
Assessment
Assessment takes a range of formats, including projects, reports, essays, posters, presentations and fieldwork, as well as exams. Modules are assessed through a combination of exams, coursework, essays, projects, presentations and field exercises.
You'll complete most coursework individually but there are some group assignments. Exams take place at the middle and end of each year.
Support is available if you have difficulties with numeracy, IT, literacy and study skills.
Learn more about assessments.
Approximate percentage of marks awarded by each assessment method*:
| Year | Written exam assessment | Coursework assessment | Practical exam assessment |
| --- | --- | --- | --- |
| 1 | 40% | 38% | 22% |
| 2 | 50% | 25% | 25% |
| 3 | 28% | 60% | 12% |
*Calculated from compulsory and optional modules (where applicable) each year
Features
Professional accreditation
This course has been accredited by the Royal Geographical Society (with IBG), giving you access to talks and events across the country.
Placements
Students who get work experience tend to graduate with better degrees. Experience also hones your skills, industry knowledge and professional network, making you a sought after graduate.
If you study on the four year (sandwich) course, you'll spend a year away from the University on a work placement after Year two.
Studying geography opens up a wide range of careers. Placements reflect this, with past students completing placements with GE Electric to local authorities.
Bristol is a sustainability hub and gained recognition as European Green Capital in 2015. It's also the UK's first Cycle City. Students have found exciting placements locally in this field.
You'll get help to find your placement and support throughout from College staff and our award-winning careers service.
Study year abroad
You'll also have opportunities to study overseas on courses that are taught in English and are relevant to your degree. The study year abroad is not a paid placement. 
Fieldwork
Field trips are an important part of this course. You will also go on three residential trips.
Year one
Spend four days in Margam Park Discovery Centre near Port Talbot in South Wales. Here you'll study industrial archaeology in the Blaenavon World Heritage Site, urban issues and rural landscape change.
Year two
Visit the Spanish island of Mallorca to explore Palma's urban development, rural change, tourism development, and World Heritage landscapes and apply geographical research methodologies.
Final year
Spend two weeks on an advanced geographical expedition to an exotic location (recent destinations include South Africa, Iceland, China and Kenya).
You'll study a range of environmental, social and economic issues at the expedition destination.
Study facilities
Learn in modern, well-equipped facilities, including our physical geography laboratories.
Study and collaborate on group assignments in our dedicated Project Room.
Conduct spatial enquiry and analyse data using industry-standard geographic information system (GIS) and statistical software in our computer labs.
This mix of traditional and highly creative learning environments enables you to learn essential knowledge and real-world skills, standing you in good stead for your professional career.
Take a Virtual Tour of the Geography and Environmental Management facilities and see what's on offer here for you.
Careers
Careers / Further study
Studying geography can lead to a range of careers. You could work for environmental consultancies, conservation agencies and government, or take on research opportunities.
You could also apply your skills and knowledge in logistics, business management or finance.
If you're interested in teaching geography at secondary school level, this degree is a good foundation for a postgraduate teaching qualification. 
Get inspired
Our award-winning careers service will develop your employment potential through career coaching and find you graduate jobs, placements and global opportunities.
We can also help find local volunteering and community opportunities, provide support for entrepreneurial activity and get you access to employer events.
Visit our employability pages to learn more about careers, employers and what our students are doing six months after graduating.
Fees
Full-time; Sandwich course
Indicative Additional Costs
Supplementary fee information
Your overall entitlement to funding is based on how long the course is that you're registered on. Standard funding is allocated based on the standard number of years that your course lasts, plus one additional year.
You'll apply for funding each year that you study and Student Finance will take into account how long the course is in each year that you apply. So if you register for the four year course and then transfer to the three year course, the number of years you can apply for funding will change. Student Finance will reassess your funding based on how many years you have been in study, not just those years for which you received student finance.
Always seek advice before taking any action that may have implications for your funding.
Additional costs
This refers to items you could need during your studies that aren't covered by the standard tuition fee. These could be materials, textbooks, travel, clothing, software or printing.
Entry
Typical offers
Tariff points: 112
Contextual tariff: See our contextual offers page.
GCSE: Grade C/4 in English and Mathematics, or equivalent.
English Language Requirement: International and EU applicants are required to have a minimum overall IELTS (Academic) score of 6.0 with 5.5 in each component (or approved equivalent*). *The university accepts a large number of UK and International Qualifications in place of IELTS. You can find details of acceptable tests and the required grades you will need in our English Language section. Please visit our English language requirements page.
A-level subjects: No specific subjects required.
EDEXCEL (BTEC) Diploma: No specific subjects required.

For information on required Guided Learning Hours please see our minimum entry requirements page.

Access: No specific subjects required.
Baccalaureate IB: No specific subjects required.
Irish Highers: No specific subjects required.
T Levels: No specific subjects required.
Entry requirements
International applicants
For country specific entry requirements please find your country on the country information pages. If you are an international student and do not meet the academic requirements to study this course, you can qualify by completing preparatory study at our International College.
If you are applying to study at UWE Bristol and require additional support to meet our English language requirements, you may be able to attend one of our pre-sessional English courses. Read more about our pre-sessional English Programme.
Read more about entry requirements.
How to apply
Read more about undergraduate applications.
Read more about international applications and key international deadline dates.
For further information