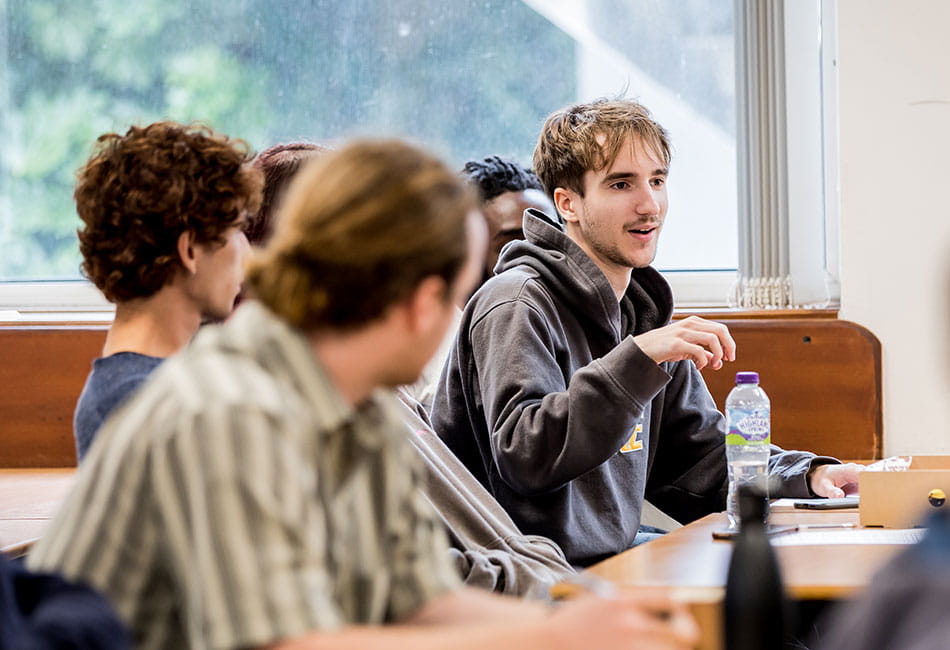 This course is open for applications
Page last updated 30 November 2023
Introduction
Study a future-facing, interdisciplinary philosophy degree, where you'll focus on applying theory to practice. Your teaching will be centred around core themes, comprising of: Health, Society and Public Ethics; Technology, Environment and Sustainability; and Human Flourishing and Creative Practice.
Why study a philosophy degree?
By examining life's fundamental questions, philosophy helps to shape the way we think about the world. What are the ethical, political, and social questions we need to ask ourselves? How can we change the world using our knowledge?
Exploring questions such as these develops your creativity, rationality, and critical thinking skills, enabling you to think carefully about theoretical problems. You'll learn to apply this knowledge to practical situations in the real world, from artificial intelligence to human creativity.
We firmly believe that philosophy is for everyone, and we're dedicated to providing an inclusive and accessible philosophy course.
Why study at UWE Bristol?
BA(Hons) Philosophy offers a unique and innovative approach to studying philosophy, standing out for its practice-based philosophy, interdisciplinary integration, and future-thinking perspective.
Our course equips you to think critically and creatively. You'll be encouraged to question your own preconceptions and cultural biases to foster a deeper understanding of the world.
We understand that philosophy isn't just about abstract ideas; it's about real-world impact, and our collaborations with the Bristol Robotics Laboratory and Bristol Centre for Synthetic Biology have provided previous students with invaluable experiences.
UWE Bristol remains one of the premier destinations to study continental philosophy in the UK. Our expertise in European traditions, including German idealism, 20th-century French philosophy, phenomenology, and hermeneutics, stands out.
Our commitment to postcolonial, decolonial, and indigenous philosophies ensures that you'll be exposed to diverse global perspectives, enriching your philosophical education and prepares you to engage with philosophies from around the world.  
Where can a philosophy degree take me?
BA(Hons) Philosophy will transform you into an innovative thinker able to bring new perspectives to many professions. Our graduates have thrived in academia and the business sector, showcasing the critical thinking, problem-solving, and communication skills they've gained through this course.
Structure
Content
The optional modules listed are those that are most likely to be available, but they may be subject to change.
Year one
You'll study:
Ancient Philosophy - introduces you to the most significant authors, texts, and issues of Ancient Greek Philosophy, from its origin to Aristotle, stressing the unitary character of its metaphysical, ethical, and political breakthroughs.
Existentialism and Questions of Human Nature - aims to ground you in the importance of understandings of the human in the 18th and 19th century and the influence of these debates on 20th-century existentialism and its consideration of moral agency and freedom.
Philosophical Methods: Introduction - provides an introduction to the key skills required for the assessment and construction of philosophical arguments, and therefore provides a set of core skills you will build on throughout the course. The module also gives you a critical introduction to various philosophical theories of knowledge.
Understanding our Global and Social Environment - prepares you for the global social/political, technological, and environmental themes that you will encounter throughout the course.
Study exchange (if applicable) 
If you choose the study exchange option, you'll spend the first and/or second semester of year two studying at another university.  
See the Placements and Fees sections for more information. 
Year two
You'll study:
Philosophical Methods - introduces you to the processes and methods used to produce knowledge and disseminate research in philosophy, in particular to non-academic audiences.
Self and Society - brings together philosophical theories and skills with practice, enabling you to reflect on and apply the skills and experience that you gain throughout this philosophy degree.
Plus, six optional modules from:
Critiques of Reason and Society: Post-Kantian Philosophy - examines the innovative creation of a variety of different philosophical systems and schools that developed in response to Kant's philosophy and explores their contemporary relevance.
Decolonising Moral Thought - offers a decolonial critique of European moral thought and works towards a new decolonised approach to morality.
Early Modern Philosophy - introduces you to the philosophical developments and theories of the 17th and 18th centuries in Great Britain and continental Europe, which provide the historical and conceptual background to current philosophical debates.
Existence and Reality - considers metaphysics as the most general, most universal and the most abstract of the sciences. Exploring ontology as first philosophy and the relation of concepts to reality.
Gender, Sexuality, Feminism - covers debates in feminist philosophy, focusing on issues about gender, gendered justice (including economic, political and epistemic injustice and bias) and emanicpation.
Hellenistic and Neo-Platonist Philosophy - covers the development of philosophy after Aristotle until the closing of the Academy in 529 CE, focusing on the different conceptions of human flourishing developed at the time.
Philosophy and Ethics of Innovation - shows how digital innovation is transforming the socio-technical environments that we call society, and studies the conditions under which this innovation can be managed in a trustworthy and responsible way.
Philosophy of Art and Creative Practice - explores the nature and significance of artistic practice and aesthetic experience engaging with a range of artistic forms such as literature, music, film and visual art.
Philosophy of Ecology - explores the claim that our dominant conception of nature is, in part, responsible for the global environmental emergency. Alternative conceptions of life and nature are, therefore, explored as a basis for establishing a sustainable future.
Understanding Capitalism - explores philosophical concepts for understanding the historical origins and nature of capitalism, up to the present day.
Placement year (if applicable)
If you study on the four year (sandwich) course, you'll spend a year away from the University on a work or study placement after year two.
Depending on which you choose, you'll either complete a placement learning or learning and development module.
See the Placements and Fees sections for more information.
Final year
You'll study:
Philosophy Project and Placement - builds on the knowledge you've acquired across the course and allows you to demonstrate a systematic understanding of key aspects of philosophy, including acquisition of coherent and detailed understanding which is informed by knowledge at the forefront of philosophy. You will also demonstrate critical skills in the development of your own arguments and positions.
Plus, six optional modules from:
Decolonisation in Theory and Practice-will critically discuss and utilize a series of pivotal concepts and experiences within the European and extra-European political tradition, such as democracy, transitional justice, civil disobedience, social change, political solidarity, and decolonial struggle.
Ethics of Technology - discusses fundamental philosophical, ethical, political, and social problems arising from current and future developments in technology, particularly, but not exclusively, in the field of robotics and Artificial Intelligence (AI).
Global Philosophical Issues - contains material pertaining to global issues of philosophical significance, such as climate change and will typically deploy non-European source material.
Phenomenology: The Philosophy of Experience - provides an opportunity to conduct specialist studies in the field of one of the most important areas in contemporary philosophy: phenomenology.
Philosophy of Mental Health and Psychiatry - addresses the underlying concepts, paradigms and ethical assumptions in mental health, its treatment, mental health policy, and the representation and public perception of mental illness.
Philosophy of Science, Nature and Sustainability - explores different approaches in the philosophy of science and the philosophy of nature, and investigates their implications for technologies of the future and sustainability.
Philosophy, Art, Literature - considers the interactive relationship between philosophy and a range of art forms, such as literature, poetry, performance, and music.
Post-Humanism - investigates post-humanist philosophies arising from the current juxtaposition of accelerating technological development (artificial intelligence, robotics, human enhancement, digital surveillance, automation etc.) and social/political/economic/environmental crisis.
Social Pathology and Paradoxes of Modernity: The Frankfurt School - provides an opportunity to conduct specialist studies in the field of Frankfurt School Critical Theory.
Thought in Action: Film and Philosophy - explores the relationship between film and philosophy and allows students to engage the public in order to further disseminate their philosophical reflections on film.
This structure is for full-time students only. Part-time students study the same modules but the delivery pattern will be different.
The University continually enhances our offer by responding to feedback from our students and other stakeholders, ensuring the curriculum is kept up to date and our graduates are equipped with the knowledge and skills they need for the real world. This may result in changes to the course. If changes to your course are approved, we will inform you.
"I had the chance to complete a placement year as Vice-President at UWE Bristol's Students' Union, giving me many transferable skills. This opportunity helped me to progress to President there after graduating, where I was able to represent students and improve their experience." Evan, 2021 Philosophy graduate.
Learning and Teaching
You'll study a mix of theoretical and practice-led modules and follow three core themes throughout your course, which are Health, Society and Public Ethics; Technology, Environment and Sustainability; and Human Flourishing and Creative Practice.
You'll be taught through a mixture of lectures, workshops, and symposia. Live briefs and placements with external partners will demonstrate how philosophy can be applied practically in the real world. 
Our interdisciplinary course approach allows you to explore philosophy in conjunction with fields like science, technology, and ethics, so you'll graduate with a holistic understanding of complex issues and the ability to address them from multiple angles.
The course showcases a remarkable commitment to the intersection of philosophy and art, evidenced by our collaboration with renowned artists, including Turner Prize winners and Documenta artists, who contribute to our art modules, fostering a truly immersive and creative learning environment. 
See our full glossary of learning and teaching terms.
Percentage of time you'll spend in different learning activities, each year: 
| Year | Scheduled learning and teaching study | Independent study | Placement study | % check |
| --- | --- | --- | --- | --- |
| 1 | 24% | 76% | 0% | 100% |
| 2 | 23% | 74% | 3% | 100% |
| 3 | 19% | 81% | 0% | 100% |
Interesting projects
Experience teaching philosophy yourself through a project we run with local schools.
Join our thriving, student-run Philosophy Society to hear from speakers from other universities, and take part in topical debates and activities. Find out more at UWE Bristol Philosophy Society
Learn from experts
Where possible, we will organise live briefs held by external professionals.
Expand your knowledge and learn from practitioners at the lectures and conferences we organise where possible. You'll find plenty going on at the University, and at local art centres and other venues.
Assessment
Our innovative, inclusive assessment strategy suits learners from a broad range of backgrounds. You'll be assessed using diverse assessment methods, giving you the opportunity to demonstrate your abilities in a variety of ways, from blog writing to presentations.
You'll get to choose how you engage with your assessments, enabling you to co-create your learning. Completing a range of assessments allows you to show employers that you have a broad skillset and valuable experience needed in the workplace, from teamwork and leadership.
Assessments include written essays, integrated student presentations and oral public speaking exams, group work including seminar leading (symposia), independent projects, research essays, dissertations, short tests, digital portfolios and blog journals. Examples of assessments include writing philosophical works, engaging in practice-led modules and placements, and organising and leading public engagement events, such as "Thought in Action" at Watershed.
Learn more about assessments.
Percentage of time you'll spend on different assessment methods, each year:
| Year | Written exam assessment | Coursework assessment | Practical exam assessment | % check |
| --- | --- | --- | --- | --- |
| 1 | 36% | 64% | 0% | 100% |
| 2 | 38% | 59% | 3% | 100% |
| 3 | 22% | 65% | 13% | 100% |
Features
Placements
Students who undertake work experience, or a study exchange overseas, tend to graduate with better degrees and with improved employability skills, making you a sought after graduate.
We also offer volunteering and other work-based experiences, to deepen your knowledge and skills.
You'll get help to find a placement and support throughout from staff within the School and our award-winning careers service.
Study exchange
Grow your personal and professional network and develop specialist subject knowledge by spending a semester or academic year at one of our partner universities abroad.
Increase your confidence, intercultural communication skills and boost your employability.
The teaching team actively encourages its students to where possible, get involved in international opportunities and every year several Philosophy students go to Venice to attend the Summer School of Phenomenology and Phenomenological Philosophy.
Explore our study abroad pages to find out more.
Study facilities
Learn in modern, well-equipped facilities to support your study of philosophy including our dedicated subject library.
You'll also have 24 hour access to our main university library, which has spaces for silent and group study, and rooms you can book. 
You'll have use of books, trade press, academic journals, and industry databases both on and off campus.
Learn more about UWE Bristol's facilities and resources.
Take a Virtual Tour of the Philosophy, Politics and International Relations and see what's on offer here for you.
Philosophy student, Sam launches App for food businesses.
Careers
Careers / Further study
By the end of our philosophy course, you'll be equipped with the critical thinking, argumentation, and communication skills that employers value highly. You'll develop fundamental transferable skills crucial for future employability, such as open-mindedness, entrepreneurship, empathy, and teamwork.
You'll learn to think carefully about theoretical problems, form coherent arguments, and articulate your solutions. You'll develop a deep, critical knowledge of key contemporary issues in philosophy, such as mental health, environmental crisis, and digital innovation. Plus, you'll analyse important facets of the human experience, such as race, gender, and sexuality.
UWE Bristol is a branch of the Royal Institute of Philosophy and members of the British Philosophical Association, ensuring our teaching contains the latest developments in the field. You'll also benefit from our industry connections, offering you professional opportunities such as attending public engagement events.
As a graduate from a philosophy degree, you could find employment in a diverse range of sectors. These include education and teaching, academic research, law, finance, the creative industries, healthcare, social work, not-for-profit organisations (NGOs), entrepreneurship, or the civil service.
Many students also progress to postgraduate study in philosophy, law and other subjects. Visit our employability pages to learn more about careers, employers and what our students are doing six months after graduating.
Our award-winning careers service helps you develop your employment potential through career coaching, a vacancy service for internships, placements, jobs, global opportunities, volunteering and community activity plus support for entrepreneurial activity, and access to employer events.
Fees
Full-time; Sandwich course
Part time course
Indicative Additional Costs
Supplementary fee information
Your overall entitlement to funding is based on how long the course is that you're registered on. Standard funding is allocated based on the standard number of years that your course lasts, plus one additional year.
You'll apply for funding each year that you study and Student Finance will take into account how long the course is in each year that you apply. So if you register for the four year course and then transfer to the three year course, the number of years you can apply for funding will change. Student Finance will reassess your funding based on how many years you have been in study, not just those years for which you received student finance.
Always seek advice before taking any action that may have implications for your funding.
Additional costs
Additional costs are for items you could need during your studies that aren't covered by the standard tuition fee. These could be materials, textbooks, travel, clothing, software or printing.
Entry
Typical offers
Tariff points: 112
Contextual tariff: See our contextual offers page.
GCSE: Grade C/4 in English and Mathematics, or equivalent.
English Language Requirement: International and EU applicants are required to have a minimum overall IELTS (Academic) score of 6.0 with 5.5 in each component (or approved equivalent*). *The university accepts a large number of UK and International Qualifications in place of IELTS. You can find details of acceptable tests and the required grades you will need in our English Language section. Please visit our English language requirements page.
A-level subjects: No specific subjects required.
EDEXCEL (BTEC) Diploma: No specific subjects required.

For information on required Guided Learning Hours please see our minimum entry requirements page.

Access: No specific subjects required.
Baccalaureate IB: No specific subjects required.
Irish Highers: No specific subjects required.
T Levels: No specific subjects required.
Entry requirements
If you don't meet the entry requirements, you may be eligible for BA(Hons) Philosophy (with Foundation Year).
International applicants
For country specific entry requirements please find your country on the country information pages. If you are an international student and do not meet the academic requirements to study this course, you can qualify by completing preparatory study at our International College.
If you are applying to study at UWE Bristol and require additional support to meet our English language requirements, you may be able to attend one of our pre-sessional English courses. Read more about our Pre-Sessional English Programme.
Read more about entry requirements.
How to apply
Read more about undergraduate applications.
Read more about international applications and key international deadline dates.
For further information
You may also be interested in