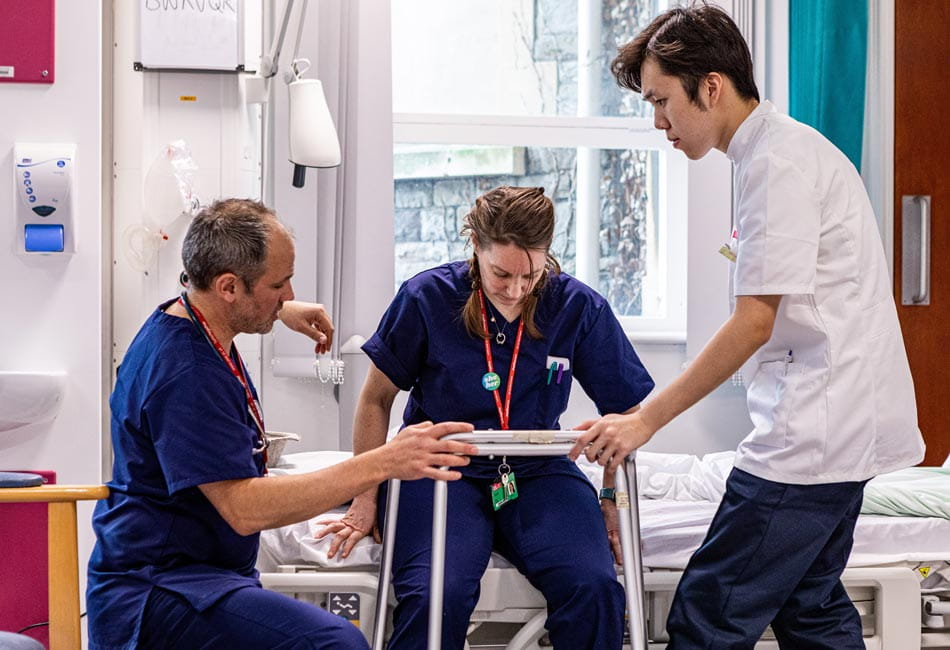 This course is open for applications
Page last updated 30 November 2023
Introduction
Once you have graduated you can apply for registration with the Health and Care Profession Council, a pre-requisite for working as a physiotherapist. You will also be eligible to apply for membership of the Chartered Society of Physiotherapy.
Why study physiotherapy?
Working as part of a multidisciplinary healthcare team either in an NHS, independent or charity hospital or in the community physiotherapists help to maintain and restore movement and function in people affected by injury, illness or disability.
It's varied, stimulating and rewarding work. There's always a need for skilled physiotherapists who know how to deliver safe, effective care in a way that promotes physical, psychological and social wellbeing.
A £5,000 per year training grant is available for home students. Further information is available on the NHS Business Services website.
Why UWE Bristol?
BSc(Hons) Physiotherapy is approved by the Health and Care Professions Council (HCPC) and the Chartered Society of Physiotherapy (CSP) which means you will be eligible to apply for registration as a physiotherapist with both once you graduate - something you'll need to do to practise in this field.
With work-based training built in, and outstanding onsite facilities, you'll learn what constitutes good physiotherapeutic practice, and explore the theories and subjects that influence it.
Develop a holistic approach to your practice and learn from an inspirational, supportive team with a depth of physiotherapy experience in many areas.
Discover how to work with patients, their families and other healthcare professionals to support rehabilitation and wellbeing developing your inter-professional and interpersonal skills.
The course has a strong practical focus, incorporating case-based learning and opportunities to engage with patients and professionals on placements, in class and online.
You'll spend about a third of your time on placements in the NHS, and with specialist independent and voluntary sector employers, in a mix of environments.
Where can it take me?
Physiotherapists are in demand across the UK, so there are lots of exciting job opportunities.
You could work in a hospital or the community for the NHS or independent sector, in private practice, in sports and leisure centres, or for private or voluntary sector employers.
Structure
Content
Year one
You will study:
Physiotherapy Practice 1: Essential Skills
Clinical Anatomy and Kinesiology for Physiotherapy and Sport Rehabilitation
Fundamentals of Human Anatomy and Physiology
Essentials of Musculoskeletal Physiotherapy
Essentials of Neuroscience for Physiotherapy
Essentials of Respiratory Physiotherapy.
Year two
You will study:
Physiotherapy Practice 2b
Informing Practice through Research and Inquiry
Physiotherapy Across the Lifespan
Clinical Reasoning for Musculoskeletal Physiotherapy and Practice 2a
Clinical Reasoning for Neurological Physiotherapy
Clinical Reasoning for Cardiorespiratory Physiotherapy.
Final year
You will study:
Physiotherapy Practice 3
Research and Evidence in Practice
Healthy Futures
Consolidation of Learning into Practice
Complex Clinical Reasoning for Neurological and Musculoskeletal Physiotherapy
Complex Clinical Reasoning: Management of the Critically Ill Patient.
The University continually enhances our offer by responding to feedback from our students and other stakeholders, ensuring the curriculum is kept up to date and our graduates are equipped with the knowledge and skills they need for the real world. This may result in changes to the course. If changes to your course are approved, we will inform you.
Learning and Teaching
Gain a deep grounding in professional and health-related studies through a balanced mix of theory, clinical reasoning and problem solving that gives you a strong foundation for clinical practice.
Develop your understanding of physiotherapeutic practice, and how to take an integrated approach to patient-client management.
Develop your critical thinking and research skills. Explore current themes and issues in contemporary physiotherapy and healthcare. Get access to the latest research and work on your own research project or literature review.
Develop as an autonomous practitioner who can implement safe and effective assessment, examination and treatment in a wide range of settings.
See our full glossary of learning and teaching terms.
Percentage of time spend in different learning activities, per year.
| Year | Scheduled learning and teaching study | Independent study | Placement study | % check |
| --- | --- | --- | --- | --- |
| 1 | 28% | 57% | 15% | 100% |
| 2 | 18% | 45% | 37% | 100% |
| 3 | 17% | 56% | 27% | 100% |
Assessment
You'll be assessed using a mixture of coursework, professional practice assessment, presentations, and practical and written examinations.
We make sure the assessments are well spread out throughout the course, so you're not overloaded.
Percentage of time spend in different assessment methods, per year.
| Year | Written exam assessment | Coursework assessment | Practical exam assessment | % check |
| --- | --- | --- | --- | --- |
| 1 | 12% | 19% | 69% | 100% |
| 2 | 19% | 25% | 56% | 100% |
| 3 | 24% | 38% | 38% | 100% |
Features
Professional accreditation
This course is approved by the Health and Care Professions Council (HCPC), which means you will be eligible to apply for registration as a physiotherapist with them when you graduate, a prerequisite for practice. The course is also accredited by the Chartered Society of Physiotherapy (CSP).
After the course, you can also apply to join the Chartered Society of Physiotherapy.
Placements
Students who gain work experience tend to graduate with better degrees. Experience Placements also hone your skills, industry knowledge and professional network, making you a sought- after graduate.
With 30 weeks of work placements, you'll spend a third of the course applying your knowledge and building professional skills in the workplace.
We have excellent links with leading employers across the South West, including the NHS, and private and voluntary sector organisations.
UWE Bristol's geographical area for placement provision covers the whole of the South, South West and West of England. Placements across this region help support and provide a wealth of clinical experience across many areas within the NHS healthcare service and the Private Voluntary and Independent sector. These placements are vital to meet the professional regulatory body standards in practice for our affiliated health and social care courses. 
To access this variety of opportunities within the health and social care courses, there's  an expectation that all students at times will have to travel across large areas. In some cases this can be more than 50 miles away  and may be outside of normal working hours due to the nature of shift work on some courses. 
When considering your application to these courses, you must ensure you have means to travel to your placement location at unsociable hours, and/or funds available to secure short-term accommodation options to participate in your placement, if required.  
International opportunities
We're part of the European Network of Physiotherapy in Higher Education (ENPHE), which encourages links and shares good practice between European universities and organisations involved in physiotherapy.
Study facilities
Practise manual and electrophysical therapy in our well-equipped practical rooms, with hydraulic couches and teaching aids such as skeletons and anatomical models.
Hone your skills using advanced facilities such as our paediatric simulation and sensory rooms.
Demonstrate and practise your professional competencies in our inter-professional Simulation Suite.
The Glenside campus library has one of the best healthcare libraries in the country, with a huge selection of books, journals, audio-visual materials and specialist healthcare software.
Take a Virtual Tour of the Physiotherapy, Occupational Therapy and Sport Rehabilitation facilities and see what's on offer here for you.
Careers
Careers / Further study
You'll be well equipped to practise physiotherapy in the NHS, industry, private practice, sports and leisure centres, in the UK and overseas.
Many physiotherapists work in hospitals and the community, specialising in outpatients' departments, intensive care, stroke services, orthopaedics, elderly care and paediatrics. You might provide treatment and advice for patients and carers in their homes, in nursing homes, day centres, schools or health centres.
Some graduates also choose careers in teaching or research, or continue with postgraduate studies.
Get inspired
Our award-winning careers service will develop your employment potential through career coaching and find you graduate jobs, placements and global opportunities.
We can also help find local volunteering and community opportunities, provide support for entrepreneurial activity and get you access to employer events.
Visit our employability pages to learn more about careers, employers and what our students are doing six months after graduating.
See also:
Prospects - careers in the healthcare sector
Fees
Full time course
Indicative Additional Costs
Supplementary fee information
Additional costs are for items you could need during your studies that aren't covered by the standard tuition fee. These could be materials, textbooks, travel, clothing, software or printing.
A £5,000 per year training grant is available for home students. Further information is available on the NHS Business Services website.
Entry
Typical offers
Tariff points: 128
Contextual tariff: See our contextual offers page.
GCSE: Grade C/4 or above in English, Mathematics and Double Science, or equivalent.
English Language Requirement:

International and EU applicants are required to have a minimum overall IELTS (Academic) score of 7.0 with 6.5 in each component (or approved equivalent*).

*The university accepts a large number of UK and International Qualifications in place of IELTS. You can find details of acceptable tests and the required grades you will need in our English Language Requirements.

A-level subjects: Grade B in Biology or Human Biology. 120 points from A2 subjects.
EDEXCEL (BTEC) Diploma: You will need a minimum of five units in Biology or Human Biology. You may be asked to do more based on the size of your units. Please email Admissions a list of your units for further clarification. We will accept BTEC Sport and Exercise Science and Applied Science. We will not accept any other BTEC qualifications in Sport.

For information on required Guided Learning Hours please see our minimum entry requirements page.

Access: 15 Level 3 credits at Distinction in Biology.
Baccalaureate IB: A minimum grade 6 in Higher Level Biology or Human Biology.
Irish Highers: H1 in Biology or Human Biology.
T Levels: Science.

If you partially achieve your T Level, you can meet our subject requirements if you have at least a C in your Core Section. For further advice on acceptable subjects please email us.
Entry requirements
We will be looking for applicants who can clearly demonstrate a good understanding of the profession and why physiotherapy is your chosen career path.
If you don't meet the entry requirements of this course, you may be eligible for the Health Professions Foundation Year.
Additional requirements
All applicants will be required to complete:
Disclosure and Barring Service (DBS) check*
Health Checks*
*All information will be treated in confidence and only taken into account when absolutely necessary.
Health Checks
You must be in good health and up-to-date with all routine immunisations that are required for working in health and social care settings. If you are offered a place on this course, you will be required to complete a questionnaire and must be prepared to undergo a medical examination. You will also be required to confirm your status in respect of a number of infectious diseases (tuberculosis, measles, mumps, rubella, chicken pox, varicella, hepatitis B, hepatitis C, HIV antibodies) and be prepared to have all required vaccinations.  Please note that the list of required vaccinations may change, in response to advice from the Department of Health. If your vaccinations are not up-to-date, this will affect your ability to continue on your course. If you have any concerns with regards to vaccinations please raise this at the point of application.
Selection process
Shortlisted applicants will be invited to an online Microsoft Teams interview with a lecturer from the Physiotherapy programme. Your interview will last approximately 20 minutes and you will be asked about your knowledge and understanding of Physiotherapy, in addition to questions relating to skills and values that are required to be a Physiotherapist.
Recruitment for this course is informed by Health Education England's Values Based Recruitment Framework. The purpose of this framework is to ensure that we recruit students whose individual values and behaviours align with the values of the NHS Constitution.
Watch our video for top tips on writing a healthcare personal statement and download our health and social care personal statement guide (PDF).
International applicants
For country specific entry requirements please find your country on the country information pages. If you are an international student and do not meet the academic requirements to study this course, you can qualify by completing preparatory study at our International College.
If you are applying to study at UWE Bristol and require additional support to meet our English language requirements, you may be able to attend one of our pre-sessional English courses. Read more about our Pre-sessional English Programme.
Deferred entry
We do not accept deferred entry applications for this course.
Read more about entry requirements.
How to apply
All applications received on or before the UCAS deadline are considered equally, however, due to the volume of applications received, and to ensure that all applications are given equal consideration, you may attend an interview in December or January but may not receive your decision until May via UCAS or through the UWE applicant portal. The University is unable to enter into individual correspondence regarding decisions made following an interview.
If you have not received a decision on your application within a week of the interview, this means that the University is still considering your application. We appreciate your patience during this time and would like to remind you that if you applied through UCAS and have received offers from any other Universities, you will not lose these offers before your UCAS Reply Deadline.
Read more about undergraduate applications.
Read more about international applications and key international deadline dates.
For further information
You may also be interested in