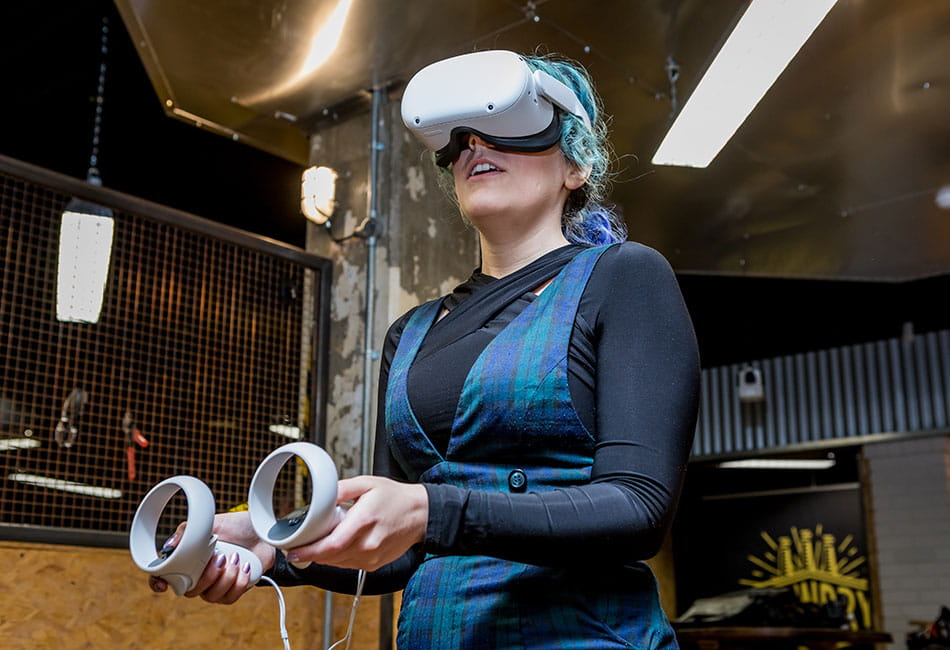 This course is open for applications.
Page last updated 30 November 2023
Introduction
Build your professional portfolio by applying your problem-solving skills and technical knowledge to real-world projects.
Why study digital media?
Design principles and delivery technologies underpin how we make and interact with creative content in an increasingly ubiquitous digital world. This includes movies and music, print and broadcast, commerce, and interactive entertainment.
Digital media use is growing, ranging from screen-based systems and physical interaction to urban social networks and mobile commerce in the developing world.
There's also a growing demand for content creators and professionals who understand the digital landscape.
Why UWE Bristol?
BSc(Hons) Digital Media offers the chance to experience working with cutting-edge technologies to create engaging digital experiences in a range of environments.
It introduces you to design contexts and development opportunities in use and on the horizon for digital media.
Learn the fundamentals of programming, web technologies and design and visualisation techniques. Explore rich media creation, multi-platform deployment, physical computing, testing and project management.
Specialise in design and coding, web development, media production, games development and audio technology.
Develop a strong grounding in industry standard processes, technologies and their application.
Study the art and science of communication and develop an understanding of the ethical, commercial, and legal environment the industry operates in.
Enhance your professional skills and experience and build your portfolio by working on live briefs with local businesses. Get involved with student-run projects with guidance from professional software developers.
Improve your industry knowledge and contacts through networking evenings with regional businesses and presentations from visiting professionals.
Graduate ready to succeed in your career as a content creator and developer.
Where can it take me?
Career opportunities range from roles in large corporations to smaller entrepreneurial start-ups.
Working at all stages of content creation, your options will range from designer, developer, creative technologist, project management and client handling to information architecture and user experience design.
Structure
Content
The optional modules listed are those that are most likely to be available, but they may be subject to change.
Year one
You'll study:
Graphic and Web Design Studio
Introduction to Creative Coding
Media Studio
Principles of 3D Environments.
Year two
You'll study:
Creative and Physical Computing
Media Production
User Experience.
Plus, one of these optional modules:
Play and Games
Research and Practice in Creative Technology
Sound Design and Post Production.
Placement year (if applicable)
If you study on the four-year (sandwich) course, you'll spend a year away from the University on a work placement after year two.
During your placement year, you'll complete either the Professional Experience or International Experience module.
See the Placements and Fees sections for more information.
Final year
You'll study:
Comprehensive Creative Technologies Project or Creative Technologies Project*
Design Enterprise Studio.
*This is a reduced credit version of the Comprehensive Creative Technologies Project. You'll only study this module if you've completed a sandwich placement year.
Plus one of the following optional modules:
Advanced Technologies
Interaction Design.
The University continually enhances our offer by responding to feedback from our students and other stakeholders, ensuring the curriculum is kept up to date and our graduates are equipped with the knowledge and skills they need for the real world. This may result in changes to the course. If changes to your course are approved, we will inform you.
Learning and Teaching
Develop your knowledge and skills through computer-based practical work, theoretical discussion, classroom-based exercises and self-directed study.
Become skilled in the creation, development and deployment of interactive media for the web, and the ability to discuss the principles behind your work.
Gain skills in visual design, media technologies, programming fundamentals, web design and development. Build on these to design systems and interactions in the physical world.
Study core modules on Professional and Policy Issues, advanced web topics, development for mobile devices and 3D Modelling and Animation.
Take on a project where you research an area of interest and develop a digital media application, consolidating your knowledge and demonstrating your expertise.
Get involved in enterprise activities. UWE Bristol Enterprise run a range of events, workshops, and support programmes throughout the year.
Produce an online portfolio and apply your skills in industry.
Build up commercial experience alongside your studies, working on smartphone apps to website development and social media.
Approximate percentage of time you'll spend in different learning activities*:
| Year | Scheduled learning and teaching study | Independent study | Placement study |
| --- | --- | --- | --- |
| 1 | 24% | 76% | 0% |
| 2 | 24% | 76% | 0% |
| 3 | 19% | 81% | 0% |
*Calculated from compulsory and optional modules (where applicable) each year.
See our full glossary of learning and teaching terms.
Assessment
You'll be assessed though practical coursework on most modules.
Approximate percentage of marks awarded by each assessment method for this course*:
| Year | Written exam assessment | Coursework assessment | Practical exam assessment |
| --- | --- | --- | --- |
| 1 | 0% | 92% | 7.5% |
| 2 | 0% | 86.25% | 13.75% |
| 3 | 0% | 89% | 11% |
*Calculated from compulsory and optional modules (where applicable) each year.
Learn more about assessments at UWE Bristol.
Features
Placements
Students who get work experience tend to graduate with better degrees. Experience also hones your skills, industry knowledge and professional network, making you highly employable on graduation.
If you study on the four year (sandwich) course, you'll spend a year away from the University on a work placement after year two.
There's a wide range of placement opportunities in the region. These include working with digital media, games and mobile developers or large branding companies.
Some of our students set up businesses during their placement year, based on their web, trans-media or mobile development ideas.
You'll get help to find your placement and support throughout from our Placement Team and award-winning careers service.
Fieldwork
We often run subsidised trips so you can hear the latest industry ideas.  In the past these have included trips to Transmediale in Berlin, the Royal College of Art interim show, The Hong Kong Design Institute, the World VR Congress and Mozilla Festival.
Study facilities
Learn, collaborate and get creative in our modern facilities.
Hothouse and develop concepts for group projects in our digital media studio.
Design and test software in our well-equipped computer labs.
Access advanced video and audio equipment and software for 2D, 3D, animation and coding. Develop both production and post-production skills at technical workshops. 
Take a Virtual Tour of the Computer Science and Creative Technologies facilities and see what's on offer here for you.
Careers
Careers / Further study
As a graduate, you'll have opportunities to work with organisations ranging from large corporations to smaller entrepreneurial start-ups.
You could work at all stages of content creation, with roles including designer, developer, creative technologist, project management and client handling to information architecture and user experience design.
Past students have gone on to work in software engineering, 3D work, motion graphics, web development and client handling in digital agencies.
Get inspired
Our award-winning careers service will develop your employment potential through career coaching and find you graduate jobs, placements and global opportunities.
We can also help find local volunteering and community opportunities, provide support for entrepreneurial activity and get you access to employer events.
Visit our employability pages to learn more about careers, employers and what our students are doing six months after graduating.
Fees
Full-time; Sandwich course
Indicative Additional Costs
Supplementary fee information
Your overall entitlement to funding is based on how long the course is that you're registered on. Standard funding is allocated based on the standard number of years that your course lasts, plus one additional year.
You'll apply for funding each year that you study and student finance will take into account how long the course is in each year that you apply. So if you register for the four year course and then transfer to the three year course, the number of years you can apply for funding will change. Student finance will reassess your funding based on how many years you have been in study, not just those years for which you received student finance.
Always seek advice before taking any action that may have implications for your funding.
Additional costs
This refers to items you could need during your studies that aren't covered by the standard tuition fee. These could be materials, textbooks, travel, clothing, software or printing.
Entry
Typical offers
Tariff points: 112
Contextual tariff: See our contextual offers page.
GCSE: Grade C/4 in English and Mathematics, or equivalent.
English Language Requirement: International and EU applicants are required to have a minimum overall IELTS (Academic) score of 6.0 with 5.5 in each component (or approved equivalent*). *The university accepts a large number of UK and International Qualifications in place of IELTS. You can find details of acceptable tests and the required grades you will need in our English Language section. Please visit our English language requirements page.
A-level subjects: No specific subjects required.
EDEXCEL (BTEC) Diploma: No specific subjects required. Please list the units you are taking in your application. For further advice on acceptable units please email us.

For information on required Guided Learning Hours please see our minimum entry requirements page.

Access: No specific subjects required.
Baccalaureate IB: No specific subjects required.
Irish Highers: No specific subjects required.
T Levels: No specific subjects required.
Entry requirements
If you don't meet the entry requirements, you may be eligible for BSc(Hons) Digital Media (with Foundation Year).
International applicants
For country specific entry requirements please find your country on the country information pages. If you are an international student and do not meet the academic requirements to study this course, you can qualify by completing preparatory study at our International College.
If you are applying to study at UWE Bristol and require additional support to meet our English language requirements, you may be able to attend one of our pre-sessional English courses. Read more about our Pre-Sessional English Programme.
Read more about entry requirements.
How to apply
Read more about undergraduate applications.
Read more about international applications and key international deadline dates.
For further information
You may also be interested in