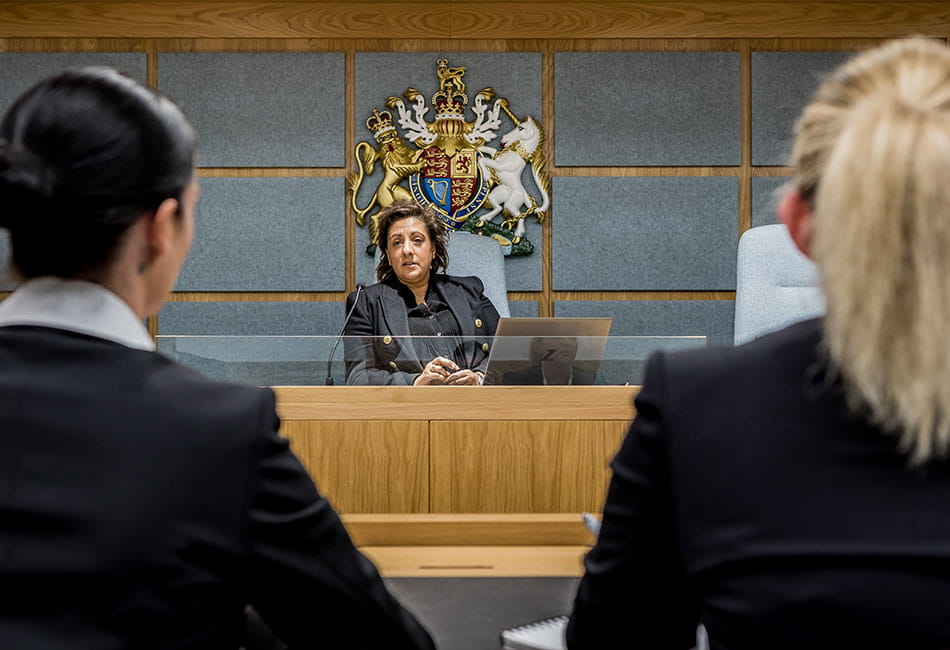 LLB(Hons)

Law (with Foundation Year)
This course is open for applications
Page last updated 5 December 2023
Introduction
Stand out to employers by gaining professional experience through our Business and Law Clinic and developing your skills through creative assessment.
Why study law?
Law affects every aspect of human life, right down to the air we breathe.
It affects our relationships with each other, the state and other countries. It affects our education, employment, travel, property, health and human rights.
The legal landscape changes in line with societal needs. A law degree offers diverse career pathways and a skillset to help you succeed in almost any career.  
Why UWE Bristol?
LLB(Hons) Law is a practical contemporary degree, recognised by employers and delivered by leading experts in one of the largest law schools in the country.
If you choose a legal career when you graduate, you'll have a solid grounding in law and enough experience from placements and pro bono work to ensure you succeed in your legal training.
Our students value the range of optional modules and opportunity to specialise according to their interests in the second and third year.
Research informs teaching at every level and you'll develop core legal knowledge in subjects spanning commercial law, criminal justice, environmental law, human rights and family law.
You'll gain valuable insight and vital skills during this course. Mooting competitions, guest speakers, field trips, Pro Bono work, placements, and a practical Law in Action module let you explore cases and build your network.
You'll have regular opportunities to practice legal submissions in our modern mock courtrooms, while law simulations allow you to test your case working abilities.
Where can it take me?
Whether or not you wish to become a professional lawyer, a law degree is well regarded by employers. It equips you with the skills needed for many graduate jobs, including problem solving, analysis, research and communication.
If you're interested in qualifying as a solicitor, our LLB will provide a good foundation for those students who go on to sit the Solicitors Qualifying Examination (SQE). For students who aspire to become barristers, our LLB includes the core subjects which you'll need to satisfy the academic stage of training before studying the Bar Training Course (BTC).
As a full-service Law School, you can study the LLM/PGDip Bar Training Course (BTC), the PGDip Bar Training Course (BTC) (two part), the PGDip/PGCert Solicitors Training Course (SQE prep) and the LLM/PGDip Solicitors Training Course (SQE Prep) with us at UWE Bristol.
You could start your legal career immediately, or pursue a different career pathway entirely. Law graduates' broad skillset makes them very attractive to employers.
Our students have secured roles in law firms, chambers, city councils, banks, estate agents, higher education, accountancy, Citizens Advice and the Crown Prosecution Service.
Structure
Content
The optional modules listed are those that are most likely to be available, but they may be subject to change.
Year zero (foundation year)
You will study:
Becoming a Professional
Economics and Accounting for the Real World
Introduction to Law in a Social, Business and Global Context
Introduction to Organisation, Enterprise and Management.
You normally need to pass your foundation year before going onto Year one.
Year one
You'll study:
Contract Law
Criminal Law
Law of Torts
Public Law.
Year two
You'll study:
Equity and Trusts
Land Law.
Plus optional modules (the number depending on credit requirements) from:
Alternative Dispute Resolution
Commercial Law
Cyberlaw
Employment Law
Environmental Law and Sustainability
Introduction to Professional Legal Skills
Introduction to Public International Law
Introduction to Research
Migration Law and Policy
Sexual Offences and Offending
Sports Law
Street Law.
Placement year or study year abroad
After Year two, if you study on the four year (sandwich) course, you'll spend a year away from the University on a work placement. Or you can carry out a study year abroad.
You'll complete a placement learning or study year abroad module as appropriate.
See the Placements and Fees sections for more information.
Final year
You'll study optional modules (the number depending on credit requirements) from:
Advocacy
Company Law in Context
Criminal Justice
Dissertation
Equality and the Law
European Union Law in Context***
Family Law
Intellectual Property
International Business Law
International Human Rights Law**
Law in Action*
Law of Financial Crime
Lawyering in Practice*
Media and Entertainment
Medical Law
Preparing for Court
Real Estate Law and Practice
Student Lawyer Module*
Terrorism and Counter-terrorism: Law, Society and Policy.
* You'll need to study one of these modules in order to meet the requirements for external engagement. This does not apply if you've completed a Work Placement but does still apply if you've completed a Study Year Abroad.
** You won't need to complete this module if you've completed a Work Placement
*** You'll need to study this module if you intend to go on to the Bar Training Course.
The University continually enhances our offer by responding to feedback from our students and other stakeholders, ensuring the curriculum is kept up to date and our graduates are equipped with the knowledge and skills they need for the real world. This may result in changes to the course. If changes to your course are approved, we will inform you.
Learning and Teaching
Our approach to learning is student-centered. You'll become a reflective learner and we'll support you to develop the skills you need to have a successful legal career.
In Year two and Final year, you can design the course to fit your interests and career ambitions.
You can specialise in many different aspects of law, either choosing to study subjects grouped to form a theme (for example criminal justice or commercial law) or studying subjects you find attractive.
Our modules differ in learning approaches, so you can choose those that match your style.
You'll be allocated an academic personal tutor who will support you in your academic studies throughout your degree.
See our full glossary of learning and teaching terms.
Approximate percentage of time you'll spend in different learning activities*:
| Year | Scheduled learning and teaching study | Independent study | Placement study |
| --- | --- | --- | --- |
| 0 | 24% | 76% | 0% |
| 1 | 25% | 75% | 0% |
| 2 | 24% | 76% | 0% |
| 3 | 24% | 76% | 0% |
*Calculated from compulsory and optional modules (where applicable) each year
Study time
You can study this course at Frenchay Campus or you can study Year one at University College Weston, and complete Year two and Final year at Frenchay Campus.
You will need final UWE Bristol approval for the latter.
Frenchay campus delivery
During your degree, you will have 12 hours of teaching with a lecturer each week. 
If you choose to do a dissertation or take the Law in Action module, you'll get a further nine hours of classes, as well as individual contact with the staff member supervising the module. 
In Year one and Year two, you will also receive one hour of peer assisted learning (PAL) each week. 
All students can access the College of Business and Law (CBL) Learning Hub for workshops and to arrange one-to-one sessions with tutors.
Assessment
You can expect to be assessed using problem and essay questions, exams, research based assessments, reflection on skills acquisition, report writing, portfolio submissions and presentations.
Approximate percentage of marks awarded by each assessment method*:
| Year | Written exam assessment | Coursework assessment | Practical exam assessment |
| --- | --- | --- | --- |
| 0 | 36% | 41% | 23% |
| 1 | 52% | 48% | 0% |
| 2 | 90% | 10% | 0% |
| 3 | 40% | 47% | 13% |
*Calculated from compulsory and optional modules (where applicable) each year
Features
Placements
We encourage you to do a 40-week paid sandwich placement after Year two. It can be in the UK or abroad.
Your placement is valuable because it allows you to gain real-world experience and skills that increase your employability.
Final year work experience
If you choose the Final year Law in Action module, you'll spend one day a week working in a local law firm or voluntary organisation. Past students have secured placements with:
Pro Bono Unit
You will have opportunities to engage in Pro Bono workthrough your degree, volunteering your time to help the local community.
Supervised by academics and practitioners, you'll work on cases and provide legal advice through projects such as Legal Advocacy Support Project, Elderlaw, the UWE Street Law Programme and Bristol Musicians Advice Service.  
You'll get help to find all your placements and support throughout from your School and the careers service.
Fieldwork
Field trips are an important part of your studies, particularly the annual visit to Lincoln's Inn where you'll dine in court with barristers and judges and learn more about this exciting career.
Other study visits include the Houses of Parliament, European Court of Justice, World Trade Organisation and magic circle law firms.
Study facilities
In the Bristol Business School, you'll have access to modern learning spaces, including a dedicated law resource room.
Mock courtrooms help you practice legal submissions, take part in recorded mock trials and gain experience of being in court.
In our specialist library, you'll have a dedicated librarian to support your curriculum subjects and independent research.
The library and Business School both offer spaces for silent and group study and rooms you can book. 
You'll have access to books, trade press, academic journals, and industry databases both on and off campus.
Learn more about UWE Bristol's facilities and resources.
Take a Virtual Tour of the Law facilities and see what's on offer here for you.
UWE Bristol Law Society
Our Law Society runs an active programme of events and talks including trips to the Supreme Court in London, the European Parliament in Brussels and the European Court in Luxembourg.
Members also participate in competitions and attend regular socials, including the annual dinner.
Careers
Careers / Further study
Law students are valuable to employers because of the broad skillset you gain from studying this subject.
You could pursue a legal career as solicitor, barrister, legal adviser, legal executive or paralegal, but you can also go into a career in HR, teaching, charity work and the public sector.
Our graduates have secured roles with law firms such as Osbourne Clarke, Burgess Salmon, Clarke Wilmott as well as Guildhall Chambers and Invictus Chambers.
A number of graduates establish careers within the banking and finance sector, accountancy, Citizens Advice and the Crown Prosecution Service.
Many students train as a barrister or solicitor through the BPTC or LPC, or undertake our LLM Commercial Law or International Law.
Get inspired
Our award-winning careers service will develop your employment potential through career coaching and find you graduate jobs, placements and global opportunities.
We can also help find local volunteering and community opportunities, provide support for entrepreneurial activity and get you access to employer events.
Visit our employability pages to learn more about careers, employers and what our students are doing six months after graduating.
Useful links
Fees
Full-time; Sandwich
Indicative Additional Costs
Supplementary fee information
Your overall entitlement to funding is based on how long the course is that you're registered on. Standard funding is allocated based on the standard number of years that your course lasts, plus one additional year.
You'll apply for funding each year that you study and Student Finance will take into account how long the course is in each year that you apply. So if you register for the five year course and then transfer to the four year course, the number of years you can apply for funding will change. Student Finance will reassess your funding based on how many years you have been in study, not just those years for which you received student finance.
Always seek advice before taking any action that may have implications for your funding.
Additional costs
This refers to items you could need during your studies that aren't covered by the standard tuition fee. These could be materials, textbooks, travel, clothing, software or printing.
Entry
Typical offers
Tariff points: 48
Contextual tariff: See our contextual offers page.
GCSE: Grade C/4 in English, or equivalent.
English Language Requirement:

International and EU applicants are required to have a minimum overall IELTS (Academic) score of 6.0 with 5.5 in each component (or approved equivalent*).

*The university accepts a large number of UK and International Qualifications in place of IELTS. You can find details of acceptable tests and the required grades you will need in our English language requirements.

A-level subjects: No specific subjects required.
EDEXCEL (BTEC) Diploma: No specific subjects required. For information on required Guided Learning Hours please see our minimum entry requirements page.
Access: No specific subjects required.
Baccalaureate IB: No specific subjects required.
Irish Highers: No specific subjects required.
T Levels: No specific subjects required.
Entry requirements
If you exceed the entry requirements you may be eligible for LLB(Hons) Law.
International applicants
If you are an international student your recommended route of study for this degree is through our International College, which upon successful completion to the required level and with good attendance, guarantees entry to Year one of the degree.
Read more about entry requirements.
How to apply
Read more about undergraduate applications.
For further information