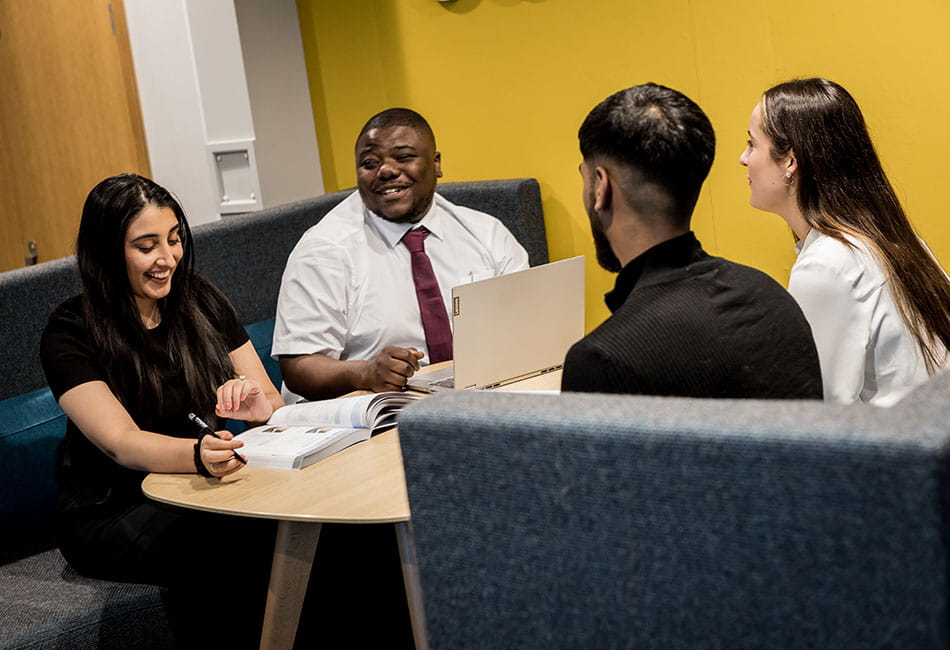 BA(Hons)

Business and Management
This course is open for applications
Page last updated 5 December 2023
Introduction
This course is for those who want flexibility to design their own programme and the option to switch to specialised courses like Business Management with Marketing or Business and Human Resource Management after the first year.
Why study business and management?
Businesses have to constantly challenge and re-invent themselves to compete in the increasingly competitive global market.
As such, employers need graduates who can go beyond business theory with practical skills and real-world experience of how the business world works.
Why UWE Bristol?
BA(Hons) Business and Management is driven by the needs of organisations, with an emphasis on skills development. It equips you with knowledge and experience you need to succeed in your career.
This course is for those who want a business career but aren't ready to specialise yet. It's flexible and practical, giving you lots of choice and the chance to hone interests through specialist modules.
This course is accredited by the Chartered Management Institute (CMI).
You'll learn about organisational functions like marketing, finance and human resource management from enthusiastic, research-active experts and supportive tutors.
Enterprise is at the heart of everything we do at Bristol Business School. We help our students to get their start-up ideas up and running with funding, support, desk space and our own in-house crowdfunding platform.
You'll gain real-world experience through placements and internships and get access to guest speakers, case studies, competitions and online simulations, ensuring you graduate ready for work.
Where can it take me?
Business and Management at UWE Bristol is a broad, practical degree with many potential specialisms and a range of career pathways.
Our graduates hold management roles in retail, marketing, HR (human resources) and recruitment.
Structure
Content
The optional modules listed are those that are most likely to be available, but they may be subject to change.
Year one
You'll study:
Introduction to Business and Management
Enterprise and Entrepreneurship
Understanding Business and Financial Information (Business, International and Management)
Understanding the Business and Economic Environment
Understanding Organisations and People (Business, International and Management)
Understanding the Principles of Marketing (Business, International and Management)
Contemporary Business Issues
Business Decision Making for Management.
Year two
You'll study:
Managing People
Management Skills (Business and Management)
Accounting Information for Business (Business, International and Management)
International Business
Research Methods for Business
Introductory Research Project
Operations and Supply Management.
Plus, one optional module from:
Market Analysis for Private Investors
International Trade and Multinational Business
Good Business, Bad Business and Sustainability
Integrated Marketing Communications
Employment Relations OR Equality Law and Diversity Management
Entrepreneurship and Small Business
Digital Business Management
Credit Management: Theory and Practice
Design Thinking.
Placement year (if applicable)
If you study on the four year (sandwich) course, you'll spend a year away from the University on a work or study placement after Year two.
Depending on which you choose, you'll either complete a placement learning or learning and development module.
See the Placements and Fees sections for more information.
Final year
You'll study:
Strategic Management (Business, International and Management)
Managing Organisational Change
Integrated Business Management Simulation.
Plus optional modules from (the number depending on credit requirements): 
International Financial Management
Investment Management
Personal Financial Planning
The Economics of Developing Countries
Sustainable Business
Events and Festivals Management
Global Marketing Management
Public Relations
Interactive and Digital Marketing
Competing Through Quality
Project Management
Coaching in Organisations
Organisational Leadership
HR Development and Knowledge Management
International HRM
International Business in the Emerging Markets
Business Innovation and Growth
Entrepreneurship: Ideas and Practice
Virtual Business
Accounting for Managers
Brand Management
Retail Marketing and Management
Work Integrated Learning
Cross Cultural Learning and Development.
Plus, one major project from:
Critical Business Enquiry Project
Enterprise Project
Applied Business Project
Business Project.
The University continually enhances our offer by responding to feedback from our students and other stakeholders, ensuring the curriculum is kept up to date and our graduates are equipped with the knowledge and skills they need for the real world. This may result in changes to the course. If changes to your course are approved, we'll inform you.
"I am endlessly thankful for my experience at UWE Bristol. I couldn't have achieved everything I have done so far without the preparation for the bigger world I received." Aaron, 2018 Business and Management graduate
Learning and Teaching
You'll learn through a mix of lectures, seminars, workshops, group work, case studies, online exercises and simulation activities. You'll be expected to read independently to broaden and strengthen your learning.
You'll develop your communication and presentation skills, IT and numeracy skills, and project and time management skills throughout.
Your improved problem solving, critical thinking, analysis, evaluation and innovation skills will help you stand out as a graduate.
You can gain work experience through short-term internships, paid work as a Student Ambassador or Peer Assisted Learning Leader, or through volunteering.
See our full glossary of learning and teaching terms.
Approximate percentage of time you'll spend in different learning activities*:
| Year | Scheduled learning and teaching study | Independent study | Placement study |
| --- | --- | --- | --- |
| 1 | 25% | 75% | 0% |
| 2 | 24% | 76% | 0% |
| 3 | 18% | 82% | 0% |
*Calculated from compulsory and optional modules (where applicable) each year
Assessment
You'll be assessed through a mix of coursework and examinations to assess what you know and can do and help you develop the confidence and skills that employers value.
You'll complete essays and reports, business plans and applied research projects, portfolios and weekly notes, and assessed group and individual presentations and posters.
You'll also reflect and comment on your own learning and personal development.
Learn more about assessments.
Approximate percentage of marks awarded by each assessment method*:
| Year | Written exam assessment | Coursework assessment | Practical exam assessment |
| --- | --- | --- | --- |
| 1 | 22% | 48% | 30% |
| 2 | 26% | 54% | 20% |
| 3 | 29% | 60% | 11% |
*Calculated from compulsory and optional modules (where applicable) each year
Features
Professional accreditation
This course is accredited by the Chartered Management Institute (CMI).
Placements
Students who get work experience tend to graduate with better degrees. Experience also hones your skills, industry knowledge and professional network, making you a sought after graduate.
Your placement is valuable because it allows you to gain real-world experience and skills that increase your employability.
We have a strong, growing network of placement organisations. Past students have secured roles at Rolls Royce, HP, IBM, the NHS, Hayes, Microsoft, Maclaren F1 and Lidl in marketing, recruitment and other business areas.
Study year abroad
You'll also have opportunities to study overseas on courses that are taught in English and relevant to your degree. The study year abroad is not a paid placement.
Students are selected for this through a competitive process.
Study facilities
In our Bristol Business School, you'll have access to cutting-edge learning spaces like the Bloomberg financial trading room. Training in this state-of-the-art financial platform will give you a commanding view of global finance.
Our University Enterprise Zone, Future Space at our Frenchay campus incubates, hatches and provides growth space for robotics, biosciences and biomedicine startups.
Designed with student input, the Business School building offers learning spaces for individual and group study plus conference rooms you can book. It's a space for students and businesses to come together, collaborate and form new partnerships.
In our specialist library, business librarians manage vast collections to support your research. Attend workshops to develop your information skills or use our Study Skills. 
The library and Business School both offer spaces for silent and group study and rooms you can book. You'll have access to recommended books, trade press, academic journals, and industry databases on and off campus.
Take a Virtual Tour of the Business Management facilities and see what's on offer here for you.
Careers
Careers / Further study
This course opens up a diverse range of career pathways. These include management roles in retail, marketing, HR and recruitment.
Bristol has a strong labour market and employers highly value our course and students.
We have good links with organisations and past graduates have secured roles with multinationals, small to medium enterprises and the public sector.
Many students take up graduate management schemes, go onto further study or progress to teaching and research careers.
Get inspired
Our award-winning careers service will develop your employment potential through career coaching and find you graduate jobs, placements and global opportunities.
We can also help find local volunteering and community opportunities, provide support for entrepreneurial activity and get you access to employer events.
Visit our employability pages to find out about careers, employers and what our students are doing six months after graduating.
Useful links
Fees
Full-time; Sandwich
Indicative Additional Costs
Supplementary fee information
Your overall entitlement to funding is based on how long the course is that you're registered on. Standard funding is allocated based on the standard number of years that your course lasts, plus one additional year.
You'll apply for funding each year that you study and Student Finance will take into account how long the course is in each year that you apply. So if you register for the four year course and then transfer to the three year course, the number of years you can apply for funding will change. Student Finance will reassess your funding based on how many years you have been in study, not just those years for which you received student finance.
Always seek advice before taking any action that may have implications for your funding.
Additional costs
This refers to items you could need during your studies that aren't covered by the standard tuition fee. These could be materials, textbooks, travel, clothing, software or printing.
You may also be interested in