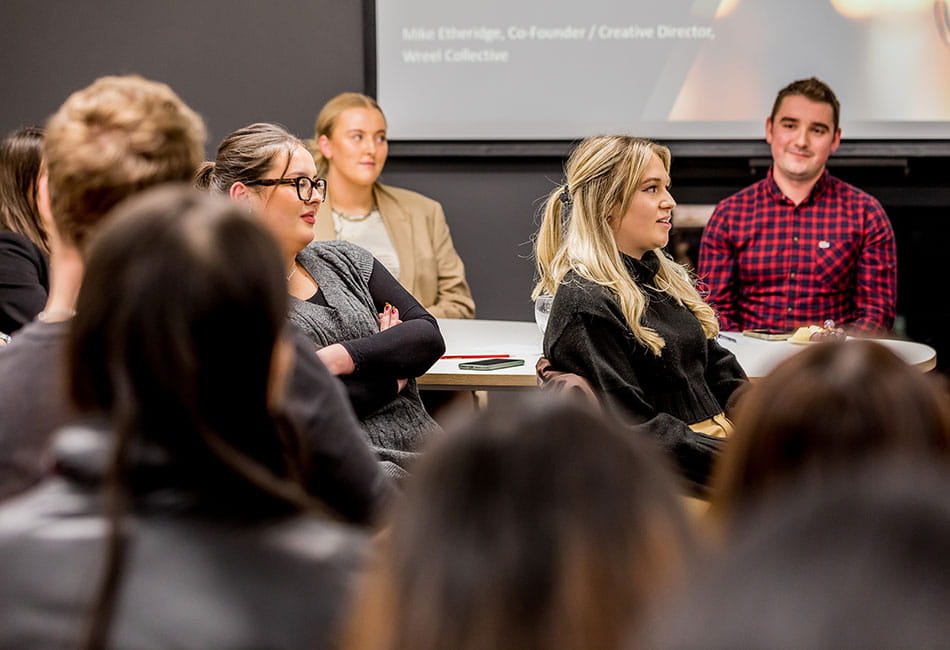 BA(Hons)

Business and Events Management
This course is open for applications
Page last updated 5 December 2023
Introduction
Get involved in projects and activities with our partners Macmillan Cancer Care, Glastonbury Festival and our Exhibition and Conference Centre.
Why study business and events management?
The event industry has seen significant growth and is now worth £42.3 billion in the UK alone. It offers diverse and exciting career opportunities around the world.
Events play an important role in economic development and social well-being, and can help achieve other business objectives like community cohesion.
Why UWE Bristol?
BA(Hons) Business and Events Management brings together UWE Bristol's recognised expertise in event studies and business management. It's ideal whether you want to specialise in the business of events, or events in business.
Study the main disciplines and operational areas of business alongside specialist modules on event management functions, processes and values. Plan events from inception through to closure and evaluation. Explore areas of the industry including concerts and festivals, conferences and meetings, sporting events, weddings and celebrations.
Bristol is a natural place to study events, with a thriving visitor economy and many businesses involved in event and festival management. Engaging with the local area is an integral part of the learning, teaching and assessment programme.
Event organisations, suppliers and venues provide guest talks, placements, voluntary work and internships. An optional placement year allows you to build contacts and experience, and you'll get a taste of running your own event in a collaborative project in your final year.
Where can it take me?
Career options are diverse and include event project manager, contracts manager, event marketing manager and event experience officer. Some graduates use their business and management skills to start their own events businesses.
The solid grounding in business and management ensures you have a broad range of career paths to choose from, and a skillset relevant to many other careers.
Why I chose Business and Events Management
Structure
Content
The optional modules listed are those that are most likely to be available, but they may be subject to change.
Year one
You'll study:
Introduction to Management
Economics for Events and Marketing
Understanding Business and Financial Information (Marketing, Events and Tourism)
Understanding the Principles of Marketing (Marketing, Events and Tourism)
Business Decision Making for Marketing and Events
Enterprise and Entrepreneurship
Events in Society
Understanding Organisations and People (Marketing, Events and Tourism).
Year two
You'll study:
Managing People
Research Methods for Events and Marketing
Planning and Managing Events
Introductory Research Project (Marketing and Events)
The Business of Events
Practical Digital Skills or Management Skills (Marketing and Events)
Introduction to Project Management or Financial Aspects for Marketing, Events and Tourism.
Plus, one optional module from:
Good Business, Bad Business and Sustainability
Integrated Marketing Communications
Entrepreneurship and Small Business.
Placement year (if applicable)
If you study on the five year (sandwich) course, you'll spend a year away from the University on a work or study placement after Year two.
Depending on which you choose, you'll either complete a placement learning or learning and development module.
See the Placements and Fees sections for more information.
Final year
You'll study:
Specialised Events Practice
Contemporary Issues in Events
Strategic Management (Marketing, Events and Tourism)
Staging and Evaluating Events
Critical Business Enquiry Project or Enterprise Project or Applied Business Project or Business Project .
Plus, optional module(s) (the number depending on credit requirements) from:
Marketing Services
Organisational Leadership
Project Management
Entrepreneurship: Ideas and Issues
Corporate Events
Managing Tourism Experiences
Digital Marketing Strategy
Work-Integrated Learning Project
Cross Cultural Learning and Development.
The University continually enhances our offer by responding to feedback from our students and other stakeholders, ensuring the curriculum is kept up to date and our graduates are equipped with the knowledge and skills they need for the real world. This may result in changes to the course. If changes to your course are approved, we will inform you.
"In my third year, I completed a placement year as an Events Assistant at Action Medical Research, which developed my teamwork and communication skills. These skills helped me to get to where I am today, working as an Events Executive at Bioscientifica." Shannon, 2020 Business and Events Management graduate
Learning and Teaching
Our approach to learning is student-focused, with emphasis on helping you find things out for yourself.
Lectures, workshops/seminars, tutorials and group work make up 12 hours of contact time each week and you'll spend at least as much time again studying independently.
This can involve essential reading, preparing for classes and presentations, reviewing lecture content, completing written work and revising for end-of-module exams.
In Year one, you'll get support with important academic skills, and you'll be assigned an academic tutor to support you throughout your degree.
You'll develop your academic skills and your understanding of law, economics, accounting, business and management.
In Year two, you'll study modules on specialist areas of events and business studies, plus a major enquiry or work-based project.
Final year focuses on learning through reflection and managing complexity and change. You'll also gain the vital experience of staging and evaluating a live event.
Become a reflective learner and develop skills you'll need in your career, such as self reliance and collaboration.
Study thought-provoking modules led by well-connected staff and engage with ongoing events that reinforce what you've learned in class.
Apply theory to practice, so you can appreciate the relevance, applications and limitations of the concepts you learn.
The placement or study year abroad helps with this. You can also gain experience as a Student Ambassador or a PAL (Peer Assisted Learning) Leader, or through volunteering.
See our full glossary of learning and teaching terms.
Approximate percentage of time you'll spend in different learning activities*:
| Year | Scheduled learning and teaching study | Independent study | Placement study |
| --- | --- | --- | --- |
| 1 | 24% | 76% | 0% |
| 2 | 24% | 76% | 0% |
| 3 | 21% | 79% | 0% |
*Calculated from compulsory and optional modules (where applicable) each year
Assessment
You'll be assessed through a mix of coursework and examinations to assess what you know and can do and help you develop the confidence and skills that employers value.
You'll complete essays and reports, business plans and applied research projects, portfolios and weekly notes, and assessed group and individual presentations and posters. You'll also reflect and comment on your own learning and personal development.
Learn more about assessments.
Approximate percentage of marks awarded by each assessment method*:
| Year | Written exam assessment | Coursework assessment | Practical exam assessment |
| --- | --- | --- | --- |
| 1 | 16% | 54% | 30% |
| 2 | 26% | 48% | 26% |
| 3 | 20% | 76% | 4% |
*Calculated from compulsory and optional modules (where applicable) each year
Features
Placements
We encourage you to do a 40-week paid sandwich placement after Year two. It can be in the UK or abroad.
Your placement is valuable because it allows you to gain real-world experience and skills that increase your employability.
UWE Bristol has strong links with employers who highly rate this experience. One third of students on placement are re-employed by placement employers on graduation.
You'll get help to find your placement and support throughout from your department and the careers service.
Study year abroad
You'll also have opportunities to study overseas on courses that are taught in English and relevant to your degree. The study year abroad is not a paid placement.
Students are selected for this through a competitive process.
Study facilities
In our Bristol Business School, you'll have access to cutting-edge learning spaces.
Designed with student input, the Bristol Business School offers learning spaces for individual and group study, interactive learning spaces and conference rooms you can book. It's a space for students and businesses to come together, collaborate and form new partnerships.
In our specialist library, business librarians manage vast collections to support your research. Attend workshops to develop your information skills or visit Study Skills. 
You'll have access to books, trade press, academic journals, and industry databases including FAME, MINTEL, Marketline Advantage and Passport both on and off campus.
Take a Virtual Tour of the Business Management facilities and see what's on offer here for you.
Careers
Careers / Further study
You'll graduate with an understanding of businesses and organisations in the event industry, their management and the dynamic environment they operate in. And you'll have all the attributes and skills you need for graduate careers in events.
Your foundation in business and management and specialism in events means a variety of career options spanning the private, public and voluntary sectors will be available to you.
Get inspired
Our award-winning careers service will develop your employment potential through career coaching and find you graduate jobs, placements and global opportunities.
We can also help find local volunteering and community opportunities, provide support for entrepreneurial activity and get you access to employer events.
Visit our employability pages to find out about careers, employers and what our students are doing six months after graduating.
Fees
Full-time; Sandwich
Indicative Additional Costs
Supplementary fee information
Your overall entitlement to funding is based on how long the course is that you're registered on. Standard funding is allocated based on the standard number of years that your course lasts, plus one additional year.
You'll apply for funding each year that you study and Student Finance will take into account how long the course is in each year that you apply. So if you register for the four year course and then transfer to the three year course, the number of years you can apply for funding will change. Student Finance will reassess your funding based on how many years you have been in study, not just those years for which you received student finance.
Always seek advice before taking any action that may have implications for your funding.
Additional costs
This refers to items you could need during your studies that aren't covered by the standard tuition fee. These could be materials, textbooks, travel, clothing, software or printing.
You may also be interested in